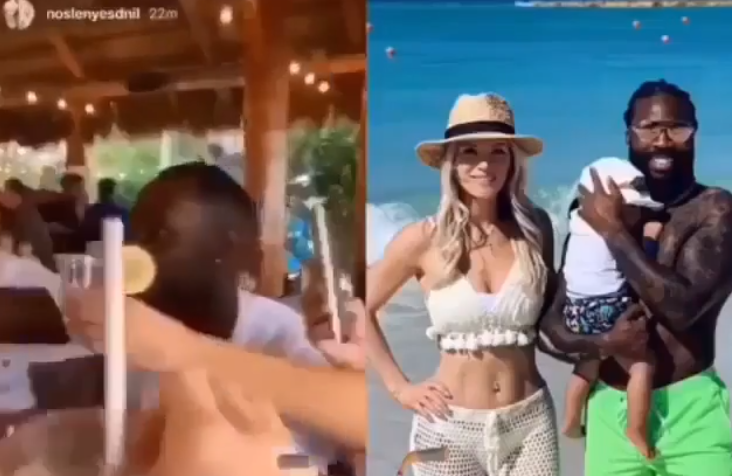 Black History Month 2019 has gotten off to an atrocious start, in many people's opinions. Actor Liam Neeson admitted that he combed the streets hunting for a Black man to kill after his friend was allegedly raped by a Black male. Gucci and Prada have wantonly defiled our culture once again with a noxious variety of blackface products they put on the market.
And now we have NFL athletes and their Caucasian girlfriends promoting light-to-white babies.
Self-hatred and colorism are cultural cancers that continue to eat away at Black Americans in 2019. This is evidenced by a group of Black men and their White wives and girlfriends who make it their mission to produce and promote more lighter-skinned babies.
Los Angeles Charger Jahleel Addae and his fiancée Lindsey Nelson are incurring the wrath of Instagram users after they and their Black male friends and White significant others posted comments they made that were captured on Lindsey's Instagram Story.
The couple and their friends — a table full of Black men and their White girlfriends — made a toast to "more light-skinned kids."
They were so proud of their toast that they repeated "light-skinned kids" three times.
Addae apparently felt the shrapnel from the intense blowback from his girlfriend's post because he soon made his Instagram page private after the video went viral, but not before it was screen-captured by the likes of HeyMikeyShow.
Despite the Instagram Story getting snatched off social media, plenty of detractors aimed  their heat-seeking comments directly at Addae and his cohorts on social media, including this hot sampling provided below.
It behooves me that cotton mouth insecure/threatened caucasian women act as if they found the Holy Grail in their "black men"…that Black women would NEVER want to be with anyway….🤔🙄😁😂 #JahleelAddae #youcanhavehim

— a.k.a. DARTS (@4realPisces) February 10, 2019
To the wife of #JahleelAddae ….you can have him…matter of fact….take every last carbon copy of him withcha out that door

-Sign BlackWomen❤️ pic.twitter.com/z4YU0YunyC

— MakeupGeek❤ (@_blackaida) February 10, 2019
Jahleel Addae from the Chargers, his Caucasian wife and a table full of dark skinned men with Caucasian women at their side toasting to "more light skinned kids". Whew chile, the self hate. Imagine if their daddies had this same energy 🙄

— Shaunte (@JustShauny) February 10, 2019
@cthagod Please give the VERY Black self-hating #JahleelAddae and his 5.5 typical plastic surgery mayo oozing cotton mouth fiancee #LindseyNelson & friends the #RemyMa DOTD on Monday for their idiotic "light skinned babies" comments…🙄

— a.k.a. DARTS (@4realPisces) February 10, 2019
Jahleel Addae is super ugly so a white woman can have him. "Cheers to more light skin kids" 🤧

— CRYSTAL ALEJANDRO 🇻🇮 (@ItsCrystalBxtch) February 10, 2019
#JahleelAddae is an ignorant fool. Does he not realize the fact that his wife is toasting this means that she does not like his black skin but only his green money? https://t.co/7KB2W0netN

— Kat (@jamamizo) February 10, 2019