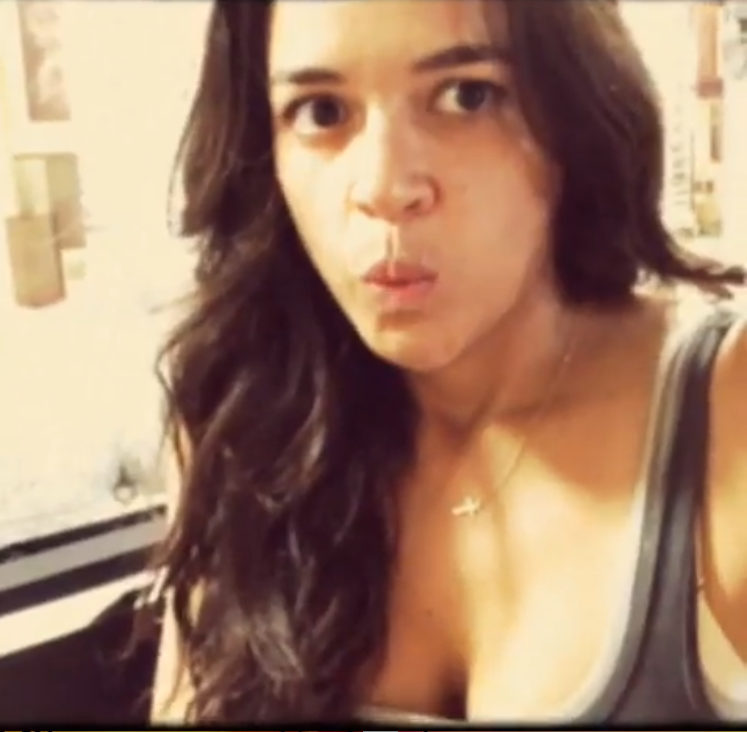 Actor Liam Neeson (Taken, Widows, Star Wars) ignited controversy this past week with his admission that he went randomly searching to "kill" a "Black bastard" after a close friend was raped by an African American male. The national debate rages on as some celebrities try to act as an apologist for Neeson's behavior.
The situation took another unexpected turn as actress Michelle Rodriguez (Fast & Furious franchise, Widows) said she believes Neeson cannot be a racist because he tongue-kissed Viola Davis in the 2018 movie Widows.
Ever since Neeson, 66, revealed that he went walking the streets with a weapon looking for a Black man to "kill," fellow celebrities have jumped into the fray and offered their own takes on his controversial comments. D. L. Hughley and Terry Crews attempted to defend Neeson, while rapper Wale called him a savage racist who has camouflaged his hatred for years.
Rodriguez and Davis starred with Neeson in the crime thriller Widows, where he played Davis's husband. Davis and Neeson had a brief love scene in the film that shows them in bed passionately kissing. And for this, Rodriguez thinks Neeson can't possibly be racist.
During her red carpet appearance at the amfAR Gala New York, Rodriguez, 40, didn't mince words when she described why she thought the claims calling Neeson racist are nonsensical.
"It's all f—— bulls—. Liam Neeson is not a racist," Rodriguez said, according to Vanity Fair. "Dude, have you watched Widows? His tongue was so far down Viola Davis's throat. You can't call him a racist ever. Racists don't make out with the race that they hate, especially in the way he does with his tongue — so deep down her throat. I don't care how good of an actor you are. It's all bulls—. Ignore it. He's not a racist. He's a loving man. It's all lies."
Of course, Rodriguez almost immediately was trounced by pop culture observers, beginning with none other than showrunner Shonda Rhimes, creator of "Grey's Anatomy," "Scandal" and "How to Get Away With Murder," in which Davis stars as the lead character, the notorious lawyer Annalise Keating.
Read what Rhimes and others had to say about Rodriguez's comments below:
The lack of historical context, bias blindness and willful ignorance required to open one's mouth and say this about racism is mind boggling. https://t.co/vTdQoGSXMd

— shonda rhimes (@shondarhimes) February 7, 2019
The comments made by #MichelleRodriguez are anti-Black. It is like when people say Sally Hemings and Thomas Jefferson were in a consensual loving relationship. #AfroLatina #BlackPuertoRican #smashantiblackness

— Rosa A. Clemente (@rosaclemente) February 7, 2019
https://twitter.com/good_wifey/status/1093585736866168832
Michelle stop, your institutionalize racism is showing, you're Latino, we have Latinos who are Black Latinos with Black ancestors. You said something about PoC taking over White comic roles a few years ago, here you go again. Someone needs to chancla your ass.#MichelleRodriguez https://t.co/bO3fxmxwaZ

— 🇵🇷L.A.Falú🌈 (@BronxBebe) February 7, 2019
https://twitter.com/PSNgamesun/status/1093570875046150150
No surprises. #MichelleRodriguez herself as a history of anti Black sentiments. Particularly against Black women. She's always throwing shade & subliminal distaste. So much for the Black/brown coalition so many lament about. Her rationalization of #LiamNeeson is very telling. pic.twitter.com/QJvuw8bPPi

— Onyx Paradigm⚡️👊🏿💪🏿⚡️ (@C_Rich75) February 7, 2019