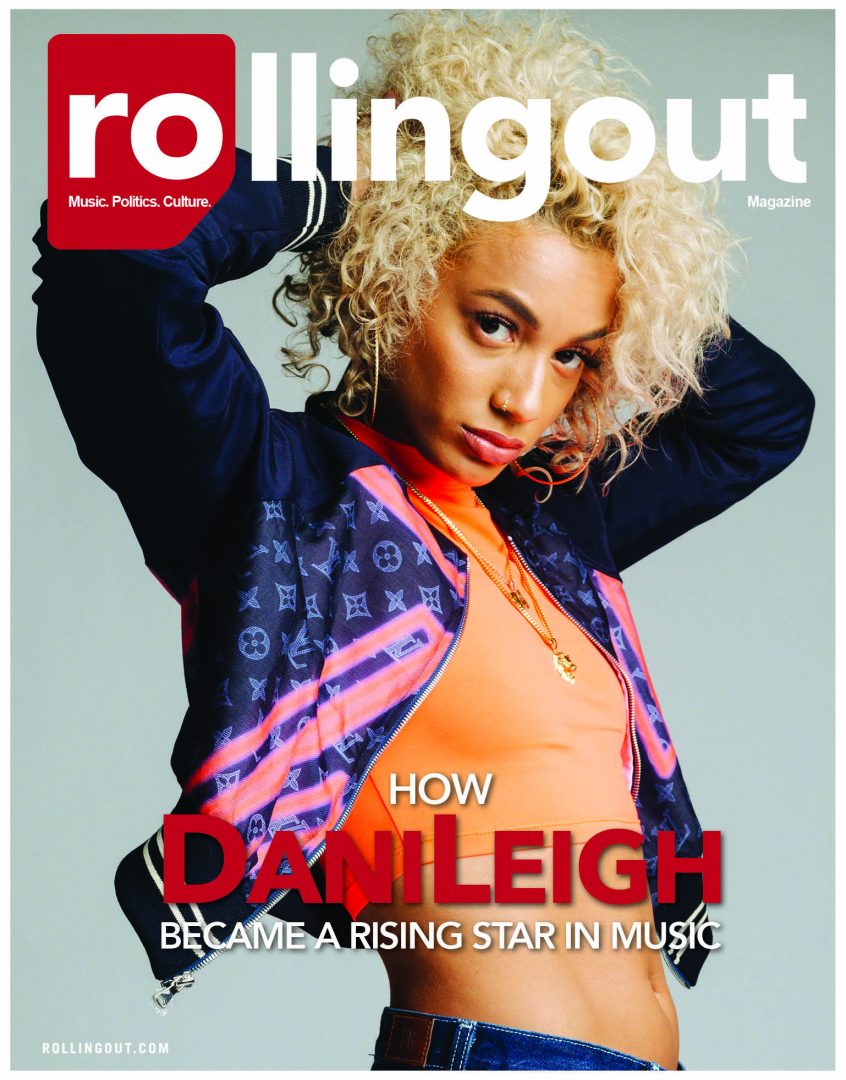 DaniLeigh paused while walking through the studio of
rolling out
's headquarters in Atlanta. The
Def Jam
artist, by way of Los Angeles and Florida, took a moment to observe the wall of fame that pays homage to multiple famous Black entertainers who are depicted through pieces of art. With her eyes focused on a framed drawing of
Prince
, DaniLeigh smiled from ear to ear. The brief connection proved to be more than a fondness for the music created by the late great "
Purple Rain
" singer. For DaniLeigh, the artwork represented her first break in music and a mentor who gave her the inspiration and courage to conquer the world.
Five years ago, at age 18, DaniLeigh received an email that changed her life.
"I don't know exactly how [Prince] found me," DaniLeigh shared during a recent interview. "He never told me where, but I was consistently dancing in the game for different artists. And one day, I just got an email saying, 'Prince, the artist, wants you to submit a choreography video for his new video.' I was like, 'Oh, my God. What? OK!' I did a little submission with me dancing, and he was like, 'OK, write a treatment, and I'm going to give you a budget for you to direct this video.' " 
Prince's song "Breakfast Can Wait" tells the story of a couple who desire to make love before eating the first meal of the day. DaniLeigh, who also stars in the video, took Prince's song idea and created a concept that features role-play between a couple in the kitchen and an elaborate dance sequence with male and female dancers dressed in all black. With Prince deciding not to appear in the video, DaniLeigh dressed up as the "1999" singer for certain scenes. In her first major opportunity in entertainment, DaniLeigh proved that she possessed the wherewithal to create great work.
"It was dope, and it was scary," she recalled. "I was definitely scared, but he was really cool. Every idea I would give to him, he loved it. I think he just wanted me to be me and do me, and I was like, 'OK, let's do it.' … It's helped me because I feel like, throughout my career, I didn't have much confidence in my own voice because I feel like I didn't have the craziest vocal range like Beyoncé. I was like, 'Damn, I don't know if I could do this.' I think having that confirmation from Prince, a legend, it definitely gives me an 'OK, like you're supposed to be doing this. You're unique. Do it.' "
DaniLeigh, who is of Dominican descent, first fell in love with entertainment as a child growing up in Orlando and Miami, Florida. As a teenager, she would make YouTube videos of herself dancing while in the back of her mother's restaurant. Her family believed in her dreams and made the decision to drop everything in Florida and relocate to Los Angeles where they lived in a one-bedroom apartment. After her family lost their restaurant in Orlando, DaniLeigh became the primary breadwinner through her work as a dancer. She toured with Jeremih and J. Cole as a backup dancer and had an offer to tour with pop sensation Meghan Trainor. However, DaniLeigh had bigger dreams and decided to turn down Trainor's invitation to meet with record label executives instead. She knew it was time to share her voice with the world.
"I started being more free, more confident," DaniLeigh said of her decision to embrace music. "I started writing and then transitioned to [singing]. I wanted to stop dancing, but that was paying my bills. I really wanted to be an artist. I felt like I could be an artist and hold my own. I was like, 'OK, I need to go ahead and make this transition.' No one was really respecting me as an artist because I was dancing behind artists. So, they were like, 'You ain't really an artist.' "
DaniLeigh proved the doubters wrong with the release of her hit single "Lil Bebe," featuring Atlanta rapper Lil Baby, in October 2018. The song continues to climb the Billboard charts, and the video has garnered more than 20 million views on YouTube within four months of its release.
"It's crazy the way it happened," DaniLeigh shared about the single's success. "I actually recorded 'Lil Bebe' back in 2017. And when I first did the song, I saved the file under 'Lil Bebe feat. Lil Baby.' I always just wanted that, so I kind of just spoke that into existence. I put a little Instagram video out of me just dancing to one of his songs, and in the caption, I put, 'If you want a 'Lil Bebe' remix with Lil Baby, tag him.' So then everyone tagged him, and he commented, 'Let's do it.' So then, I slid into his DMs and was like, 'What's up!' And it ended up happening. My A&R put it together, and we just did it."
In November 2018, DaniLeigh released her debut album, The Plan. The album is a genre-twisting exploration of R&B, trap and pop. It also provides a platform for the artist to give insight into the joys and difficulties of navigating life and love as a young adult. At an age where it can be hard to find focus and direction, DaniLeigh has a clear-cut plan for success.
"I feel like I have a plan in life, and I wanted to put everything that I had into that album," she shared. "And I feel that it explains the different tribulations with love, different tribulations with money, different tribulations with focus. I feel like I have a plan. At the end of the day, it's to take care of my family, it's to be an inspiration in this world, to be successful, to be a boss. So, I put all of that in my music, and I feel like it just overall explained the album, The Plan."
One plan that she hopes to come to fruition is a collaboration with Drake. In summer 2018, DaniLeigh became a viral sensation after doing the "In My Feelings" Challenge. In her version, she jumped out of a car and danced as the car continued to move. The video eventually caught Drake's attention.
"It's going to happen," she declared. "At this point, I'm just trying to be friends with him. If it's meant to be, we're going to do a song later on."
But even with the success of creating a memorable project with Prince, touring as a dancer, generating a buzz with the single "Lil Bebe" and releasing the album The Plan, she understands the importance of hard work and remaining humble throughout the journey.
"It takes hard work," DaniLeigh said about coming up in the music industry. "You have to work to get to where you want to get to. It's about living life and being happy. Make sure you're doing what you love for real. … Don't ever let anything change your character and just do you."
Words by A.R. Shaw
Photos by Ryder