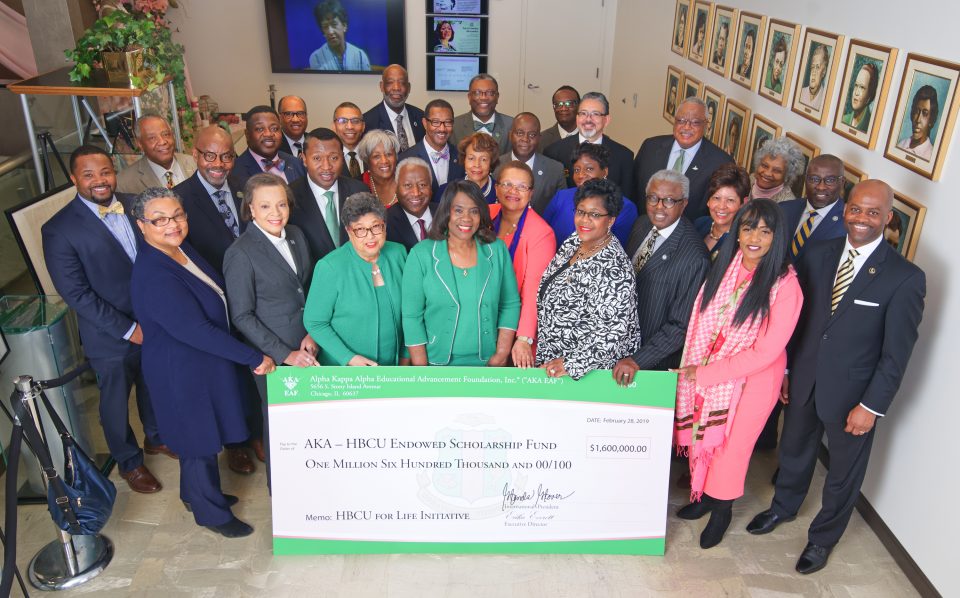 Alpha Kappa Alpha Sorority Inc., in partnership with the Educational Advancement Foundation, closed out Black History Month by awarding $50,000 to 31 historically Black colleges and universities that are benefactors of the newly formed AKA-HBCU Endowment Fund. The fund was created to help bolster the financial health of HBCUs.
Dr. Glenda Glover, international president of Alpha Kappa Alpha Sorority, was present at AKA headquarters in Chicago on Thursday, Feb. 28, 2019, to share the wealth with 31 HBCU presidents. The goal of the AKA- HBCU initiative is to donate $10 million to historically Black colleges and universities in the next four years. Chicago State University is one of the schools that is included in this important initiative.
"As an alum of an HBCU and as someone who has dedicated my life to the support of the HBCU community, it was deeply important that my administration under Alpha Kappa Alpha Sorority Inc. has a focus on providing sustainable solutions for our historically Black colleges and universities," Glover said.
"It is no secret that some of these treasured institutions have had challenges in terms of retention and matriculation of their student bodies due to financial concerns," she added. "Today, Alpha Kappa Alpha underscored the importance of education by awarding the first installment of $100,000 endowments to 31 HBCU presidents during the final day of Black History Month. Alpha Kappa Alpha is excited to make this major first step toward our goal to give $10 million to HBCUs within four years. We invite education advocates from all over to join us in helping sustain our nation's treasured HBCUs by donating at AKAEAF.org."
This new initiative comes at a critical time. HBCUs have been struggling financially over the years, and many have lost their accreditation.
Bennett College is the most recent HBCU to fall victim to losing its accreditation even after raising $9.5 million in six weeks after college officials were told they would need to raise $5 million to prove they could turn the school around financially. The 143-year-old school in Greensboro, North Carolina, has been on probation since 2016 and was officially stripped of its accreditation on Feb. 18, 2019. The amount they were able to raise was not enough to convince the Southern Association of Colleges and Schools Commission on College (SACSCOC) that Bennett should remain open.
The SACSCOC released a statement addressing their decision. "The SASCOC Board of Trustees voted to remove the institution from membership for failure to comply with Core Requirement 13.1 (financial resources) of the Principles of Accreditation — the standards of the SACSCOC membership and because the institution had exhausted its two-year period on probation for coming into compliance with the principles. This standard expects that the institution has sound financial resources and a demonstrated, stable base to support the mission of the institution and the scope of its programs and services."