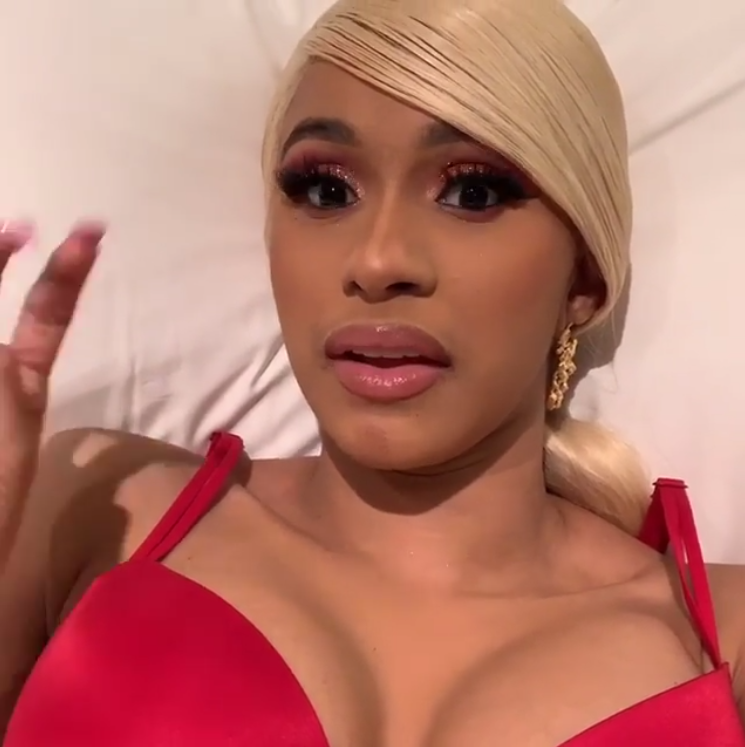 Cardi B has declared war on The Shade Room.
The Bronx-bred rapper is accusing the urban blog of posting a constant barrage of negative stories about her and her family and fired back with a series of profanity-laced Instagram posts on Tuesday, April 23, 2019.
More specifically, the "Bodak Yellow" rapper calls out the owner of The Shade Room, Angie Nwandu, for continuing to post negative content about the people close to her, including Offset, and other members of her music label.
In summer 2018, Cardi also articulated her consternation with the blog's coverage. Today, Cardi is making it clear that she doesn't want the blog to post anything about her or her sister, Hennessy Carolina Almánzar.
"We don't need to be posted on blogs with people that just got negative s— to say just so you could hate your life, your looks or your day cause their not happy with them self thank you (sic)," she wrote as part of a series of profane posts that have now since been deleted.
This latest post to The Shade Room's 15.3 million IG followers on Tuesday talked about Cardi's husband Offset getting charged with a felony in suburban Atlanta. This seemed to light the fuse that triggered the Cardi explosion:
The Invasion of Privacy rapper is enraged that The Shade Room is covering her husband and also her friends and fellow label mates, including City Girls and Quality Control CEO Pierre "Pee" Thomas. Cardi doesn't seem to care that it was Offset who was caught during a traffic stop with guns and weed in the car. She just doesn't want The Shade Room's owner to write about anything negative about anyone who orbits her world.
Cardi said: "She know that she not allowed to post me, so what does she do? She posts mad s— of people that she know that I'm associated with. […] I'm not saying that I only want people to post positive s— about us. At the end of the day, a blog is a blog, and I feel like they gotta post the good and the bad. But come on, now. That bias s— that people wanna do all the time because they on a f—ing hate campaign—they on some 'F— QC,' 'F— Cardi B' campaign. That s— is getting wack. (sic)"
Cardi said that many Black-owned blogs post negative stories and enable those with bigger platforms to profit off Black celebrities' drama. She also blames Black blog reporting for exacerbating the beef between rappers Kodak Black and T.I. (Keep in mind, once again, that Kodak Black posted the disrespectful comments about Lauren London on his IG page and that T.I. responded to Kodak before any media outlets wrote about it).
Click to the next page to hear what Cardi B had to say.