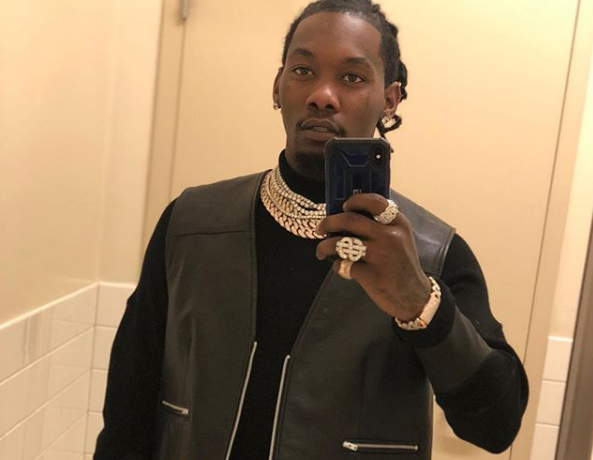 In an act that was very reminiscent of former UFC champion Conor McGregor, Migos member Offset karate-chopped a fan's phone out of his hand in a store in suburban Atlanta, cracking the phone. He may now face legal consequences on top of the felony firearm charges he's already facing from an episode last year.
Junior Gibbons, 18, spotted Offset, 27, at a Target in Sandy Springs, Georgia, this past week and recorded the rapper leaving the store with a baby stroller. The anxious fan whipped out his cellphone to record a selfie video.
Gibbons, according to the video obtained by TMZ, asked Offset as he was walking by: "What up, Offset?"
Offset said nothing initially, but raised his hand straight up in the air and lowed it straight down with force, smacking the phone out of the fan's hand.
Afterwards, Gibbons told the entertainment publication that Offset growled at him to get that "f***in' phone out of my face" and then kept walking.
An offended and hurt Gibbons stated that he filed a police report Friday, but his family said they just want Offset to replace the phone.
As most pop culture fans are aware, McGregor had a very similar incident last month outside Liv Nightclub in Miami. He was eventually charged with robbery and criminal mischief, and his trial is set to begin next month.
Offset, whose real name is Kiari Kendrell Cephus, is already facing felony charges on the other side of metro Atlanta. Offset was charged with being felon in possession of a firearm in Clayton County, which is a southern suburb. The gun and marijuana were discovered during a traffic stop in July 2018.