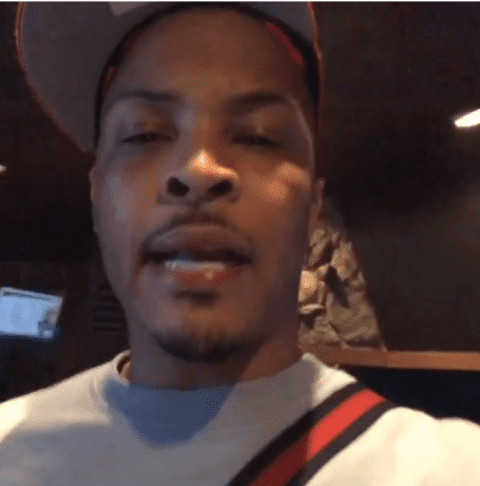 The circumstances surrounding rap mogul T.I.'s arrest a year ago outside of his gated community in suburban Atlanta, where he had a verbal altercation with the security guard, had been shrouded in mystery.
There is now a full, four-part video of the episode from May 16, 2018, as reported by Real World Police. It shows the entire set of events leading up to Clifford "T.I." Harris' apprehension at his home at the Eagles Landing Country Club in McDonough, Georgia, about a 30-minute drive south of Atlanta.
As rolling out has reported, police took T.I, 38, into custody after charging him with public intoxication and for allegedly threatening the security guard because he would not let him in the gate in a timely manner.
When T.I., aka "Tip," woke the security guard up, who appeared sleep in the below video, he asked to be let in, but the guard refused to grant the rapper access initially. Tip had to contact his wife, Tiny Harris, 43, to get confirmation that Tip lived at the address he gave the guard. By this time, Tip had become so riled up that he drove home — about a half mile inside the country club entrance — and then walked back to get the guard's name.
The Grand Hustle boss and reality star accused the security guard of being "disrespectful."
When police arrived on the scene, they met Tip and his friend, Marquinarius Holmes. When asked what the problem was, Harris explained that the guard, Euwan James, was sleeping in his chair.
T.I. told police he had asked the security guard for his name multiple times and asked for his supervisor, but that the guard refused to provide that information to him.
The guard claimed that T.I. threatened him. The guard said Tip asked him to step outside and give him his name because he wanted to report him.
After the responding officer detected alcohol on Tip's breath — to which Tip admitted to having a drink on his walk back to the guard shack — he was subsequently booked into the local county jail.
The first surveillance video is below. Click to the next page to see the rest.