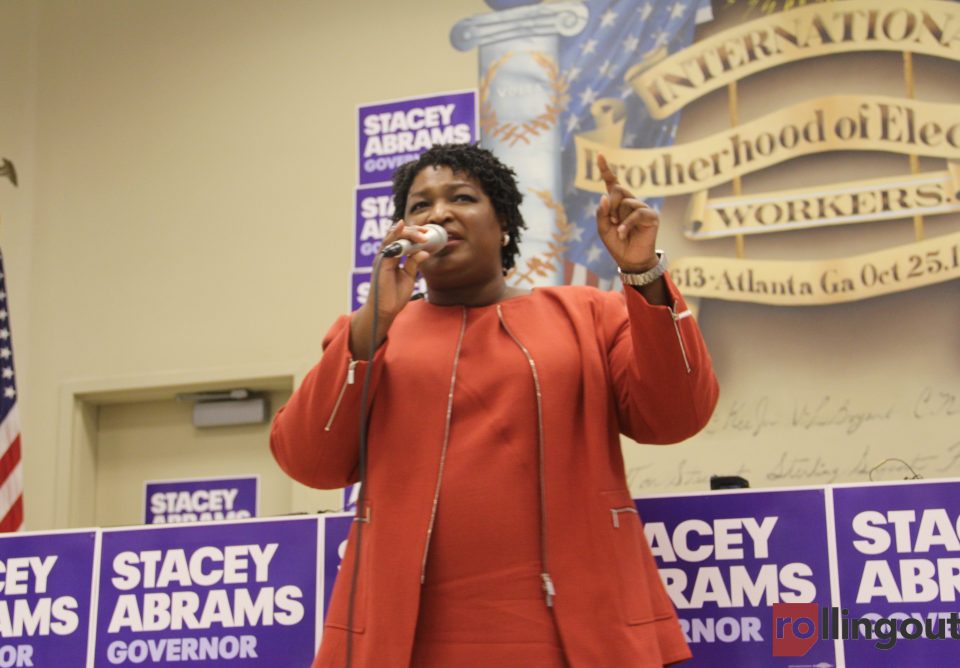 Stacey Abrams is deciding against a Senate run in 2020. She made that announcement in a video posted on Instagram Tuesday, April 30, 2019. The Georgia Democrat stated that her decision does not imply she's finished with politics.
On another social media platform, reports of Abrams' announcement took an unlikely turn after Atlanta-based CBS46 News reporter and weekend anchor Mike Dunston tweeted about his previously scheduled one-on-one TV interview with Abrams to discuss her statements.
Just in : Stacey Abrams not running for 2020 U.S. GA Senate seat #CBS46 @cbs46 https://t.co/KdibrH6Ws2  — Mike Dunston (@MikeDunston) April 30, 2019
Dunston's interview offer with the politician was withdrawn, however, after a spokesperson for Abrams expressed distaste for two words in a tweet sent by the reporter. According to a story about the incident on CBS46's website, the words were "I'm learning" in Dunston's tweet below:
#Breaking: Right now, I'm learning time is up for @staceyabrams in making an announcement about a US Senate run against Georgia Republican Senator @sendavidperdue for 2020. The announcement will come Tuesday morning and @cbs46 will speak with her afterwards in a one-on-one intv. pic.twitter.com/5IINIul0Fe

— Mike Dunston (@MikeDunston) April 29, 2019
According to the station, when Dunston showed up anyway for his pre-scheduled interview with Abrams, he was met with a closed door. He called her spokesperson, who he identified as Caitlin Highland, on the phone, and asked her about the interview and her objections to his tweet. According to Dunston, Highland told him his use of those two words "implies that you had a conversation about this, that this was some publicly available timeline or something."
"No, it doesn't. People use that in news all the time," Dunston replied.
Their phone conversation continued then ended abruptly, without Dunston having a chance to speak with Abrams about her decision to not run for the Senate.
Abrams' team rescinds interview with CBS46 https://t.co/Z5OFitKKZT via @cbs46

— Mike Dunston (@MikeDunston) May 1, 2019
Dunston told viewers he hadn't experienced an interview cancellation like that in his 20-year journalism career.
"Our job is to hold folks accountable with questions and also interviews. Sometimes interactions with spokespeople can be contentious, but there's also a symbiotic relationship where we actually work together to bring you the news," he said. "Here at CBS46, we hope this doesn't change with the Stacey Abrams team."
Dunston said it's unclear if Abrams is aware of the interview cancellation.
—lericia harris
Follow Lericia Harris @Lericia_h on Instagram and Twitter.