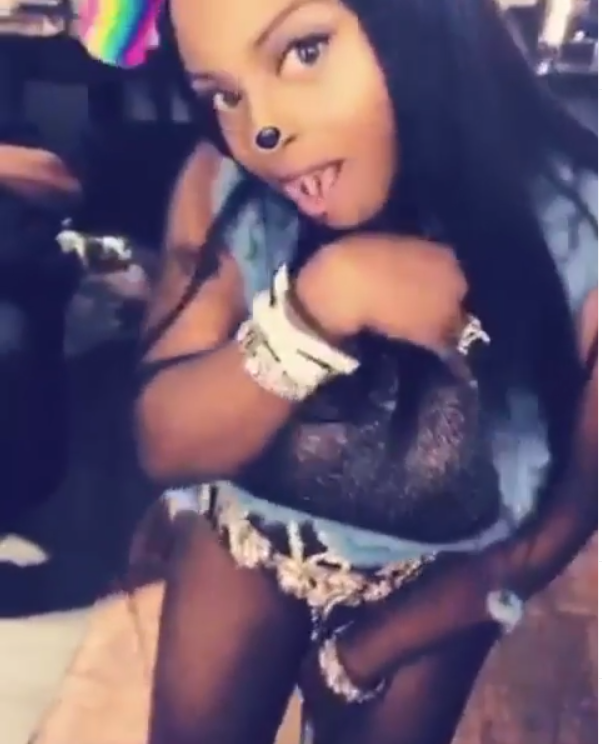 Renowned 90's raptress Foxy Brown was jeered mercilessly while performing onstage during the Kandi Burruss Dungeon Party Tour stop in New York over the weekend.
Foxy, born Inga Fung Marchand in NYC, was tagged by "Real Housewives of Atlanta" star and serial entrepreneur, Kandi Burruss, to perform at her Dungeon Party Tour stop in Gotham.
The problem was, according to The Source, is that Foxy, 40, considered a legendary femcee from hip hop's golden age in the early to mid-1990s, showed up late to the affair.
And, as Celebrity Insider pointed out, most in attendance were not aware that Foxy, a mother of one, is also legally deaf. You could tell in the video she had trouble hearing the song.
Complicating matters, was the fact that Foxy was sporting a mask and sunglasses so that her entire face and almost her whole head were hidden. Fans were not sure if it was actually Foxy onstage.
Taking all those factors into consideration, when Foxy began belting out the lyrics that were not in accordance with the beat of the song she was rapping to, 1996's "I'll Be" featuring Jay-Z, the mob in the paying seats began pelting Foxy with boo's.
The place quickly resembled the notorious Apollo Theater as Foxy was yanked off stage by one of the organizers of the show. To add injury to insult, the DJ began playing Foxy's hated rival Lil Kim's "Jump Off" joint as Foxy walked off.
Burruss, obvious miffed and embarrassed at the same time, tried to channel her inner janitor and mop up the mess.
"Y'all gotta respect my girl because she killed s—," Burruss says in the video. "Let her take the mask off."
Check out the cringe-worthy video in full below:
Chile they done booed Foxy Brown off stage ….. Did She Hear It Tho? pic.twitter.com/9xW6QWYS2U

— Peaches Jordan (@ALEJANDRODa_Gr8) May 19, 2019