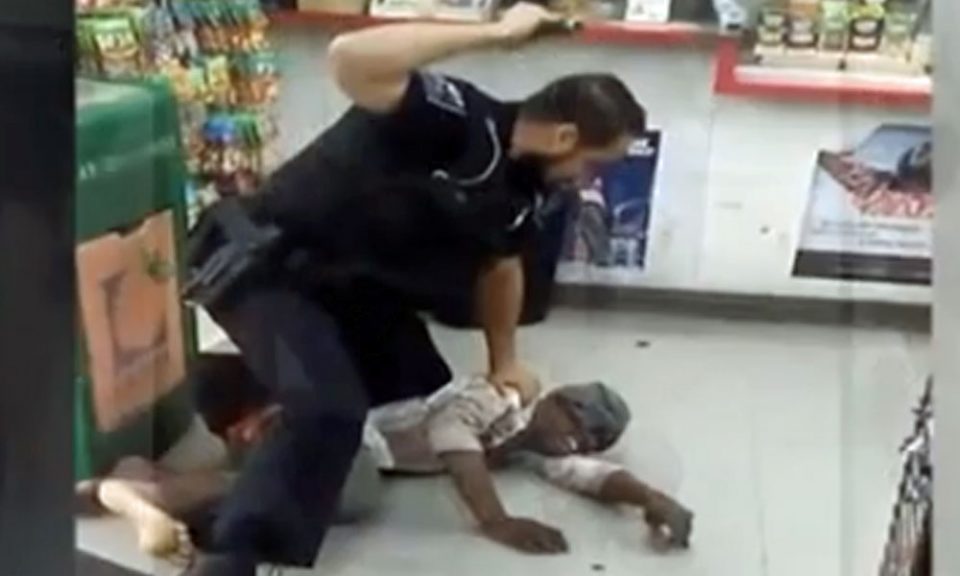 Once again cell phone video has resulted in a police officer being charged for abuse of a suspect. Dekalb County, Georgia police officer Phillip Larscheid now faces felony charges after prosecutors reexamined the video of a troubling arrest that occurred almost two years ago.
In the video, Katie McCrary, who was described as a homeless, Black woman was allegedly asking customers for money at a Chevron gas station located in the city of Decatur, Georgia near Atlanta. The store owner called the police to have her removed from the premises. Larscheid was the responding officer and instead of de-escalating the situation with McCrary, he decided instead to use extreme violence. Larscheid takes out a metal baton and begins delivering vicious blows to McCrary as she begs for him to stop and cries, "What did I do?" during the beating.
According to the police report at the time "Upon the officer's arrival, the female, identified as Katie McCrary, attempted to push the officer out of the way. The officer stopped her at the door and asked her to step back. Words were exchanged between the officer and McCrary, with McCrary subsequently assaulting the officer. She continued to aggressively resist the officer's commands, resulting in the deployment of the officer's baton. The officer was eventually able to restrain and handcuff McCrary. EMS responded to the scene to check McCrary. She was transported to the DeKalb County Jail."
However, when she got to the jail, staff refused to book her, because of the visible injuries that she sustained. These injuries included several bruises and a bleeding laceration to her leg. She was taken to Grady Hospital in Atlanta and treated for her injuries and then sent back to the jail. An Internal Affairs investigation initially cleared Larscheid of any wrongdoing and the incident was thought to have been forgotten. But community activists took up her cause and the Georgia Bureau of Investigation opened an inquiry.
On Thursday, May 30, 2019, DeKalb County district attorney Sherry Boston announced the following "We determined that the case warranted proprietorial action and presented the case today to the grand jury for one count of aggravated assault and one count of violation of oath of office, both felony charges."
Larscheid has been on desk duty since July 2017 and his lawyer issued the following statement:
"Master Police Officer Phillip Larscheid is considering his options going forward. He was Officer of the Year for 2014 for the entire Dekalb County Police Department and has received more than nineteen commendations during his eight years with the department. He certified with an ASP baton in the Dekalb Police Academy and seven times after that during annual training. He is understandably deeply concerned and taking these charges very seriously."
The video of the vicious beating that resulted in charges can be seen below:
https://www.youtube.com/watch?v=-sYpXttKDfI