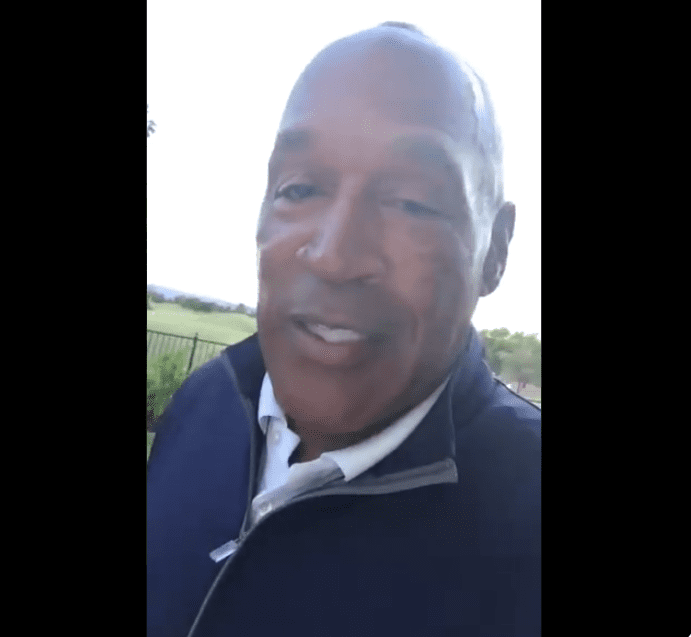 With a single arrogant tweet on Saturday, June 15, 2019, Orenthal James "OJ" Simpson gained 243K Twitter followers.
Simpson's debut on Twitter comes just days after Kim Goldman, the sister of the man Simpson allegedly murdered, Ron Goldman, began her podcast about Simpson on the 25th anniversary of the slaughter of Goldman and Nicole Brown Simpson.
The sensational investigation in 1994 and slow-speed chase up I-405 riveted a nation while the ensuing court case became known as the "Trial of the Century."
"Hey Twitter world, this is yours truly," Simpson began his video introduction.
Coming Soon!!! pic.twitter.com/R1tXOuuLgO

— O.J. Simpson (@TheRealOJ32) June 15, 2019
The Heisman Trophy winner and Hall of Fame running back, the first player to ever run for 2K yards in a single season with the Buffalo Bills, asked people to follow his twitter account, @TheRealOJ32, and warned people against following fake OJ accounts.
In what could be considered a spine-chilling threat, Simpson then smiled at the camera promising that "this should be a lot of fun," adding, "I got a little getting even to do."
What Simpson meant by those menacing closing words is not clear. But Malcolm LaVergne told CNN, "Mr. Simpson is the most positive person I've ever met."
LaVergne added, "He's also very well informed on current events. He will not be negative. Nor will he comment on the LA thing. It will be one of the best accounts on Twitter to follow."
Of course, Twitter-verse lost its mind and commented by the thousands on Simpson's seemingly brazen disrespect to the memory of his murdered ex-wife and her friend.
This will not end well. https://t.co/HY3jYtYtiG

— Jemele Hill (@jemelehill) June 15, 2019
OJ Simpson really decided to start a Twitter account on the week of the 25th anniversary of his wife's murder. pic.twitter.com/VHEFitovdA

— REAL 92.3 LA (@Real923LA) June 15, 2019
https://twitter.com/KentukyB/status/1139985412141801475
When OJ Simpson likes one of your tweets. pic.twitter.com/SGD12euX5m

— Trash Talk NFL (@TrashTalkNFL) June 15, 2019
OJ Simpson has joined Twitter under the handle @TheRealOJ32! From the looks of it, he already has a ton of followers! pic.twitter.com/qmpZbJSZmJ

— Not Bill Walton (@NotBillWalton) June 15, 2019
https://twitter.com/itshovah/status/1139946898637414401
When the top trending things on Twitter are OJ Simpson, Twin Peaks,and Neopets pic.twitter.com/LjAVHYRgkM

— Swan Benson (@SwanBensonJR) June 15, 2019
https://twitter.com/pwee31/status/1139893035041460225
I love OJ Simpson. That guy kills me!!!! pic.twitter.com/yFPZyCgBc1

— Gilbert Gottfried (@RealGilbert) June 15, 2019
https://twitter.com/SDS/status/1140001866237038597