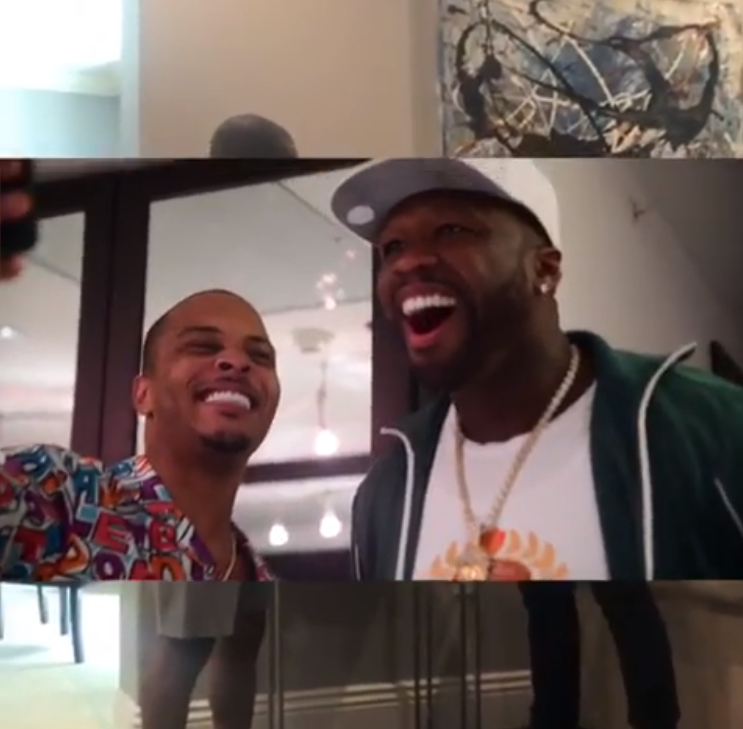 Becoming the subject of a Twitter or Instagram post authored by 50 Cent is enough to send folks into hiding. To owe the man money only adds to the horror. In fact, one movie producer was so traumatized by Twitter terrorist Curtis Jackson that he sought asylum at the nearest emergency room.
Rap magnate T.I. has witnessed Fifty's bloodthirstiness in action on a number of hapless, squirming prey. And since the Grand Hustle boss has a few outstanding debts that have not been reconciled to his satisfaction, Tip has enlisted the help of arguably the nation's most famous and ruthless debt collector to close a few accounts.
Appearing with the smiling assassin on Instagram, Tip announced he is partnering with Fifty on a bounty to track down 5ive Mics (@5ive_mics on IG).
You can almost hear the menacing melodies of "The Godfather" playing softly in the background as T.I. speaks directly to 5ive Mics, telling him that he's dispatching his "representative" to collect his coins and that this matter is "above me now."
50 Cent said he needs his money by Monday, no exception, to which Tip added: "or else."
Celebrities were rolling in the aisles over this partnership and ultimatum. Singer Raheem DeVaughn wrote, "It looks as if a debt been sold to be collected and g–d— Monday is 2merr 😳," while Cedric the Entertainer and Marc Lamont Hill posted laughing emojis 🤣🤣🤣 under Tip's post.
Obviously, the subject of the manhunt got wind of the post because 5ive_mics responded double-quick.
"Yooo @troubleman31 I've been hitting your line ☎️ 🤷🏽‍♂️🤷🏽‍♂️Tell @50centsend me his cash app name !! My money good 💯🗣5️⃣."
One fan marveled over the deal: "TIP hired the best bill collector in the game. 😂 Smart move," while another fan added: "OFFICIALLY a debt collector …. verbal contract witnessed by millions."