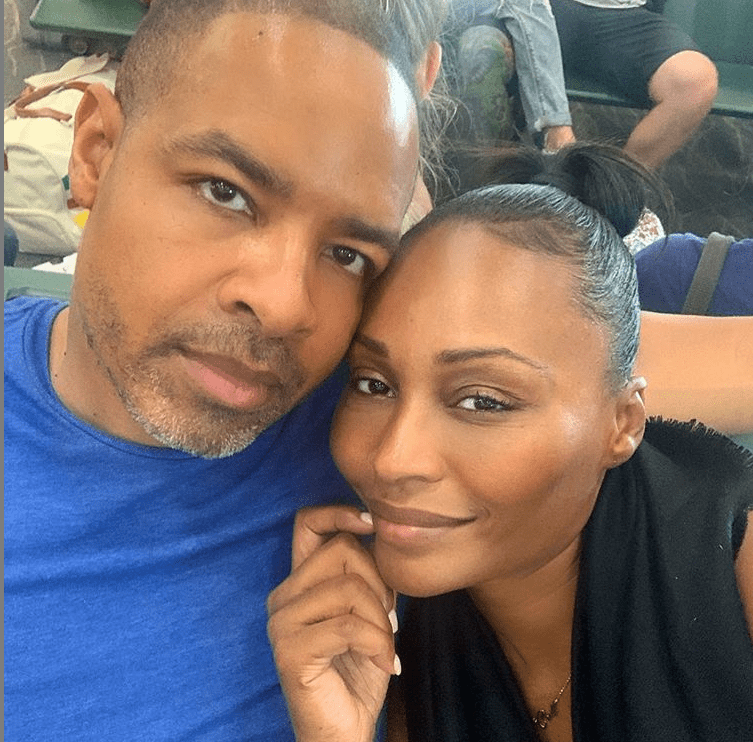 Mike Hill and Cynthia Bailey. Photo: Instagram – @cynthiabailey10
Two years ago when "Real Housewives of Atlanta" star Cynthia Bailey  and her bar-owner husband Peter Thomas divorced, she vowed publicly to never get married again.
Obviously, Bailey has had a radical change of heart.
Bailey, 52, has announced that she is engaged to former ESPN sports anchor Mike Hill. This will be the second marriage for both of them.
Hill reportedly popped the question to Bailey at the grand opening of her new business, The Bailey WineCeller in Atlanta. He came to the event packing a five-carat princess cut solitaire ring after courting Bailey for 14 months, People magazine reports.
The Fox sports reporter did it up in grand fashion, dropping to one knee and putting a ring on it in front of their children and the RHOA crew, including Bailey's daughter Noelle Robinson and Hill's two daughters, Kayla and Ashlee.
Hill conspired with the three daughters to surprise Bailey. People magazine said he commenced the episode by toasting the opening of Bailey's wine business. As he began hs celebratory toast, his daughter Kayla Hill interrupted her father and handed him a bottle with a question mark stenciled on it. and said," No dad, I think you should propose like this."
Hill got his other daughter in the act when she helped him open the bottle and then handed him a small box with the ring inside, a source close to the situation told People magazine.
Hill then "dropped to one knee and professed his love," while his and Cynthia's daughters "gathered behind him with a hand-made puzzle piece sign that read, 'Can we be a family?'"