Author Tara Coyt encourages readers to have an open convo about sex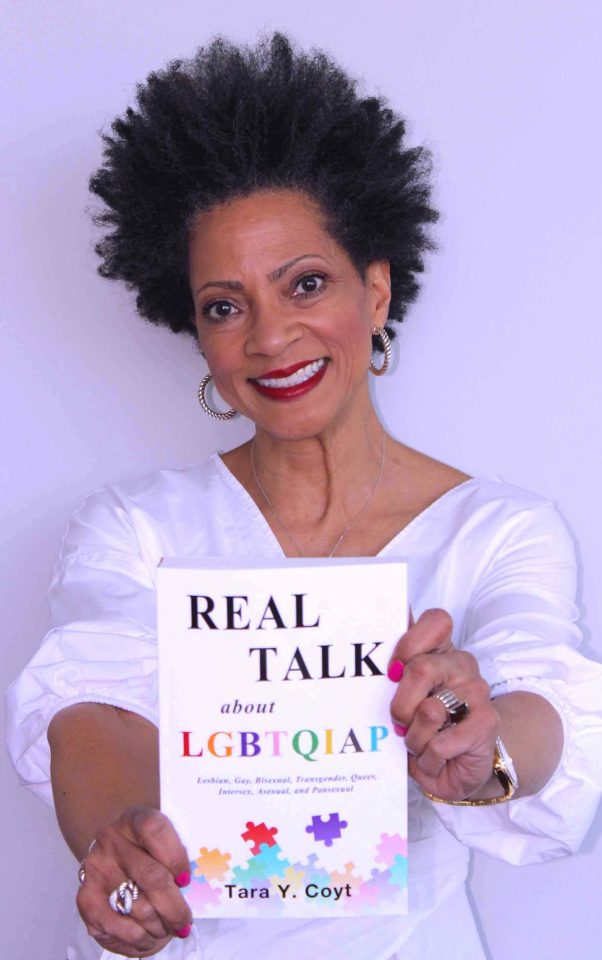 Tara Coyt is the author of Real Talk About LGBTQIAP. She is a heterosexual, cisgender writer who has developed books for two NBA All-Stars, a Death Row Records photographer, and several entrepreneurs. Coyt's articles have appeared in publications including the Atlanta Magazine, Entrepreneur, Newsmakers Journal, and Validation Times. She has also been featured in Atlanta Tribune, Ebony, and in videos for "My Black is Beautiful," the United Way's "Women United," and PBA ATL.
Coyt's awards include Atlanta Business League's Super Tuesday Outstanding Business Achievement and Atlanta Daily World Women of Excellence. She is a Walter Kaitz Foundation Fellow, holds a bachelor's degree in natural sciences from Xavier University, and an MBA in Marketing from Ohio State University. Coyt is a native of Cleveland, OH and currently resides in Atlanta.
Rolling out recently sat down with Coyt to learn more about her book.
What inspired you to write this book?
The question "Why?" pushed me to write Real Talk About LGBTQIAP. Why is there so much hate-speech, discrimination, and violence? Why would someone preach that God hates homosexuals? Why do humans have different expressions of sexuality and gender identity?
What is the story behind the title?
Real Talk says, let's put all the bull—- aside and have an open and honest conversation about sex, sexuality, and gender identity. Let's talk to real people. Let's explore real science. Let's hear from informed, experienced medical professionals. Let's read the original biblical text instead of perverted translations. And finally, let's keep it real when it comes to fairness, love, and, equality.
Do any of the characters in the book represent you?
I am the narrator: a heterosexual, cisgender woman in conversation with lesbian, gay, bisexual, transgender, queer, intersexual, asexual, and pansexual individuals, as well as other straight people. I represent anyone with an open mind, an open heart, and a desire to learn.
Name three things the reader should walk away with from the book?
Confirmation that homosexuality and transgender are not plots against the black male; they are natural expressions of humanity.
Realization that there is absolutely nothing in the Bible that addresses or condemns homosexuality.
Awareness that parents' love and support are vital their children's survival: without it, LGBTQIAP children are more likely to run away, live on the streets, become sex workers, abuse drugs, hurt themselves, and/or attempt suicide.
Who or what motivates you and why?
Barbara and Eddie Coyt. They insisted on honesty, they believed in the equality of all people, and they taught my twin brother and I to speak out when something violates those values. My parents and those principles motivate me in areas large and small. I also truly believe I can help make the world a better place.
Do you have a specific writing style?
I seek to be conversational and clear because that's what real talk is. It was important for this book to be understandable, approachable, and non-judgmental. I wrote it as if I was sitting in my living room or at my dinner table talking to the reader.
What books have most impacted your life (or life as an author)?
I was the kid who read books year-round, even in the summer. Reading Agatha Christie detective novels in middle school helped me learn to analyze problems and solve mysteries. Encountering "The Bluest Eye" by Toni Morrison was the first time I felt a writer change my life. "The Autobiography of Malcolm X" reinforced the reality that seeking information, knowledge, and new experiences can enlighten our perspectives.
What was the hardest part of completing this project?
The most difficult aspect was deleting some of the interview excerpts. Everyone's story has value and offers different perspective, experiences, and insights.
What is the mission you set out to accomplish with your voice in this book?
In my role as author and narrator, I set out to create a safe space for discussion, to ask important questions, even if they're uncomfortable, and to reveal that there are many ways people express their humanity.
A great book has what?
Truth, revelation, and inspiration.
Find Tara on social media on all platforms @TaraCoyt.