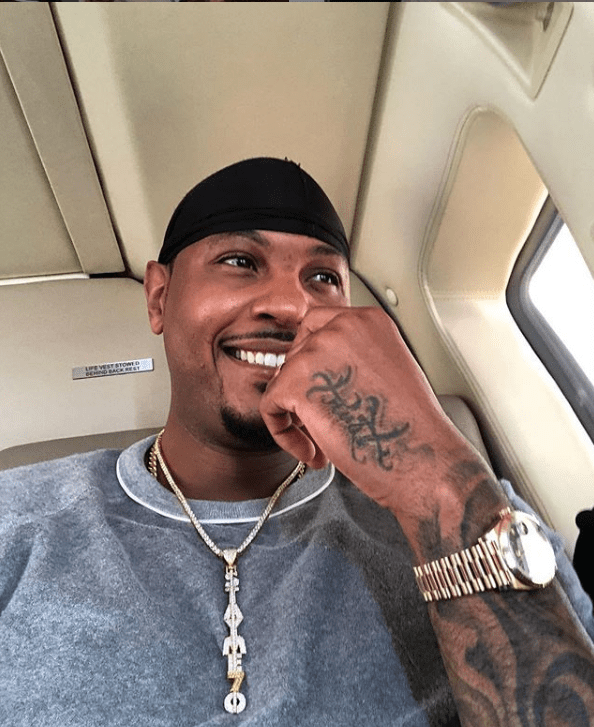 Future Hall of Fame candidate Carmelo Anthony celebrated his breakout NBA game and monumental personal achievement during Portland's game against the Chicago Bulls by FaceTiming his son during a timeout.
Anthony, the estranged husband of "Power" star La La Anthony, scored 25 points as the Trailblazers throttled the Chicago Bulls 117-94 on Monday, Nov. 25.
During the process, Carmelo "C-Melo" Anthony also passed the legendary Alex English for 18th on the NBA's all-time scoring list.
Despite all that, the best part of the night was when La La Anthony enabled C-Melo to FaceTime his son during a timeout while the game was still going on.
La La Anthony had their son on the phone and turned the phone toward C-Melo so that the NBA star could see him. When C-Melo finally noticed, he turned toward his son on the phone, smiled, and saluted her son in a geture that warmed social media's heart.
Basketball is family 🙌

Melo got a special facetime call from his son, Kiyan, after he dropped a season-high 25 points.

(via @trailblazers) pic.twitter.com/tqmQJQxMon

— ESPN (@espn) November 26, 2019
Anthony was 10 for 20 from the field, including 4 of 7 on 3-pointers. He had averaged 13 points on 15-for-44 (34.1 percent) shooting in his first three games.
"It's a humbling situation for me, but it's a testament to the work I've been putting in," he, according to Yahoo Sports. "My body feels good, mentally I feel good."
Melo made his debut for Portland on Nov. 20, during which he finished with 10 points on 4-of-14 shooting.
The 35-year-old exited the game for good shortly after that. The United Center crowd started chanting: "We want Melo! We want Melo!" midway through the fourth.
"From fans that are Chicago Bulls fans, that's a big moment," he said. "To hear that chant, with me on another team, Portland, that's out West, they didn't have to do that."