You could almost feel the emotions shooting through the TV screen during Carmelo Anthony's gripping ESPN interview when he didn't think he'd ever get back in the NBA.
Well, just a few months later, Anthony has been awarded the Western Conference Player of the Week award from the NBA on Dec. 2 after averaging 22.3 points, 7.7 rebounds and 2.7 assists for the week in which the TrailBlazers went 3-0, according to NBA.com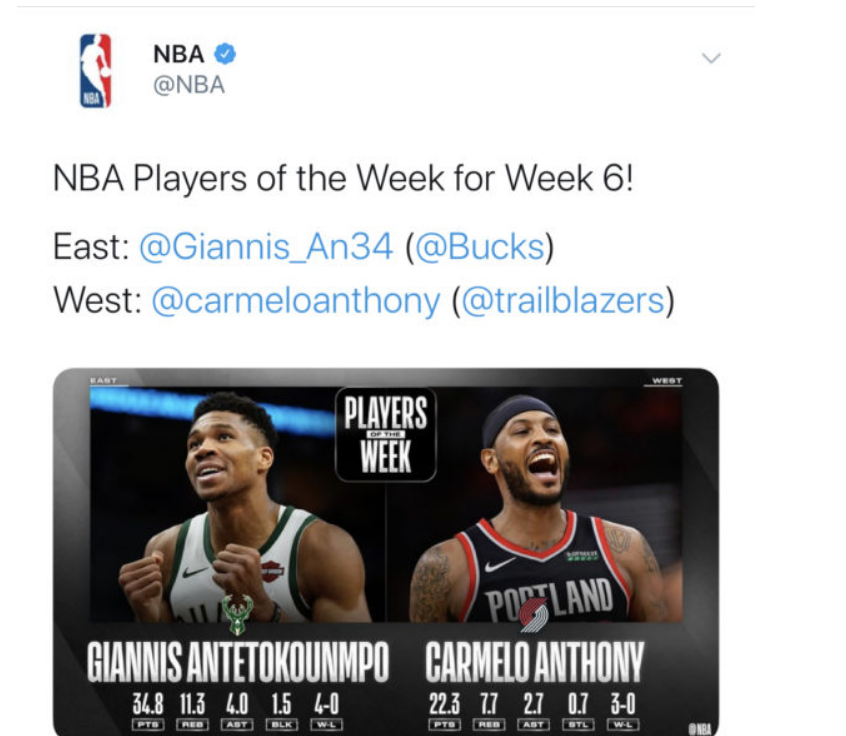 Melo also scored his first 20+ point game of his season, which put him past legend Alex English for 18th on the all-time NBA scoring list. He last won the award back in 2014 when he was a member of the New York Knicks.
So when Melo, who had been cut after only 10 days by the Houston Rockets in 2018 and hadn't been seen in the league since, scored those 20 points against the Chicago Bulls, it was a special night for him.
"It's a great night. I think, for me, it's just taking it one day at a time," said the future Hall of Fame forward, according to ESPN. "Today was being in the moment, being in the now and focusing on what we need to focus on, which was getting this win, and doing what I have to do … to help this team win. And the ball went in tonight."
Anthony got plenty of love from his NBA brethren for his Player of the Week recognition, no less than future Hall of Famer Dwyane Wade:
The Western Conference Player of the Week @carmeloanthony ‼️

— DWade (@DwyaneWade) December 2, 2019
Flip the page to take a look at C-Melo's angst-filled interview with ESPN's Stephen A. Smith on "First Take" a few months ago when it didn't appear he'd ever touch the hardwood again.