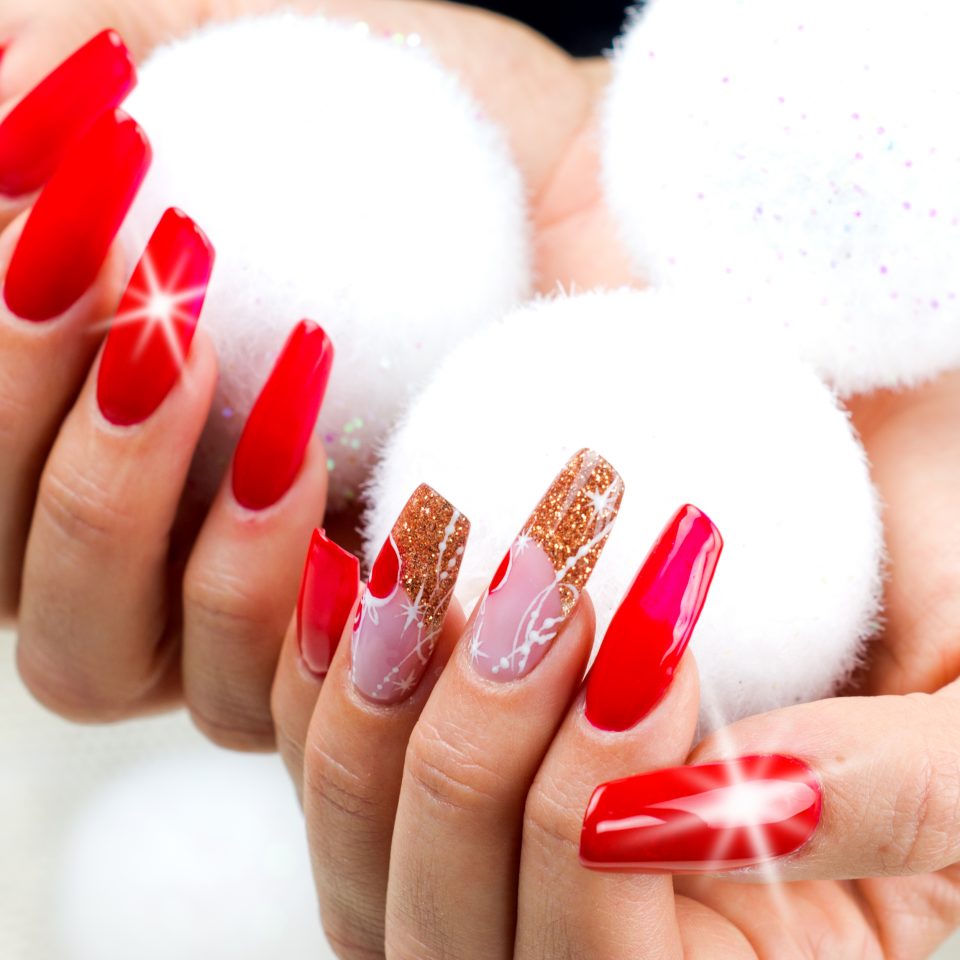 The holidays are right around the corner. Christmas trees are being decorated, the weather is changing, and festive holiday outfits are being readied to get into the cheerful spirit.
As you head to the nail salon this year, choose a creative design that will match the holiday festivities. Here are some holiday nail designs to choose from as you wait to be called in the nail salon.
These nails give you a simple, but festive holiday look. This style is a combination of nude painted and french tip nails. The french tips are dipped in white glitter, while the nude nails are decorated with a crystal white snowflake design.
On a shorter style of nail, these purple, green and white nails are decorated with Christmas trees and a whole lot of glitter.
These claws are covered in glitter and painted with pictures of snowflakes, Rudolph the Red-Nosed Reindeer and the Abominable Snowman.
Royal blue nails with snowflakes and rhinestones will put you in the mood for the winter holidays.
This nail art shows decorations of snowflakes, bows and a swirl of all three primary Christmas colors — red, green and white — decorated with shiny rhinestones.
It's a winter wonderland with white painted white and each decorated with rhinestones and glitter.
These nails will fit all occasions from Christmas to New Year's. With a sharp stiletto shape, these nails are painted with a nude, black and gold colors that may put you in the mind of gift wrapping paper. Along with the symmetrical patterns, this design also features gold snowflakes.
For a simple but festive look, these nude, white and cream nails display familiar 2D and 3D holiday designs.
Combining a simple look with a lot of glitter, this nail design gives you sky blue and glitter nails with snowflake prints.
https://www.instagram.com/p/B5jI5vhnu3O/
With purple and gold glitter nails and a combination of coffin-shaped and sharp-pointed nails, this design is accented with gold rhinestones.
Let's get away from the original red and green Christmas colors and add purple to the holiday art. Here are lavender nails with glitter and rhinestones featuring snowflakes and lavender and white swirls.
The Grinch stole Christmas with this nail art. With white, green and green glitter colors, these glossy and matte nails are decorated with the Grinch, a mistletoe, and a gift wrap bow.
Showcasing a combination of matte and glossy nails with 3D art, this design in light pink, white and gold glitter colors is decorated with snowflakes, Christmas tree ornaments and reindeer.
If you like pink and white set nails, this is the set that will put you in the holiday spirit. This nail art is designed with gift wrap bows, snowflakes and glitter to add sparkle.