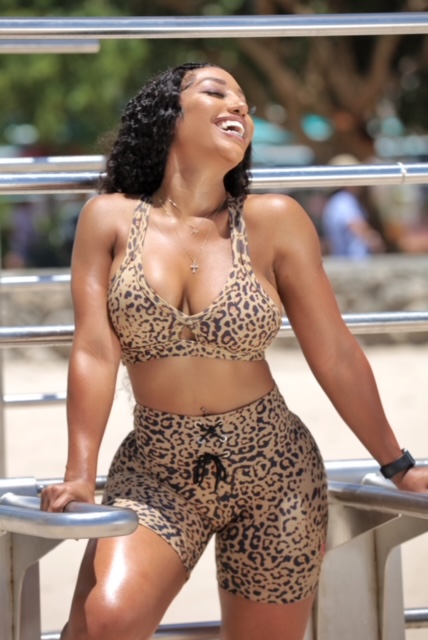 Sexy Sweats founder and CEO Melissa Dufour is an admitted dreamer whose Caribbean parents wanted the best for her. They imagined she'd enroll in nursing school to become an RN or seek out some other profession in the medical field. Her strong desire to design a fashion line, however, was unearthed as a child and followed her all the way to Florida Atlantic University where she enrolled to study physical therapy.
As a standout track star and weightlifter, Dufour's athletic ability and background ultimately helped mold her into the entrepreneur she is today. Since settling in Pembroke Pines, Dufour's wildly popular "athleisure" apparel line is trending in all the right directions, under her watchful eye and inventive mind.
Dufour spoke to us about her vision and how immaculate timing has played a part in her success thus far.
So what prompted you to create an apparel line like this one?
Out of all of my group of friends, I'm always the one with the whole sporty swag, rockin' the sneakers, or the heels with an adidas [outfit]. So I [thought what if] I could] create my own brand [and] make it a little more trendy? Make it a little sexier, you know? [I wanted] everything that I look for in the fashion world right now. So it was just an idea. I [had] no idea how I [was] going to put this together. But I had different people in my corner pushing me to do it and everything started falling in line. And I just kept meeting different people who [were] able to [bring] my idea to fruition.
Continue reading on the next page.