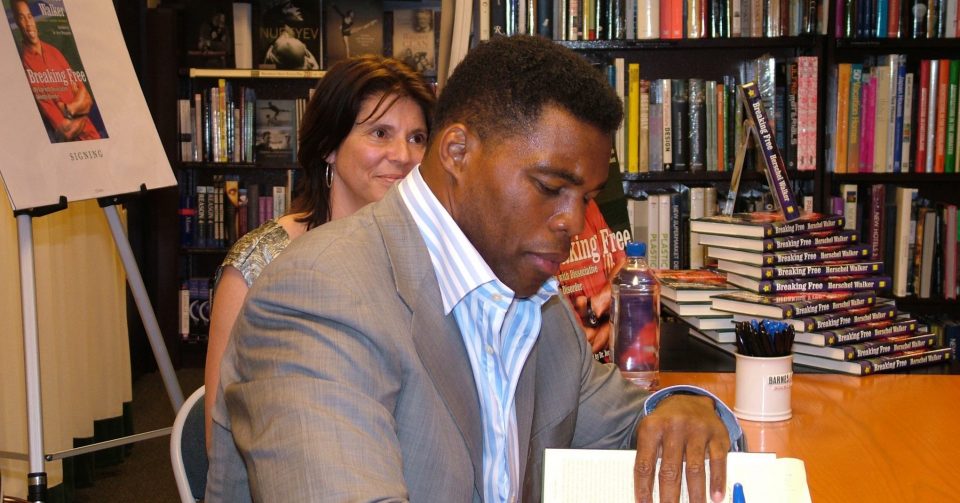 Revered former Georgia Bulldogs running back Herschel Walker, who is campaigning to try to unseat the incumbent senator, Rev. Raphael Warnock, in the U.S. Senate, has publicly criticized Black deadbeat dads in recent years.
However, it has been reported that Walker has a son out of wedlock with whom he allegedly has had little contact.
Buzzfeed published a report that Walker has a son, from whom he is estranged. That child is the product of another relationship prior to his current marriage. Walker does send the son Christmas and birthday gifts as well as child support payments, a person close to the family told The Daily Beast. 
An example of Walker's stance on deadbeat dads occurred during a 2020 interview with conservative activist Charlie Kirk where he describes fatherless homes in the Black community where he grew up to be a "major, major problem." 
This news comes the same week that the Atlanta Journal-Constitution reported that Walker's claims that he was an honorary deputy in several Georgia counties and was even an FBI agent were false. He has also been scrutinized for his claims of ownership of a poultry company as well as his college degree from the University of Georgia. He did not graduate from UGA.
Furthermore, Walker has faced questions about a domestic incident with a woman in 2012 as well as the state of his mental health.
Walker has been admired ever since the record-breaking halfback led the Georgia Bulldogs to a national championship victory as a freshman during the 1980-81 season. He further cemented his legend by winning the Heisman Trophy as the nation's best player in 1982.
Today, Walker is a popular choice among Republicans and is endorsed by former President Donald Trump. He and Warnock will face off in the general election in November 2022. The two are currently running neck-and-neck in the political polls, according to the AJC.