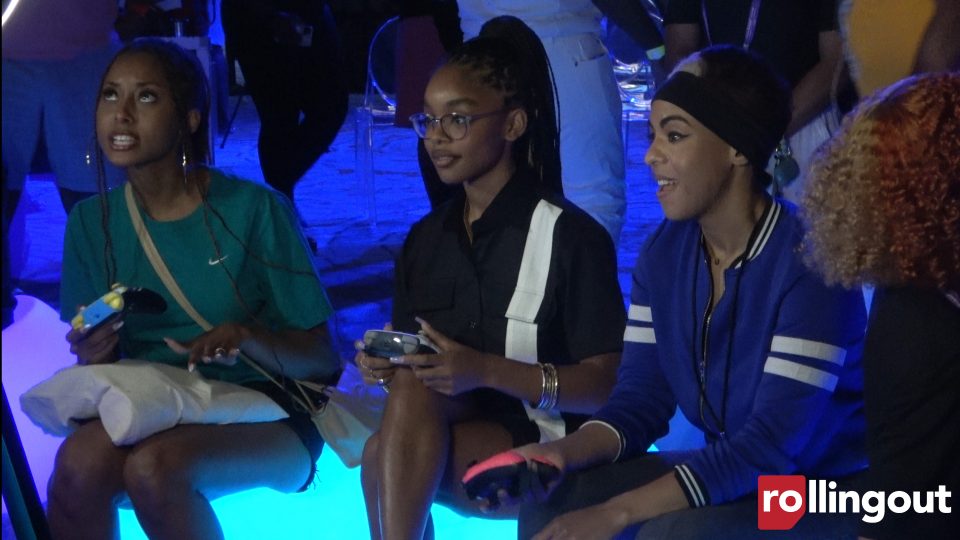 Erin Ashley Simon continues her quest for the biggest achievement to date of her career: to showcase the popularity of video games with Black people and increase the number of Black faces in the industry.
Simon's career kicked off over a decade ago as an accomplished journalist primarily covering music and sports. Over the past few years, her focus has shifted to the world of e-sports and she even has ownership in some gaming companies. On July 2 at the Essence Festival of Culture, Simon teamed up with Ryan Johnson's Cxmmunity, Brianna "Storymodebae" Williams and "black-ish" star and BET Award-winning actress Marsai Martin for an hour of gaming. After playing, Simon and Williams discussed Black women in the gaming industry during an interview with rolling out.
How has it been at this year's Essence Culture Festival?
Brianna Williams: Being at Essence Fest 2022 is incredible. There's something so fulfilling and so rewarding about being around your people and being able to surround yourself with so much culture and Black excellence. I have been wanting to come to Essence Fest for at least the past three, four or five years. So to finally be able to make it out here and also be able to spend this time with my family is really incredible.
How was it playing with Marsai?
Erin Ashley Simon:  It was fun.
I think the great thing about this is showing that everyone games. [Brianna] was saying how she loves Mortal Kombat. People may look at her and be like, "Oh, wait, you game?" or, "Oh, you play Mortal Kombat?" So I think it was another great opportunity for people to see that like, yes, as Black women, we love video games just like anyone else. It's not just a thing for men, and it's not just a thing for Black men. There are many Black women who love to game, and we don't just play 2K and Madden. We play all kinds of games, which is so important for us to highlight. So it was really cool. [Brianna'] really nice. I have to say, though, I need a rematch for Mario Kart because I was not in the right setting for that. We're going to get a rematch.
BW:  It was incredible. [Erin is] so cool, I love her. I love her energy. And no, she wasn't playing around. She kind of whipped our butts a couple of times. We tried to keep up with her, but she was kind of tearing us up.
What advice would you give a parent whose child wants to enter the video game space?
EAS: Be open-minded. Understand gaming is not an anti-social activity, it's actually a social activity. … Now, you have the ability to play with people across the world, play with people who don't even speak the same language, but the one common denominator is that passion for that game and the understanding of the mechanics of the game.