Eric Holder, the reputed gang member who allegedly shot and killed rap legend Nipsey Hussle, showed up in court with a swollen face after reportedly being ambushed inside the Los Angeles County jail. 
Rolling Stone reporter Nancy Dillon said that Holder, who was in the process of being transported to a Los Angeles County courthouse to appear at his trial ended up missing the appearance following a trampling by more than one person. 
When Holder finally appeared, his face appeared swollen and bruised on the left side, while his left eye was fully swollen to the point where his left eye is practically closed. His attorney, Aaron Jansen, told CBS News that the attack was an "in-custody beating" with one of the attackers having a razor.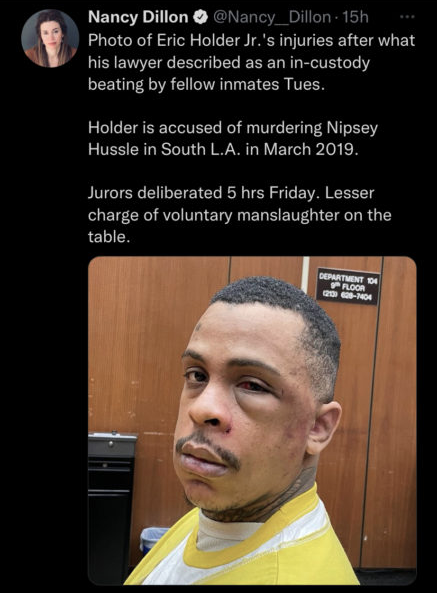 "Mr. Holder, Jr. was assaulted by multiple individuals while he was in the holding cell at the jail while waiting to be brought to court yesterday morning. The attack included a razor and the back of his head was cut." 
Holder is facing life in prison after he allegedly shot and killed Hussle, who was born Ermias Asghedom, in the parking lot of the Marathon Clothing store he owned in South Central Los Angeles on March 31, 2022. He was 33 years old. 
Tanisha Foster, who was Hussle's girlfriend before he started the long-term relationship with actress Lauren London, is the mother of his first child. She reposted the brutal photo with a blunt prediction: "I'm turning up when he takes his last breath."