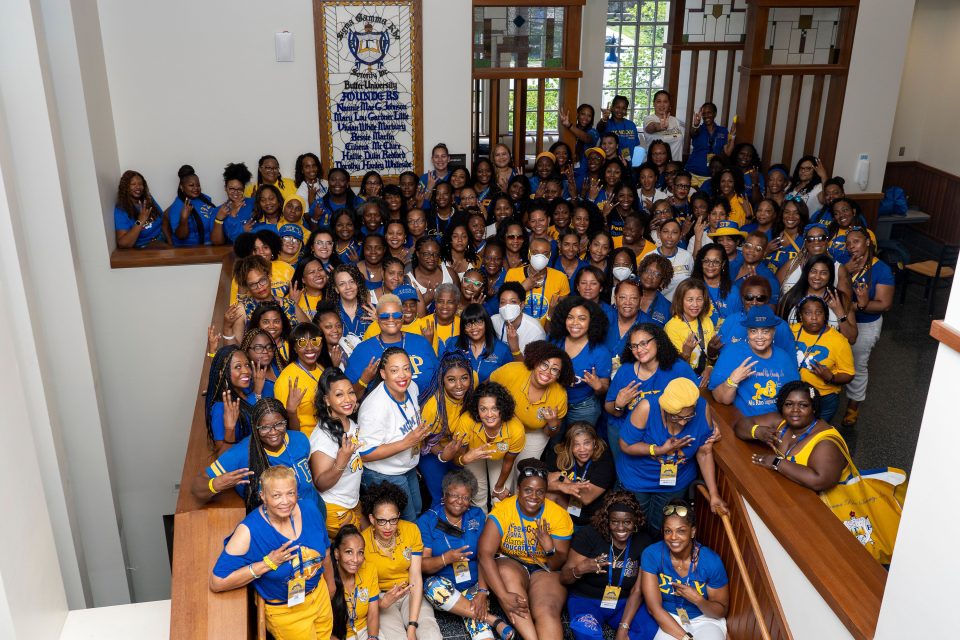 Sisterhood. Service. Leadership. It's been 100 years since seven young women decided they wanted "Greater" on the Irvington campus at Butler University. Greater solutions, advancement, opportunities, and a greater impact on the surrounding community. As evidenced by their slogan of "Greater Service, Greater Progress," the founding members planted the seeds, laying a solid foundation that many have gleaned from and reaped immense benefits from, thereby charting a path for a multitude of ladies to pick up the torch and carry it forward. Mary Lou Allison Gardner Little, Dorothy Hanley Whiteside, Vivian Irene White Marbury, Nannie Mae Gahn Johnson, Hattie Mae Dulin Redford, Cubena McClure, and Bessie Mae Downey Rhoades Martin, all educators, came together with the vision to uplift the community through their commitment to service.
As a result of the vision and hard work put in by these trailblazers, Sigma Gamma Rho Sorority Inc. has grown by leaps and bounds. The organization recently celebrated its 100th anniversary. Reaching this achievement is not only a milestone but also allows the organization to tell its origin story, exhibit its growth and evolution, and orchestrate and map out plans for the future. From July 12-17, a sea of royal blue and gold descended upon the city of Indianapolis, Indiana, to celebrate this momentous occasion.
The theme for the five-day conference was appropriately coined, Greater Women, Greater World. The week was full of Greater Women (sorority members), celebrities, robust fundraising, exclusive affairs, and, more importantly, fellowship and sisterhood. Rolling out was there to capture the experience. The week of festivities kicked off with a homecoming hosted by Butler University where a monument honoring the founders was revealed. Radio host Rickey Smiley also hosted a live broadcast. On day two, members joined local supporters and participated in their Centennial Day of Service, where various services were offered to the community. Members enjoyed a block party where special guests, The Hamiltones, performed and kept the party rocking. By mid-week, activities consisted of workshops, meetings, and celebratory outings. Friday, there was an awesome step-show and concert where artists like Charlie Wilson and Too Short performed. Saturday morning began with the Centennial 5k and ended with a phenomenal gala. The ladies welcomed their honorary class of new members, Tonya Edwards, Marsha Ambrosius, Congresswoman Barbara J. Lee, the talented women of Brownstone, and Wendy Raquel Robinson. They danced the night away to the soothing voice of Anthony Hamilton. Events closed with a Prayer and Praise breakfast that featured the incomparable Kirk Franklin and Maranda Curtis who blessed the ladies immensely.
Throughout the week, it was evident the sorority members were bonded together by one common goal while being led by fearless leadership, as evidenced by their founding members. Under the innovative guidance of International Grand Basileus Rasheeda S. Liberty. The organization has much to look forward to as they have closed one chapter and are poised to blaze new trails and plant seeds that the next generation of Greater Women can reap from to continue building a Greater World.