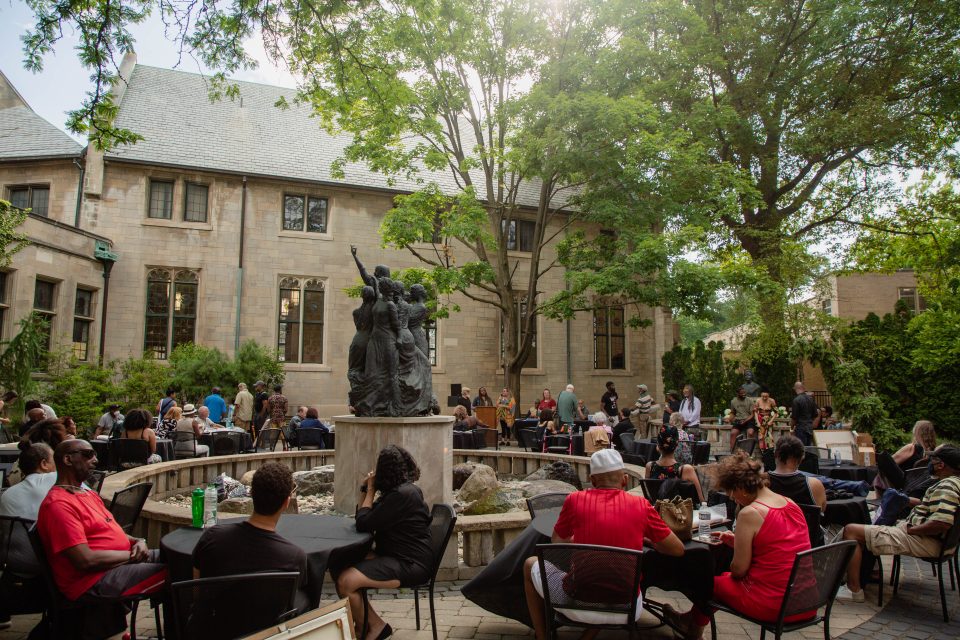 Going strong for more than a decade, the Detroit Fine Arts Breakfast Club (DFABC) took a major hit during the pandemic. The lively in-person meetings came to a screeching halt and, although DFABC's on-line presence continued to flourish, members sorely missed their weekly gatherings. On July 11, the group met in-person for the first time in nearly two years at a new location within the illustrious Marygrove Conservancy. The evening had all the makings of a family reunion.
Held outdoors on the campus' Madame Cadillac Square, the meeting was enthusiastically attended by nearly 100 members and "artsy folks" in the words of one of the Breakfast Club's eclectic founders, Henry Harper. Welcome remarks were offered by the Conservancy and the program was moderated by COO, Racheal Allen.
Thirty-eight artists presented their works to the audience, sharing over seventy pieces of art in total. Picking up with a passion where past meetings left off, there were lectures and anecdotes shared about fundamental artist practices, feedback was given to presenting artists, there was laughter, hugs, stories told, and collectors departed with lucky acquisitions.
In the past, weekly meetings drew standing-room-only crowds at Nonie's Sherwood Grille on Detroit's Northwest side, where members were able to enjoy diner-style meals amid art and camaraderie. Keeping this feature was important as organizers considered a new location. Equally important was keeping the fare affordable for its members. Award-winning chef Phil Jones filled the void at Marygrove and catered healthy, moderately-priced meals that were sold out before the meeting's end.
The Breakfast Club was started in 2009 because two friends, Henry Harper and Harold Braggs, loved art and liked to eat. A weekly art discussion over coffee and eggs grew into a congregation of dozens, including a beloved hub, a melting pot of attendees, an art incubator and a church revival for artists and enthusiasts citywide. During the meetings artists are given just a few minutes to present, explain, and even sell their original works. Presenters take in feedback and get to cultivate their skills in front of a like-minded audience, and the savviest collectors know that this is the place to be to find some of the city's most promising, emerging and undiscovered talent. Anyone in the Detroit art scene knows that it pays to make a Breakfast Club pilgrimage. Whether you walk away with a masterpiece, inspiration, or a few new friends, the experience is inimitable, entertaining, and invaluable. Renowned at this point, the club's energetic and supportive model is being talked about and emulated around the world.
The new location offers vast possibilities for the club, including the option to hold meetings outdoors in the courtyard, or in the enclosed meeting room. Additionally, the Marygrove campus provides an area for exhibitions and events, which DFABC plans to use to showcase the work of their members.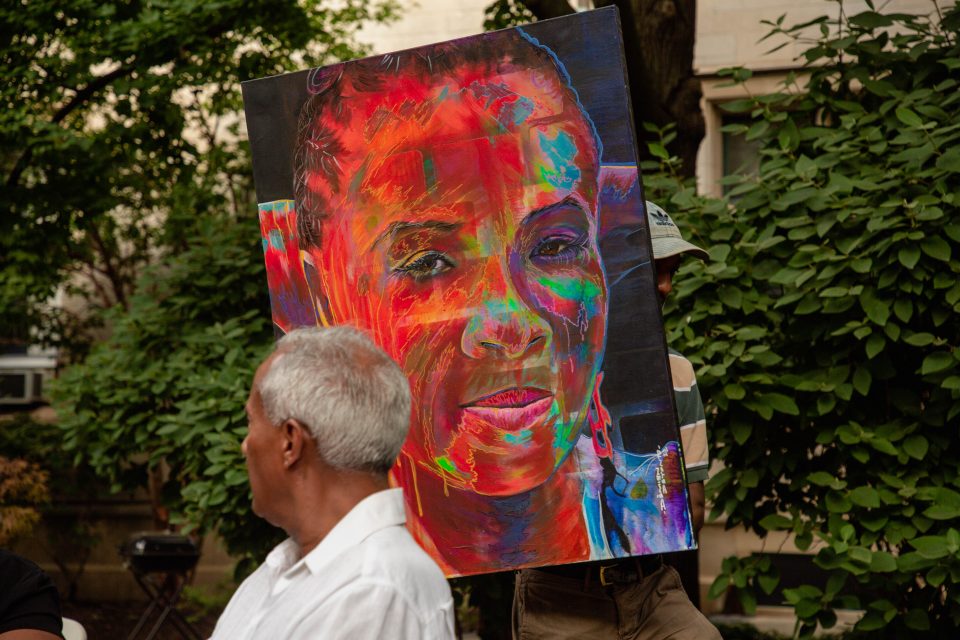 Breakfast Club meetings will continue at Marygrove every Monday at 5:00 pm ET. Attendance is open to all artists, art-lovers, collectors, professionals, wannabees, and enthusiasts. The longstanding motto is that you need only attend once to be a member.
'People, Places and Things', a juried exhibition featuring about 98 DFABC artists, opened to the public at the Detroit Historical Museum on July 23, 2022. "NEVER has the Detroit Historical Museum hosted an art exhibition where the featured art has been created by local artists. NEVER!," Braggs excitedly posted in the group's Facebook page. The collaboration marks a historic first for both the Breakfast Club and the Museum, and runs through October 9, 2022. For more information check the Detroit Fine Arts Breakfast Club's Facebook page.
Photo gallery credit as noted.