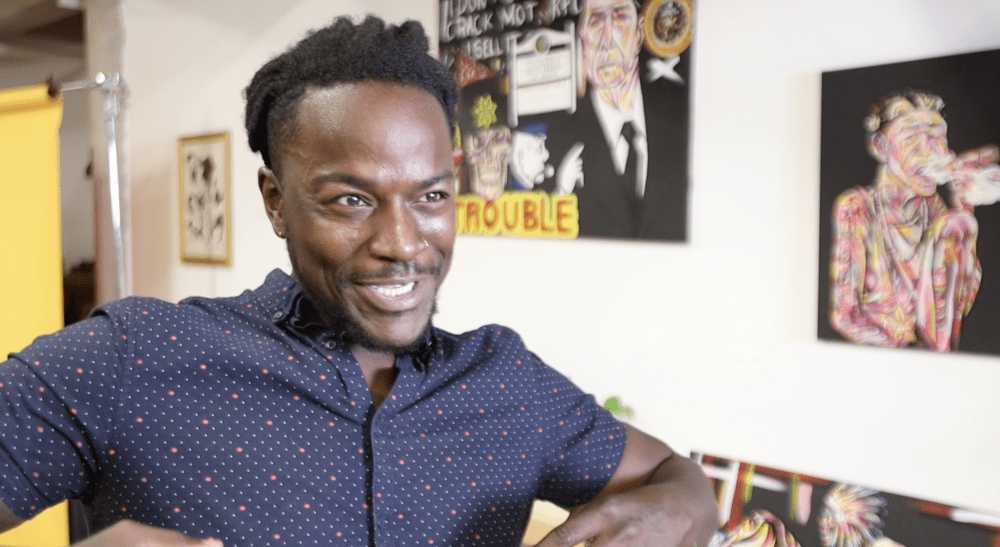 Making Smoke Company and Dutch Masters held their Making Smoke Master Class on Aug. 19 at the Tiny Arts Gallery Penthouse and rooftop in Los Angeles. The Master Class featured an artist showcase and artist talk with several renowned artists in the area, including Medium Rare Chicken, Trokon V, VMR.3, Tray Lee, and Augie Ray.
LA artist Medium Rare Chicken spoke with rolling out about how he's making the smoke.
Tell us about your creative process.
A lot of it consists of research because my paintings come from a historical background, and I try to incorporate a lot of factual events. So, I have to read a lot, ensure I get it right, and ensure I'm not messing up in terms of the references. Other than that, it's fun. I enjoy what I do.
What have you mastered lately?
Being disciplined in terms of how I approach my day. I try to paint at least eight hours a day, and I approach it like a job. Just doing that alone brings so many different results. It's like you end up creating things that you wouldn't normally think of, and that's definitely something that's in all of our control as far as how we approach our day with how much intention.
What's bringing you an inspiration to create your world? 
I set a goal for myself where I want to have at least 50 paintings done. I'll be at home watching a documentary on World War II or the Vietnam War, and then I'll just want to draw a fighter jet or a different piece that goes with a collection. I have a set goal in my mind where I want to have a certain amount of paintings done. My goal is to be prolific, and have as many paintings as possible so that by the time, it's said and done for me. My work is out there, and they can speak for me.
What is it like when you look back and feel a piece of your soul on the canvas?
I think that feeling really creeps in when you're at the point of selling it. When you actually sell a piece, that's when you're like, "D—m, okay, I got to make sure I didn't leave anything on the table." Because up until then, it's in your living room. You got to look at it. You can paint on it, you can edit it, but once you let it go into the universe, and someone else has it, there's nothing you can do about it. They drop it, they got a little scratch on it, that's on them. At that point, I want to make sure when I release this, there's nothing wrong with it, and that's when it becomes really difficult to let go of something.