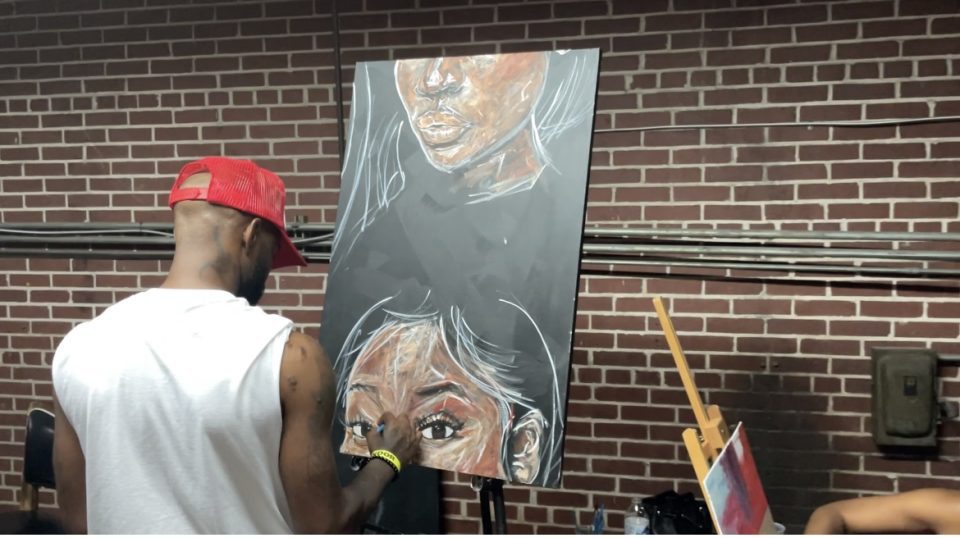 At Bonfire ATL, rolling out spoke with Petie Parker Parker about how he began his career, his technique, and how painting is also a form of therapy.
Who's making smoke right now in Atlanta?
I'm Petie Parker, first of all, and I'm making smoke in Atlanta. I can't speak for what everybody else is doing, but for myself, I'm making smoke in Atlanta.
What medium do you use? 
I do acrylic on canvas because I paint a lot faster. It's kind of sketchy because I like to draw a little bit too. I kind of know how to adapt my style to painting and drawing. I like to do a lot of black on black as well. I love black, so I try to incorporate women on black backgrounds if the setting is medieval or portraits. It depends. I love painting pictures of Black women on black backgrounds.
How did you get into art and what was your inspiration? 
I used to manage visual artists and photographers, and I made a name for myself doing that. Then I started managing a space called Peters Street Station, an art and design community center. Once I was in there I don't know what the h— happened, but COVID-19 hit, I tried to paint, and that s— took the f— off.
Is painting therapy for you? 
Absolutely. I get paid to go to therapy.