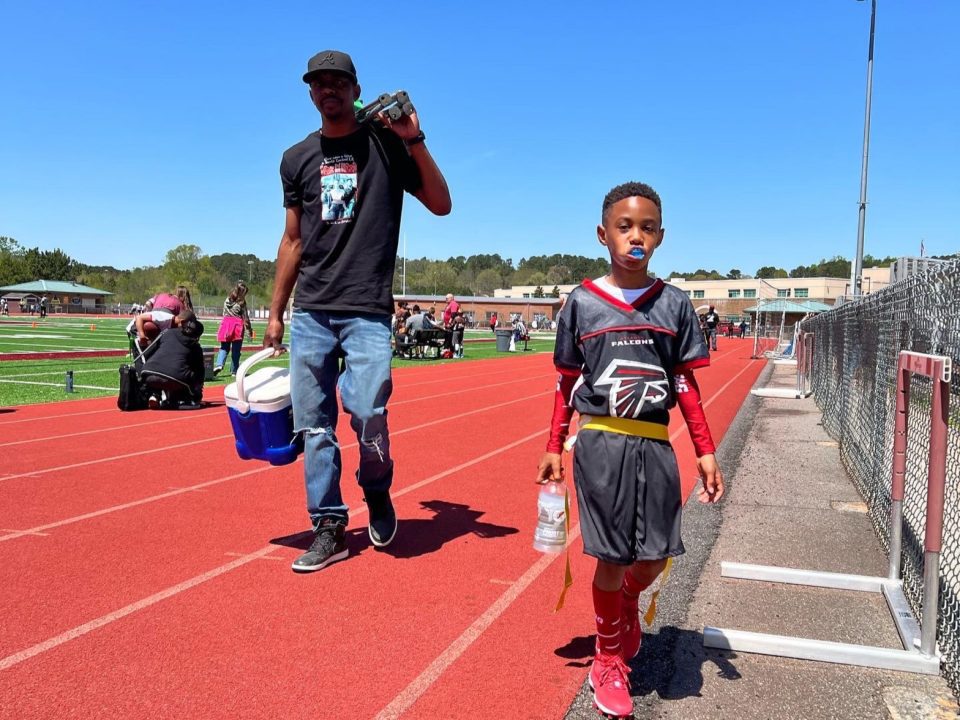 Tyson, a 9-year-old boy from Atlanta, is a football fanatic. He watches NFL highlights on YouTube whenever he's not outside actually playing the sport with some friends around the neighborhood.
Tyson's favorite player is Miami Dolphins' star wide receiver and fellow Georgia native, Tyreek "Cheetah" Hill. A star athlete on his flag football team, Tyson is his team's quarterback but awaits the day he can become a receiver to run into the end zone and hit a touchdown celebration dance.
There are only two things stopping Tyson from fulfilling his dreams of one day becoming a star in tackle football: His parents.
"With the concussions and all that stuff that comes with it, we're just not sure if a 9, 10-year-old should be going through that voluntarily," Desmond Jenkins, Tyson's father, told rolling out.
Many parents and adults have revived the ongoing discussion of letting their children play tackle football after Buffalo Bills safety Damar Hamlin collapsed on the field during a game against the Cincinnati Bengals on Jan. 2.
Hamlin needed nine minutes of CPR on the field, and the Bills later confirmed the 24-year-old athlete went into cardiac arrest and his heart stopped twice that night, once while on the field, and later at the hospital.
I learned that my kid ain't ever playin football… but yea, cpr too. https://t.co/IbIfYlx5y4

— Pen Pusher ✍🏽 (@VanzMarlee) January 3, 2023
the way my kids could never ever play football

— 9 (@ennxxj) January 3, 2023
My kids ain't playing football man !!!

— Jermaine Dolly (@JermaineDolly) January 3, 2023
Despite Jenkins' concerns, the father of one of Tyson's friends, who also coaches his son in tackle football, attempted to persuade Jenkins to let Tyson try the sport.
"The more I talked to him, he finally admitted that his son, at 9, has already had two concussions," Jenkins said. "Yeah. I don't know if that was to make my son want to play more or not, but it was one of those things where it was a natural conversation to him. Like, it's just a part of the game, but to me, life is way bigger than that game."
Atlanta singer Shellie Sweets has similar concerns about the sport. While she doesn't currently have any kids, she does have a nephew and she played soccer herself from age 6 all the way through a collegiate career at Loyola University in New Orleans. Sweets said she currently feels the effects of her athletic career.
"I experience headaches where I have to get Botox injections to help with the spasms," Sweets said. "I have to get physical therapy for my neck, and a knee injury that happened way back in college. I didn't do what I needed to as far as eating right. I didn't know any better, so there are still some side effects that are negative. At the same time, my being active in my youth has allowed me to bounce back and have a certain flexibility and metabolism. There are good things when you're active [while you're] young that carry into your older life."
Sweets also said she deals with short-term memory loss she attributes to the head trauma she suffered from years of getting hit in the head with soccer balls. Reports of younger athletes passing out from heat exhaustion to concussions also concern Sweets, and she feels better nutrition could solve more of the health issues moving forward.