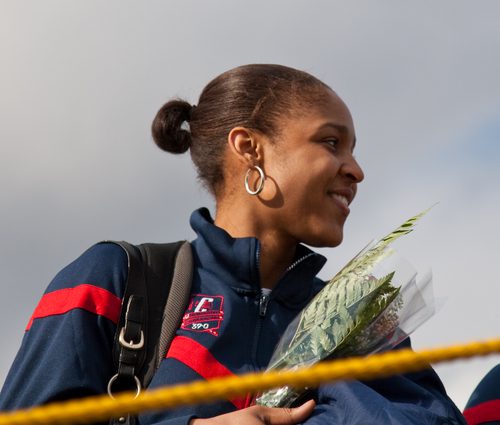 Maya Moore Irons recently announced her official retirement, at the age of 33, from professional basketball on "Good Morning America." She was seated next to her husband Jonathan Irons as she disclosed the news to GMA host host Robin Roberts, although she unofficially walked away from professional basketball seasons ago.
Throughout her time in the WNBA, she has achieved a good deal along the way. Some of those achievements include two-time NCAA championship, four-time WNBA championship, six-time WNBA All-Star, All-Star MVP, 2013 Finals MVP, as well as the 2014 WNBA MVP.
During the interview with Robins, Moore-Irons shared what her main focus is these days and how she hopes to impact the community.
"I think it is time to put a close to the pro-basketball life. I walked away four seasons ago, but I wanted to officially retire. This is such a sweet time for us and our family and the work that we've done, I want to continue that in this next chapter. I want to continue to be present at home, for my community, for my family, and for our little baby Jonathan. But also doing work for Win With Justice, our nonprofit to continue to raise awareness about prosecutorial reform and how we can have safer and healthier communities. So, that's where we are moving to but yes [I'm] hanging it up," Moore-Irons explained.
Moore and her husband also announced the release of their book Love & Justice, which critics describe as, "a story of triumph on two different courts."
The couple's nonprofit organization, Win With Justice strives to educate citizens and build social action surrounding the excessive power that prosecutors have in maintaining and expanding mass incarceration. The pro athlete may be retiring from professional basketball, but it's clear she will remain an activist for change.
Maya Moore officially announce her retirement from pro basketball on @GMA.

2x NCAA Champ
4x WNBA Champ
6x WNBA All-Star
3x All-Star MVP
2013 Finals MVP
2014 WNBA MVP

— Khristina Williams (@Khristina) January 16, 2023