Erykah Badu elicited both admiration and disgust simultaneously when she posted photos of her and her daughter Puma Curry showing off their derrieres together on social media.
The soul singing legend makes it hard to believe that she is 51 years old, but she also showed irrefutably that she passed on her genes to her 18-year-old daughter.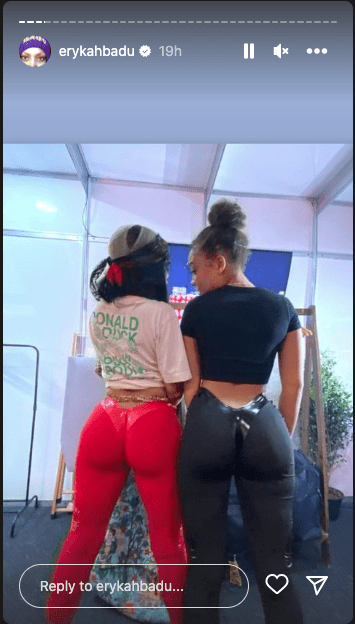 "Erykah Badu and her daughter Puma with the flex showing us it's all in the genes, LITERALLY!" one Twitter user exclaimed.
While another questioned Badu's morals and ethics for snapping booty photos with her own child. "I don't know if I would take a picture of backshots with my mama, though, that is extra," the second person opined.
This is not the first time, Badu has proudly flossed her voluptuous figure for her adoring fans. While some are awed that Badu has taken meticulous care of her health and figure, others find it off-putting that she has her young daughter showing her posterior to the public.
Erykah Badu & her daughter Puma Curry showing off their body 🍑 pic.twitter.com/ViJaLEpg8I

— 1more4thegain (@1more4thegain) January 23, 2023
Erykah Badu & her daughter Puma Curry showing off their body🥰🔥 pic.twitter.com/sw5FJe0bNH

— Raphousetv (RHTV) (@raphousetv2) January 23, 2023
Erykah Badu and her daughter are double cheeked up pic.twitter.com/MpQTpaZneY

— Biscuit Eating Bulldog (@Bornwithadarkt1) January 23, 2023
I wonder how DOC
feel about
Erykah Badu
slutting they
daughter out
for likes and views🤦🏿‍♂️ pic.twitter.com/GrYHtmqspJ

— OG Cerious (@ChadoeCerious) January 23, 2023
After seeing that pic of Erykah Badu and her daughter😳 pic.twitter.com/uoRTQnFehY

— Ismael AbduSalaam (@Ismael_BBM_NYK) January 23, 2023
Me telling Twitter why Erykah Badu is trending pic.twitter.com/qY3jicmEj2

— 𝐄𝐱𝐚𝐯𝐢𝐞𝐫 𝐏𝐨𝐩𝐞 (@exavierpope) January 23, 2023
Erykah Badu is a good artist. She's also a thot and the Nick Cannon of baby mama's. That pic is not surprising.

— Palas (@Plutosaplanet22) January 23, 2023