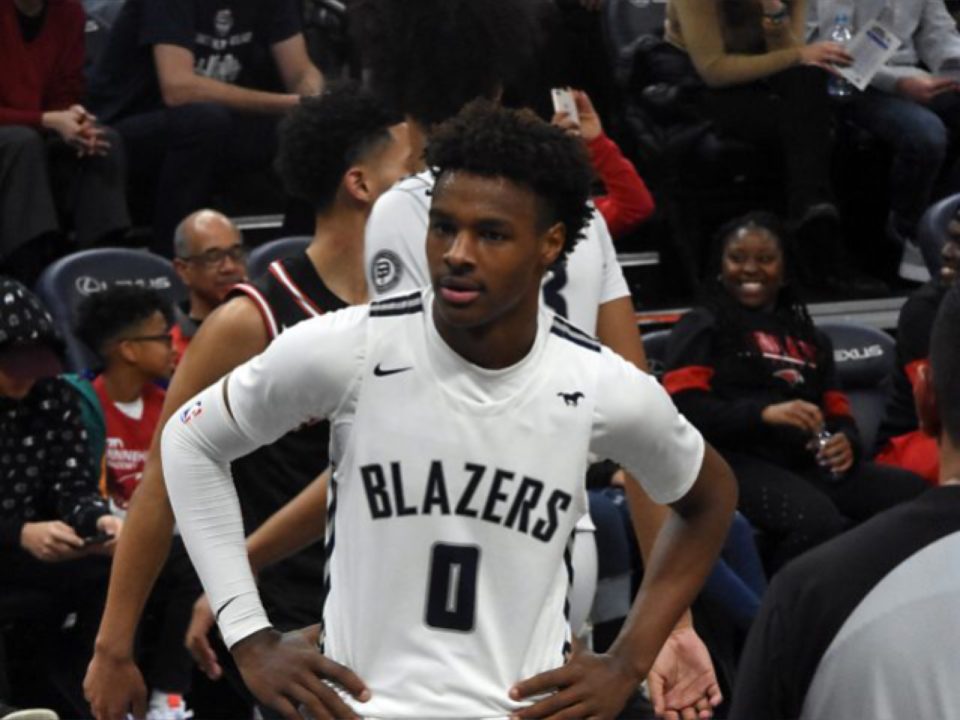 Bronny James was named a McDonald's All-American on Jan.24. A senior at Sierra Canyon, a prestigious private school located outside of Los Angeles, James made it onto the roster alongside 23 of the country's best boys basketball players.
Bronny James has been named a McDonald's All-American 👏 @brhoops pic.twitter.com/34nuEOkBhS

— Bleacher Report (@BleacherReport) January 24, 2023
Other notable names on the list include top five prospect DJ Wagner, the son of Dajuan Wagner, and the country's top player from Marietta, Georgia, Isaiah Collier.
The son of all-time basketball great LeBron James, Bronny's high school game has progressed at a steady pace throughout his career. As an underclassman, James' minutes were limited, but he showed high basketball IQ and great 3-point shooting ability. As an upperclassman, he's grown taller, stronger, more athletic and added to his high IQ and shooting ability. James is also a smart defender.
James is expected to commit to a college soon between top contenders Ohio State, Oregon and USC. James was born in Ohio, and his father is a big fan of the Buckeyes. Oregon is the birthplace of Nike, a company James has signed an NIL deal with and where his father has an office. USC is in James' current place of residence, the Los Angeles area. The Trojans are also the program Juju Watkins, Sierra Canyon's star on the girls side, committed to early in the season.
James' famous former AAU teammate, the high-flying Mikey Williams, was one of the biggest omissions from this year's rosters. Williams surpassed one million Instagram followers a few summers ago thanks to a difficult dunk completed after an off-season workout. Williams is now committed to play at the University of Memphis for coach Penny Hardaway in addition to signing with Yo Gotti for an NIL deal.
Over the years, Williams' national ranking has plunged from No. 3 to No. 26 now, according to the 247Sports Composite rankings. James is ranked No. 33 on the same ranking system, for reference.
Fans had something to say about the decision.
Idk man but Bron influence is going to get Bronny in places where he hasn't earned it, and take away from those who did…he shouldn't of been selected to the McDonald's team over Mikey Williams 🤷🏽‍♂️

— #TheInfamous (@MO_The_General) January 24, 2023
Bronny Jr. making McDonald's All-American and not Mikey Williams is insane!#McDonaldsAllAmerican

— Shannon Person (@SP_AllDay) January 24, 2023
Other fans argued while Williams is ranked higher and had more hype coming into high school and averages more points, James still plays a smarter brand of basketball.
Haha come on.. I'm not bias.. I actually do watch the games.. Mikey I worry his game won't translate to the higher level.. Bronny is an all round player

— Deshaunsaballer (@deshaunsaballer) January 24, 2023
i question your basketball intelligence if you think mikey better then bronny lmao your literally a casual & i fw mikey

— dex (@DayEzEVert) January 24, 2023
Watch senior highlights of Williams and James below and let us know who you think should've made the coveted All-American roster.