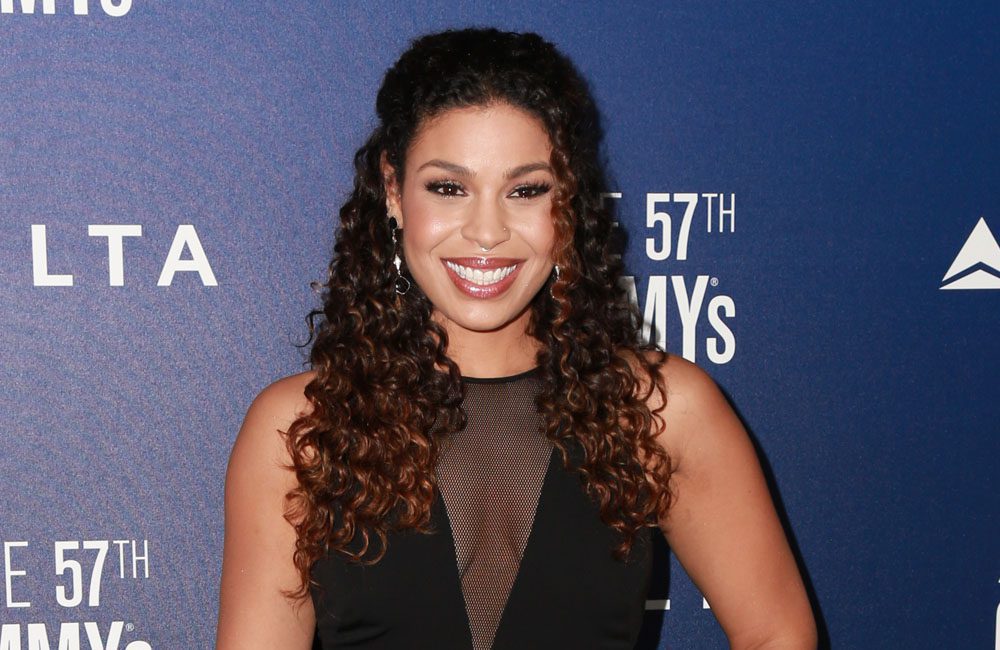 The way that Jordin Sparks belted out the national anthem at the Big 12 championship in Kansas City, Missouri, this past weekend was not the way she became the youngest winner in the history of "American Idol" at age 17 in 2004. Nor is it how the 33-year-old went on to boast a celebrated, multiplatinum career.
At least that's how many fans feel after watching Sparks get into a trifle of trouble when the "Battlefield" artist attempted some verbal gymnastics during her rendition of the "Star-Spangled Banner" and landed badly, figuratively speaking.
The performance failed to resonate with many fans, and alarmed some others, who quickly made their feelings known on Twitter.
Jordan Sparks definitely had no air singing the national anthem… pic.twitter.com/26GVoXTF4h

— ❄️🗝️ (@DiaryOfKeysus) March 12, 2023
Jordan Sparks definitely had no air singing the national anthem… pic.twitter.com/26GVoXTF4h

— ❄️🗝️ (@DiaryOfKeysus) March 12, 2023
Others, however, told the anonymous critics to pump the brakes on comparing Sparks' version of the national anthem to the atrocious performance by singer Fergie of the Black Eyed Peas in 2018.
To be clear, Sparks has sung the national anthem beautifully on previous occasions, including before Game 4 of the NBA Finals in 2017, at an NFL game in 2020 and again in 2022:
Furthermore, there have been some renditions that have been described as absolutely blood-curdling and barbaric by fans – far worse than the few hiccups belched out by Sparks on Saturday, March 11.
The domain of horrid singing of the national anthem is nearly exclusively occupied by singer Fergie at the NBA All-Star Game in 2018. Some fans still remember where they were when Fergie opened the aperture in the middle of her face and ejected bile out of her mouth.
Fergie's singing was such a sonic disaster that many of the athletes began smiling, laughing and looking around as if they didn't realize what was going on. Toward the end, the crowd let out collective giggles.
The worst rendition of the national anthem, however, has to be by comedian Roseann Barr. Before the start of the San Diego Padres game in 1990, she was so off-key and off-pitch, it shocked fans who began to boo loudly midway through the song. Barr's gesture should have been a portend of things to come because she covered her own hears ears just as she began to sing.
Sparks was nowhere in the vicinity of these two horrific performances.
Nevertheless, Sparks was on the receiving end of some grief for her singing on Saturday. Others tried to either make excuses for the slightly subpar performance or remind America that Sparks can actually sing and perhaps had an off night.
Jordan Sparks definitely had no air singing the national anthem… pic.twitter.com/26GVoXTF4h

— ❄️🗝️ (@DiaryOfKeysus) March 12, 2023
Jordan Sparks….baby….I just know something happened. Was there no tea or cough drops? pic.twitter.com/gwa1aQ9ppb

— JC (@whata_character) March 12, 2023
I always say if people just sang the national athem simple and straightforward, instead of trying to make it a vocal riff off competition,there would be less moments like Jordan Sparks and Fergie. 😩

— Chido (@chichi2696) March 12, 2023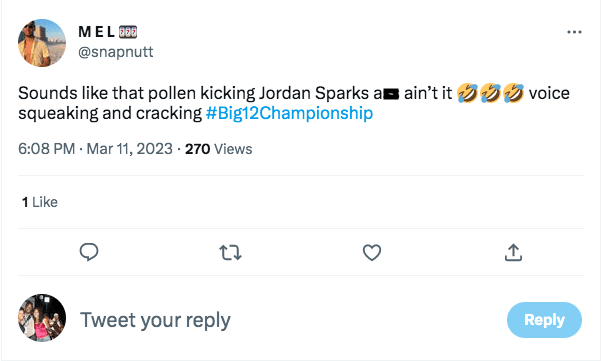 Let's not act like Jordan sparks can't sing ok my girl can really blow

— Brianne Brown-Alsina🧸♍️ (@thee0fficialbri) March 12, 2023
Don't Compare Jordan Sparks National Anthem to Fergie Yo… First of All Fergie Just Sound Every Bad Like She Was in Pain.

Jordan Sparks National Anthem Just Sound like Her Mic Was Bad and Missed Up High The Notes But Still Did Good Job that's Was Better Than Fergie Period.

— Koree4Real ✊🏾📸🛩 (@superstarboss1) March 12, 2023