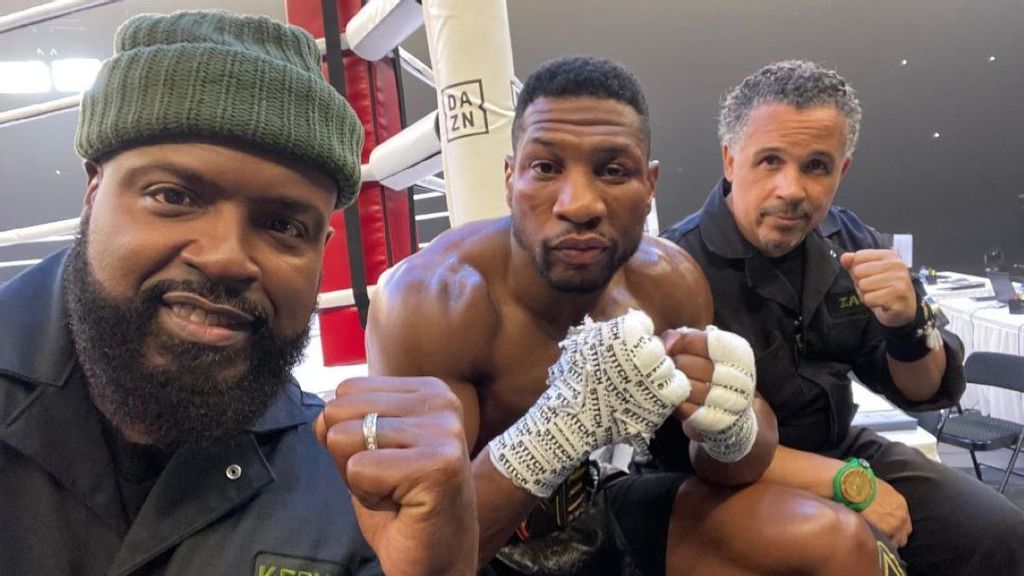 ATLANTA — Within a 5 days span, Yahya McClain buried his brother and then his mother. Following the deaths, McClain was hesitant about auditioning for "Creed III," but instead of giving up, he let his mother and his brothers voice guide him to not only landing the role, but a chance opportunity of him reading the script, he increased his part in the movie substantially. McClain, a former two-time world champion in his own right, is now a part of cinema history, as "Creed III," is the number one movie in theatres and, the number one sports movie of all-time. McClain holds down the role as trainer to actor Jonathan Majors [Damian Anderson in the movie]. Since, McClain also landed a role on the popular Starz show, "BMF," and a new feature film on the ALLBLK Network titled, "Lola 2." The red-hot champion turned actor credits God's timing and his mother and brothers' inspiration for his string of blessings. 
Zenger News spoke with the "Creed III" star to discuss overcoming his losses to win big. 
Zenger: When these movies come together, you can hope for the best, but to have the #1 sports movie ever, the #1 movie in the theatre's with "Creed III," must be something beyond your wildest imagination. 
McClain: It's incredible! I knew when I was on set… the budget didn't matter. They were going to make this the best movie ever. I felt it. I told everyone before the movie came out that this was going to be the best boxing movie in history, not just because I'm in it. I genuinely felt that way. We see that what I said was true. 
Zenger: That was a bold prediction. What was it about being on the set that made you feel this way? 
McClain: I'm witnessing everything that's going on, the attention to detail, the fact that Michael B. Jordan was smart enough to surround himself with the best people in every field and everything was authentic. I'm talking about the referees, the judges, the cutman, the trainers, everything. 
Zenger: You suffered back-to-back tragedies that nearly made you not audition. How did you get through that to not only audition but secure this role? 
McClain: I always preface this with, this is not a "Whoa, it's me," moment. It's a "Yooo, it's me," moment. On December 27, 2021, I buried my older brother, Marc McClain. Five days later, January 2, 2022, I buried my mother, Nisaa Seifullah. Approximately 5 or 6 days later, I received the audition for "Creed III." I was outdone. I didn't feel like auditioning for anything. As I thought about it, I could hear my mother talking to me. If anyone knows my mother, she was a real one. She give it to you raw. I had to do it. My mother took me to the boxing gym when I was 10 years old to begin my boxing career. My mother, brother, and family came to all of my fights. My mother took us as a family to see the first "Rocky" movie. There was too much synergy for me to overlook it. God don't make no mistakes. 
I did the audition. I shot the audition on my cellphone and booked it. Alhamdulillah, God blessed me with it. Not only did he bless me with that, when you get an audition, unless you're a big actor or actress, you normally don't get the script. You just get your audition sides. So, that's all I had to go on. But when I got to the set… I was only supposed to work for a day or two and that was going to be it for me. I'm going to say this without spoiling it for anyone that didn't see it. When I got to the set, I had a lot of downtime. Someone put a script in my trailer. Of course, I read it and thank God that I did because I found something in the script that would never happen in a real boxer's life. I didn't know Michael B. Jordan from anywhere. I felt that because of the circumstances that led me to even being in this film, everything that I just endured, I figured, life is too short, I'm going for mine. 
I went to Michael B. Jordan, and I said, let me holla at you. I said, "I'm a former two-time world champion boxer, I have been boxing since I was 10 years old, I just read in this script is something that will really never happen." He said, "Well, that takes place in L.A., and we already got people for it." I told him, "I like L.A." He chuckled and said, "Let me think about it." Next day, he came up to me and was like, "I think we gonna make that happen." I had a whole new contract, and I became a part of the "Creed III" family as opposed to being that one day and being gone, I was there for about a year. We shot for a couple of months, then we broke and came back a half a year later, then a couple of months later a premier came out. No one expects things like this to happen, but I believe God makes no mistakes and he knows what he is doing. We are all destined to have that date. We can't put it off, we can't be late, and we can't be early. When it's our time it's our time. 
Zenger: Were you overly critical of some of the boxing happenings on the set given your boxing background? 
McClain: I didn't know Michael B. Jordan or Jonathan Majors from anywhere, so when I'm on the set, this is a huge movie, these are huge stars, and I didn't want to go in thinking I know everything. This is the third "Creed" movie, and the ninth of the "Rocky" franchise. They didn't get that far without me and without needing me, so I wasn't going to speak up like I knew it all. I was more of an observer, because for one, I am an actor. Everyone thinks I am just a boxer, but I've been acting since 1993. My first gig, I was on LL Cool J's TV show, "In The House." My first audition was for, "How Stella Got Her Groove Back." I'm very serious about my craft. When I'm on set with these kinds of guys, I feel like I'm in a masterclass.
Prior to "Creed III," I auditioned for "BMF," four times and I never booked it. But watching Michael B. Jordan and really Jonathan Majors, because I was with him most of the time on set. I got to watch him prepare for his role and how he got into character. I stole some of that from him. I got another audition for the "BMF," and I booked it. I think I applied some of the things that I observed on the set watching him and it helped me to go book it. It came out a few weeks ago, season 2 episode 9. It's called, "High Treason," and I'm the shooter. I have a movie out; it came out April 1st on the ALLBLK Network. It's a female boxing movie and I'm in it as a commentator, it's called, "Lola 2." 
Recommended from our partners
The post The 'Creed III' Actor That Almost Didn't Audition After Losing His Brother And Mother appeared first on Zenger News.