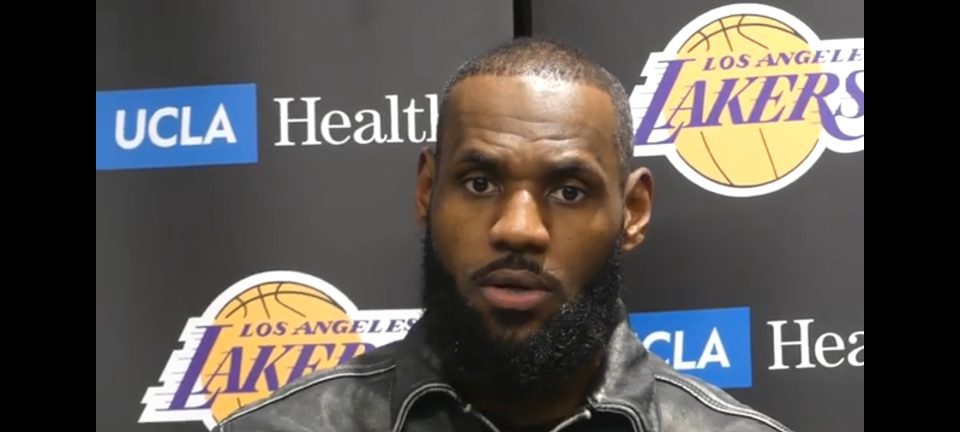 LeBron James had a terse exchange with a Los Angeles Lakers fan. During the Lakers' 125-118 loss to the Los Angeles Clippers on April 5, James was seen on a video arguing with a man who was wearing a Kobe Bryant jersey.
One fan read James' lips and said James responded, "I got you one already, don't forget." James led the Lakers to the 2020 NBA Championship, his fourth championship with his third franchise.
You can see LeBron saying "I got you one already, don't forget"

Some of these Lakers fans are insufferable, without this man this franchise would be left in the dust https://t.co/xpNfb1Ccn2

— ²³𝙻𝚎𝙱𝚛𝚘𝚗𝚌𝚑𝚒𝚝𝚒𝚜🏀☄️🌎💞 (@BronGotGame) April 6, 2023
James, 38, joined the Lakers when he was 34 in 2018. The only season the team made it past the first round of the playoffs since he joined was the 2020 championship year.
Of course, there was a longstanding debate in the mid-to-late 2000s about who was the best player in the NBA between Bryant and James. A number of Lakers fans have continued the debate, causing other Lakers fans to speak up about it.
"Laker fans like this p— me tf off," O'Shea Jackson, Ice Cube's son, tweeted. "Sit yo a– down, bro. Kobe was my hero. I still watch him for motivation. Look at [my profile picture]. But he left in 2016, bro, d—!
" 'Kobe woulda did this. Kobe would never blah blah.' LEBRON IS THE CAPTAIN OF YOUR TEAM … GET WIT IT OR GET LOST," wrote another fan.
Another fan pulled up a clip of Bryant speaking after a loss late in his career.
"For me, my legs just weren't there," Bryant said in the clip. "It was just one of those things to try to work through. It just didn't work out."