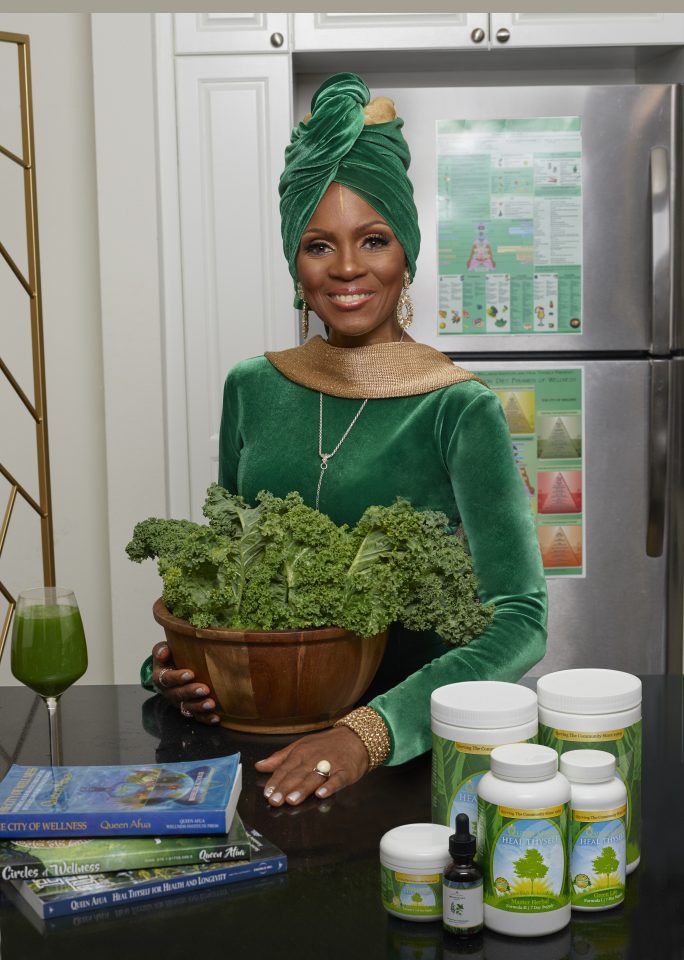 Queen Afua is a New York Times best-selling author, holistic health and wellness practitioner, and entrepreneur. She has been affectionately named the "Mother of Womb Wellness" and has held this title for over 40 years. As a world-renowned leader and the CEO of the Queen Afua Wellness Institute, she has successfully empowered over one million women, men, and children with her workshops, products, books, and teachings. Her beliefs and teachings are founded on the principles of utilizing food as medicine, engaging in self-care, and making holistic lifestyle choices, as a global movement towards a healthier lifestyle.
Queen Afua is not only one of the leading pioneers for the green foods movement, but also a quintessential voice and authority for Black women in regard to their reproductive health, and their overall empowerment in holistically reclaiming, renewing, and protecting their wombs from hysterectomies, chronic premenstrual syndrome, and fibroid tumors.
Utilizing food as medicine is Queen's foundational teaching for Black Women. With her daily message: "you are your first healer"; therefore, you must partner with your health care provider to advocate for optimal health outcomes. Queen promotes that care for our bodies must be viewed from a body-mind approach, and as a result, we must view the woman as a whole being in order to achieve optimal wellness. The womb is at the center and connected to our bodies; "So above, So below." Focusing our healing and restoration in our womb centers the way to fully heal ourselves.
Queen Afua has worked with notable medical professionals in developing culturally appropriate care for women of color to help reduce the emotional distress and physical conditions that are associated with heavy and prolonged menstrual cycles, fibroid tumors, cysts, and other dis-eases of the womb.
Her most famous work, Sacred Woman: A Guide to Healing the Feminine Body, Mind & Spirit, has saved the lives of many women throughout the globe and has brought healing to their households, because when women learn how to heal themselves, they have the power to heal others. With the creation and development of the Sacred Woman Rites of Passage program, Queen Afua has personally impacted the lives and improved the health of many women, while simultaneously birthing a community of Sacred Women worldwide, whose mission is to bring that same healing and divinity to others.
Sacred Woman was a gift to Black Women because at the time, Black Women were experiencing trauma unlike any other people and their cries for help were ignored; they were virtually invisible. So, in conjunction with the Sacred Woman text, Queen created a specific healing circle for womb recovery and purification using a methodology from Ancient African times. In order for women to feel safe, emotionally connected, resilient and re-empowered, she knew that it was important for Black women to see themselves outside of the story that was told during their traumatic experiences. They needed to see themselves as the divine feminine beings that they truly are.
Not to exclude the men from their healing, in collaboration with her son, SupaNova Slom, she created the Man Heal Thyself book and Rites of Passage program. In recognizing a need within the Black community after so many women sought out and received healing, she saw that our Black men could also benefit from a similar experience, but one that was catered specifically to them and their plight as Black men in society. And so, Man Heal Thyself was born.
The 7-time author has been praised for her works by The Breakfast Club, Vogue, Essence, Red Table Talk, and many others. She is the trusted advisor to notables such as Erykah Badu, Lauren London, Common, Iyanla Vanzant, India Arie, and the list goes on.
Most recently, in April of 2023, just shy of relaunching her successful Heal Thyself product line, Queen Afua opened the Heal Thyself Wellness Clinic in Gainesville, Georgia, a holistic retreat center and safe haven for families seeking holistic alternatives, guidance, and wellness, not just for the present moment, but for generations to come.
Queen Afua is the epitome of "a woman's work is never done" as she remains grounded and obedient in her mission to heal the world.