The Bayou Barbie continues to stuff the bag after leading LSU to the national championship in April 2023.
Basketball superstar Angel Reese announced that she signed a lucrative NIL (name, image and likeness) deal Mielle Organics, her first business collaboration with any beauty organization.
Reese, 21, who boasts the most NIL deals in college basketball — male or female — will now see her visage grace the brand's marketing, social media, events and a limited-edition product bundle.
"Athletes are the ideal beauty icons and brand ambassadors," said Reese in a statement she shared with her 2.1 million Instagram followers. "I put it out there that I wanted to work with more beauty brands, and I'm so excited to be working with Mielle! I'm a longtime user and fan of the brand so this is the perfect partnership. I can't wait to share more with my fans and introduce my new Mielle bundle. The last several months have been a whirlwind. I feel really blessed."
After the official signing, Reese was captured sampling some of the Mielle brand products.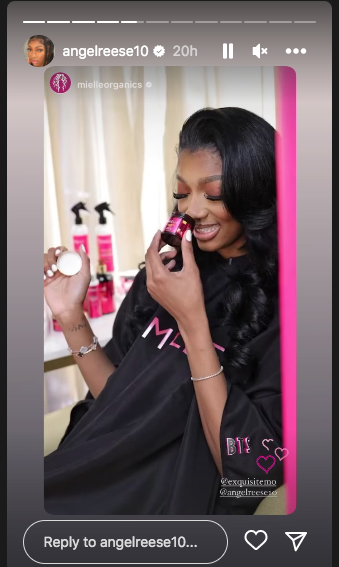 Sponsors United, which tracks NIL deals and other sports financial topics, reported that Reese's 17 NIL deals are first in collegiate basketball and in fifth place in all of college sports behind:
Rayquan Smith, Norfolk State, football and track, 66 deals;

Ky'Wuan Dukes, Johnson C. Smith University, football, 29 deals

Lauren Burke, Texas, softball, 22 deals;

Jon Seaton, Elon, football, 18 deals;
Within the confines of amateur basketball, Reese is ahead of Miami's Cavinder twins — Haley and Hanna — and the men's basketball star Armando Bancot of North Carolina. They boast 16 deals apiece.
Mielle's founder and CEO Monique Rodriguez said that Reese's unique combination of athleticism, beauty, swag and unapologetic boldness made her an ideal choice to be an ambassador for the brand.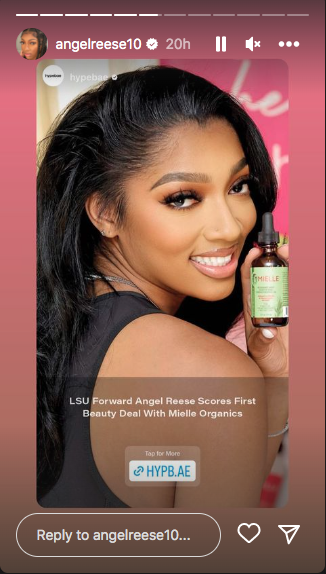 Rodriguez went on to say, "Angel is a rising star with bold beauty, confidence, strength and must-have edges who uses and genuinely loves Mielle products. Angel's fun personality and ability to connect authentically with her fans make her a perfect addition to the Mielle family. She is THAT girl, and we are so thrilled to have her as our newest ambassador."
After successfully scaling the business up to a very substantial size, Rodriguez sold her company to Proctor and Gamble just a few months ago but remains as the CEO.