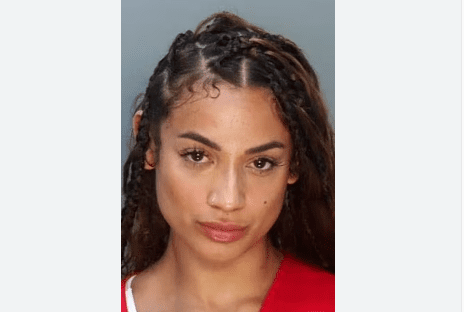 DaniLeigh was reportedly involved in a hit-and-run that caused substantial injuries while driving under the influence near Miami Beach, Florida, during the Memorial Day holiday.
According to the police report obtained by TMZ, the singer-songwriter-rapper whose real name is Danielle Leigh Curiel, 28, was spotted driving at excessive speeds in proximity to the South Beach section of the island city of Miami Beach on early Tuesday morning, May 30, 2023.
The statement written up by the officer reported that DaniLeigh was seen weaving in and out of traffic lanes when she suddenly struck the operator of a moped and dragged the bike about a block. A witness flagged down authorities who immediately initiated a traffic stop.
The entertainment publication stated that the operator of the motor scooter was raced to the hospital with a lacerated liver and a fractured spine.
When the officer pulled the entertainer over, he said he detected the odor of alcohol on her breath and ordered a field sobriety test, which DaniLeigh failed. When she blew in the Breathalyzer, her blood-alcohol level was registered at 0.145 and 0.148 on the two tests, which is nearly double the legal limit. 
She was subsequently arrested and has been charged with three felonies: driving under the influence, leaving the scene of a crash with serious bodily injury, and DUI damage to property.