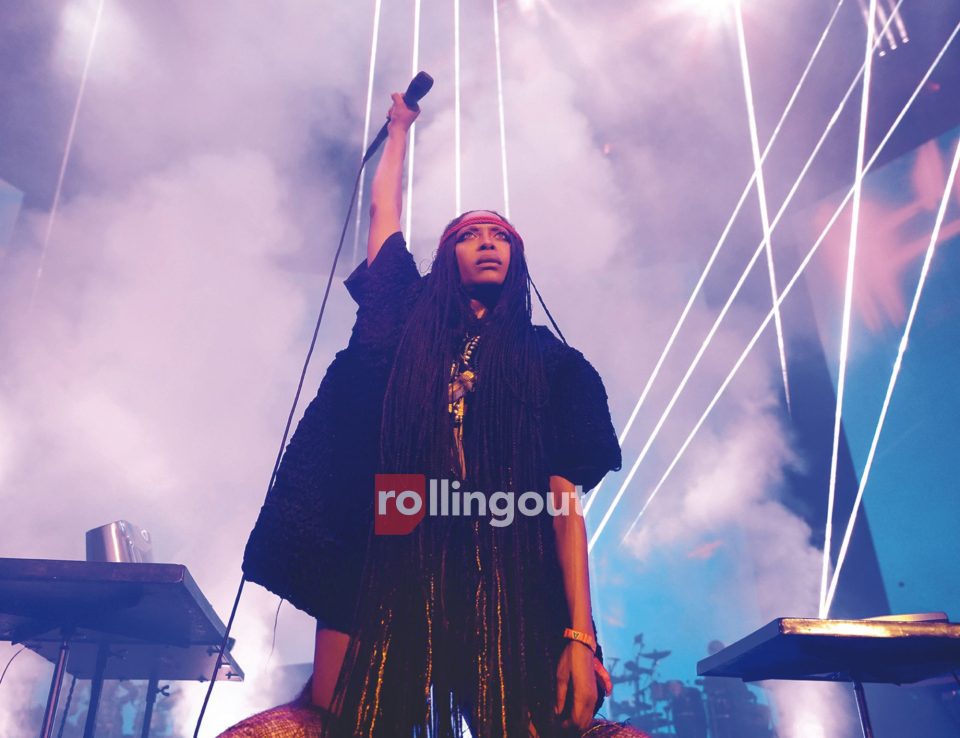 There is a hypnotizing mystique about Erykah Badu that makes it impossible for others to replicate her artistry. Whether it's her uncompromising soulful sound, her intimate relationship with Mother Earth or her unfading exotic beauty, she moves through this world with a remarkable and enviable air of inner peace and self-acceptance. The beguiling songstress candidly expresses — through her sensual and subtly erotic blend of funk, hip-hop and jazz — an appreciation for life that is both moving and mesmerizing.
"Unfollow Me," Badu's current tour, is a harmonious mix of tantalizing music, spellbinding imagery, and provocative performances. Her fans come prepared to revere what some describe as an otherworldly presence that connects them for a little over an hour to a vibe that reverberates in their souls and echoes their own sentiments of love and loss and love again.
"Unfollow me, because I'm lost and I'm on a journey that's mine. You can't do my s— and you can't do his or her s— , you have to find your own path," she explains.
The title of Badu's tour reflects her irreverent response to the current culture of imitation, be it on social media or reality television.
"There is a philosophy that says, 85 percent of the people on the planet are followers, 10 percent of the people on the planet are creators or leaders and 5 percent are observers. So, when you have 85 percent of the people that are willing to follow and 10 percent who are able to create something, they are going to capitalize off of that. And then the 5 percent are usually the ones that are assassinated or shunned or discredited because they can see everything that's going on and they would ruin it all for the 10 percent and this is all because people are willing to be led," Badu says.
A primary reason for imitation on social media is the need to appear rich and successful. While her peers showcase their financial success with designer labels, cars and expensive trinkets, Badu's definition of "rich" is the opposite.
"Rich is being content and grateful. If I were to give an example of what rich means to me, it would be a family I saw at a gas station one day. There was a mother, father and children and they were asking for money. But I watched the way they worked together. At a low point they were working in harmony. The father checking on the mother and the kids, they were together, present with each other no matter the circumstance," she explains.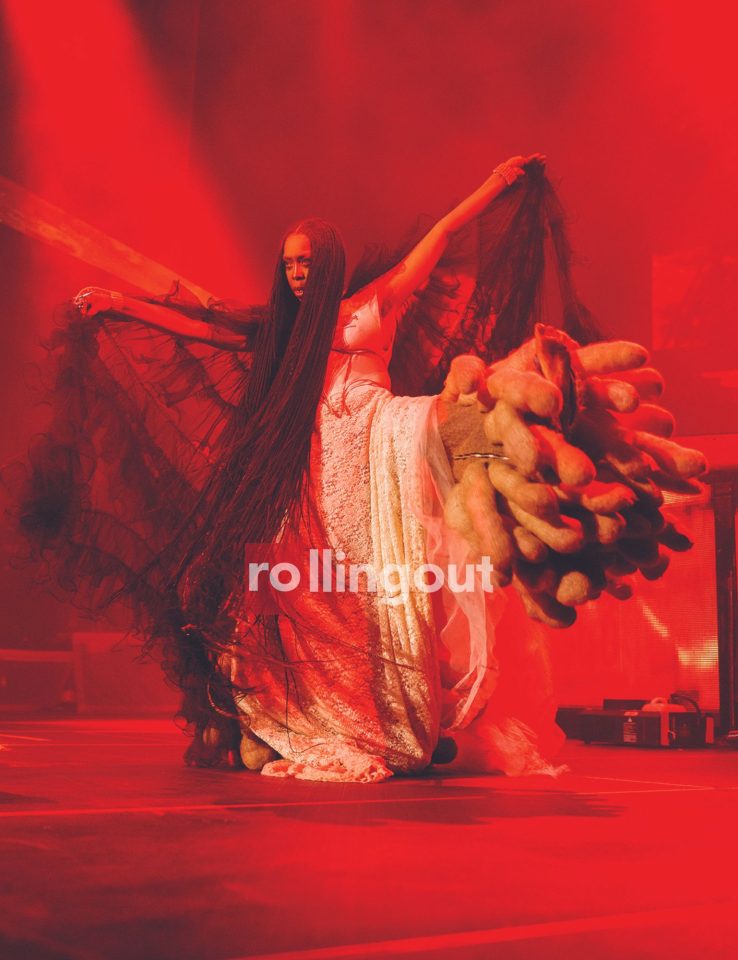 "Confidence to me, if I'm honest, it looks like easy breaths and meditation. Music, meditation, breathing, sunlight, trees — breath is life [and] breathing is everything. Once you realize that, you've got it," she says.
While performing at State Farm Arena on the Atlanta leg of the "Unfollow Me" tour, Badu paid homage to her musical family with a shout-out to OutKast, Dungeon Family, Goodie Mobb and Joi while taking the sold-out audience on a journey of musical musings and encouraging fans to connect on their own with nature. "Be thankful for the things that are constant in our lives. The sun, the trees giving us oxygen, they're out there and waiting on us to acknowledge them," she urges.
Badu's coy interaction with the audience has many of her fans transfixed on her sensuality although her curvaceous figure is covered in dramatic feathers.
"My only rule tonight is you can't ask me about my p—-," she says playfully while sitting cross-legged on the floor after coming off stage. Laughter ensues after the comment because Badu's ability to captivate men in her presence is more than an urban myth.
"Has anyone seen 'Star Wars?' " she asks midway through her Atlanta set. "There is a man on the series named John Boyega. He's sexy. Tell him I'm looking for him."
After Boyega unexpectedly appears onstage, Badu instructs tour mate Yasiin Bey to clean Boyega up and take him back to her bus to wait for her. Whether the interaction is a theatrical ploy or an impromptu glance into Badu's romance and relationship status is uncertain, but it's clear she is aware of her sexual prowess. When the audience yells out that Boyega is barely 30, Badu is pleased. "That's good. That's how I like them. He's got good strong balls and I don't have to deal with all that other mess. That's perfect," she laughs.
"Unfollow Me" is a must experience for its soul-stirring music, cultural theatrics and intimate nature, but at its core is an artist who is living and sharing her authentic truth. In a world full of imitations, seeing and hearing the real thing is a breath of fresh air, and like the talented temptress says, "breathing is everything."
Photography by Tony Krash