Elonte Davis is east side through and through. This means something to native Detroiters who will ask each other from the start, "Where are you from?" East side or the west side is what we're inquiring. It's all love — we just need to know. This is a, more or less, true inside joke. Being an east sider means your skin is a little bit thicker. It means you stayed in place when social and economic storms rolled in, and that maybe — just maybe — you're a little more Detroit than the rest of us. Davis pours all of his east side sensibility into his hustle as a photographer, honing in on the grit and precious Black realities of the city.
"I'm here to serve. I'm here to inspire," is how Davis sums up his practice. Since picking up the camera for the first time in 2016, as a student at Michigan Tech, he says he has never put it down. He didn't complete the degree at MTU, but he is finishing the work he started. On the daily, he chronicles the world as he sees it and illuminates the most minute and overlooked moments of urban glory. Davis gets to tell this story from the inside because he is an inside man: Inside the struggle, inside the 'hood, inside the heart and soul of Black culture. It is the intimacy of his images that gives this work historic weight.
Davis' upbringing led him first to the streets, then to Better Detroit Youth Movement — a mentorship program that challenged him to identify and reach for goals, provided big brotherhood, and taught him accountability as a young Black male coming of age. From there, he traded in street-life for a camera, traveled the world, and returned from a brief culture-shocked college stint in Houghton, Michigan with love for the lens and an eagle-eye for jewels in his immediate circles. Cuddly babies with pacifiers, strippers, community activists, and gangbangers alike are photographed with the same kinship and sensitivity. They are all his people —they are all our people. Davis will be the first to admit that where he comes from, walking around with a camera was first met with suspicion. "You show up at the club with a camera and people think you're the police," he said. But, then they started to see themselves, and how he had made us all beautifully visible.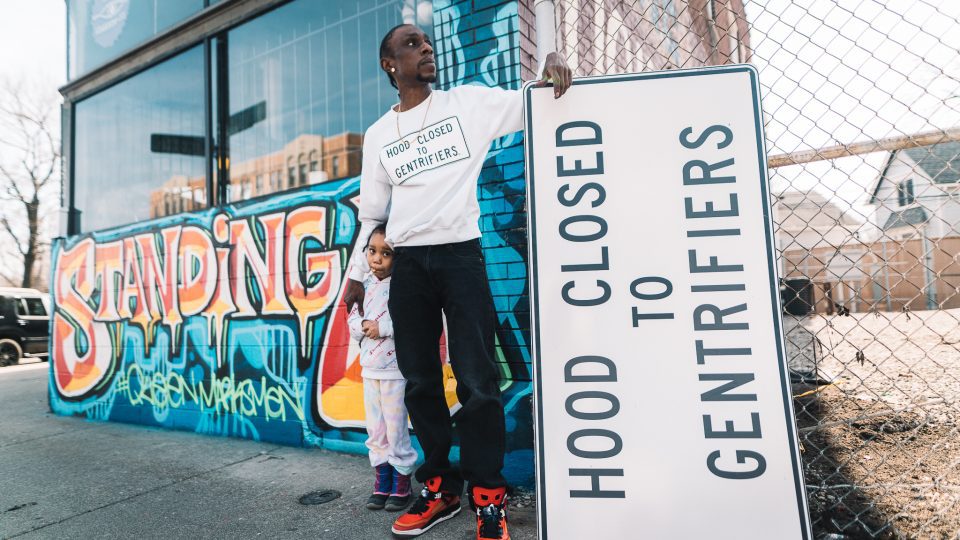 "Davis poignantly captures the living beauty and social ritual of urban Black culture
with the visual intimacy, empathy, and access of Gordon Parks,
combined with the decadent rawness and reverent vanity of Hype Williams."
— BRYCE DETROIT
In 2022, Davis was commissioned by Steed Society Art, in a project led by Detroit's Irwin House Gallery, to photograph local children engaged in ordinary moments at home and in Detroit's neighborhoods and public spaces. The assignment was second-nature for Elonte, who is surrounded by young people and has remained committed to their joys and journeys from the beginning. Fifty of these images make up his first solo exhibition — This is Where I'm At, and this is what I'm doing – a collaboration that brings together four Black cultural institutions to tell a tale of hope and resilience and stand behind one promising local artist. Staged at The Carr Center, in the city's museum district,  the show highlights Black childhood and family dynamics, as well as the individuality, vulnerability and humanity of a range of Metro Detroit's youngest citizens.
"Davis' work captures the remarkable essence of innocence despite circumstance," shared Tia Nichols, gallery director of The Carr Center. "Viewers are encouraged and immersed into moments of timeless beauty." Together, the partnering organizations hope that Davis' unfiltered eye will engender appreciation between Greater Detroit's diverse populations, while serving as a historical record of life in the city for many Detroiters,  and turning an eye towards Black futures across the globe.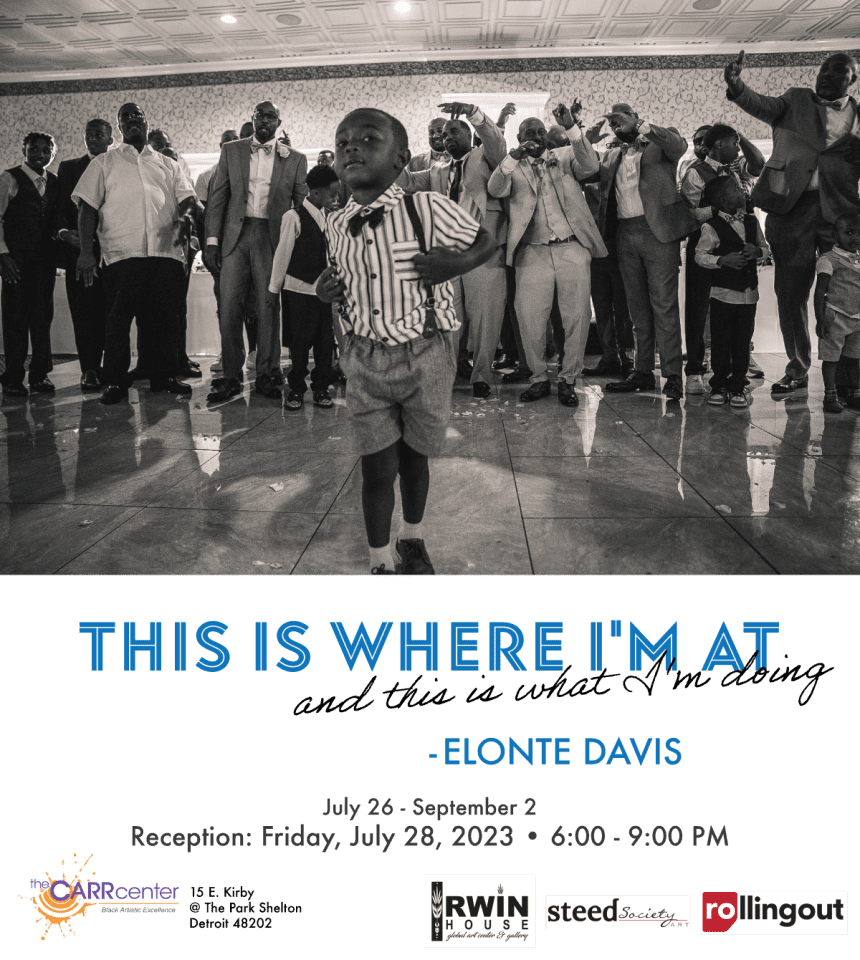 Davis exhibited for the first time in 2021 and has since shown at the Detroit Historical Museum, Irwin House Gallery, Canfield Consortium, Riverside Detroit,  ImageWorks in Dearborn, and with Composing Detroit. His work is in the prominent collections of the Heidelberg Project, Judge David and Linda Whitaker, Urge Imprint LLC, Irwin House Gallery, Canfield Consortium, and Steed Society Art, and some of his recent assignments have included work for the Motown Museum, the Detroit Deltas, and Rolling Out Magazine.
This is Where I'm At, and this is what I'm doing, his first solo show,  runs through September 2, 2023 with an Opening Reception on Friday, July 28, 2023 from 6:00-9:00 pm.  The Carr Center 15 E. Kirby @ The Park Shelton, Detroit, Michigan 48208 | Hours: Wed-Sat Noon-5, Fridays Noon-8.