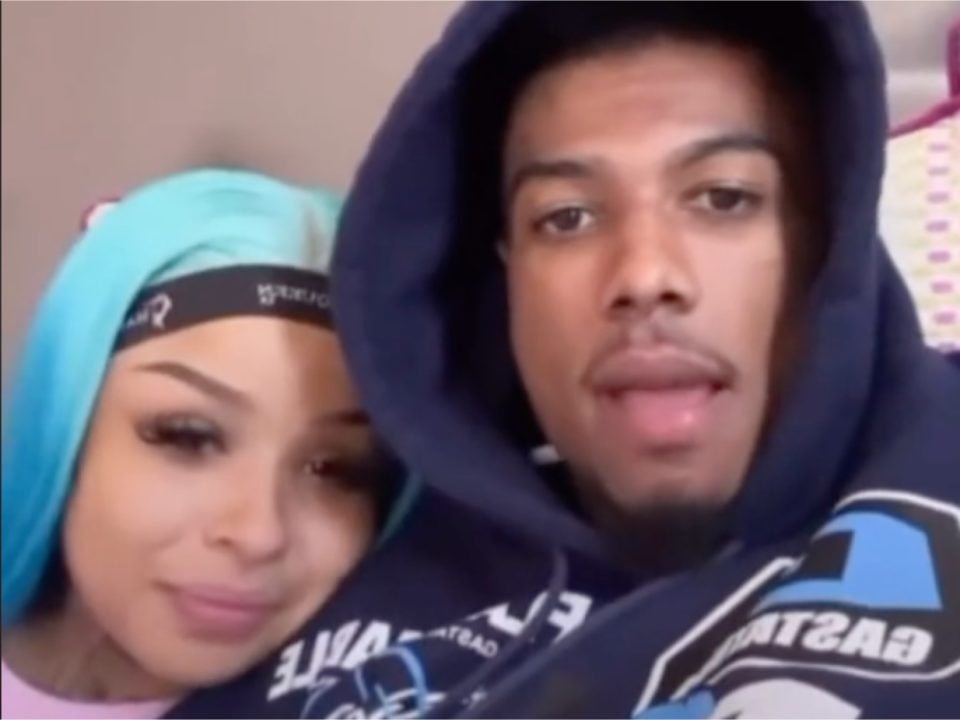 Chrisean Rock has given birth to Blueface's child, and broadcasted the special moment on Instagram live on Sept. 3. The birth came a day before Labor Day and 300,000 users witnessed the blessed event over the social media platform in real-time for the reality star and recording artist.
Chrisean Just Gave Birth to her Baby Boy💙 Congratulations Chrisean this Moment is so Beautiful! pic.twitter.com/hhUuhiZxlY

— Baddies:East (@BaddiesOnZeus) September 3, 2023
The 23-year-old gave birth surrounded by family providing lots of love and support. India Love also sent a special message of encouragement via Instagram.
The newborn boy's father, rapper and fellow reality star, 26-year-old Blueface, appeared to be partying with the mother of his other son, Jaidyn Alexis, in Miami for Labor Day Weekend at the time the baby was born. The rapper also recently spent an alleged $30,000 on Alexis to get a BBL.
Blueface and Jaidyn are partying together in Miami while Chrisean is states away giving birth pic.twitter.com/UQPImLYsjU

— HOUSE OF BLUES (@house0fblues) September 3, 2023
On Aug. 22, 12 days before the baby's birth, Chrisean posted a video with the date of Blueface kissing her stomach showing love to the baby.
Chrisean announces she will be having a baby shower for her and Blueface's child 💙 pic.twitter.com/2gR1Kz7pIW

— Chriseanrock Legion (@chriseanlegion) August 25, 2023
Throughout Chrisean's pregnancy, Blueface told Chrisean he didn't support her decision to go through with having the child. In May, he posted videos of Chrisean partying and twerking while pregnant.
"Twenty weeks pregnant," Blueface captioned one of his stories. "Y'all really think I want a baby with that? Let's be realistic … da h– shaking the baby around. Lil cuz not even safe in the womb. I'm stressed out for real, and y'all think it's funny. I don't want it. B—- don't know when to sit down."
Chrisean's fans clarified in the comments she said she didn't want Blueface present for the delivery of the baby, but there isn't a clip of her verbally saying that on Sept. 3's livestream yet.
chrisean didn't want blueface at the delivery anyway she stated that so many times i wish y'all shut up 😂 y'all find flaws in everything ! she said over and over she didn't want no negativity or bad vibes at that beautiful moment she seems okay yall just don't her to be😭

— crucialC (@caseytaylorrr) September 3, 2023
Chrisean in labor and she didn't want Blueface there & honestly, I don't blame her lol

— girlyface💕 (@jaydalg) September 3, 2023
1. Chrisean was on live just a couple of weeks ago saying she didn't want him at the delivery.

2. Chrisean didn't even know she was giving birth today, had a performance for tonight. If Blueface was already in Miami for a planned vacation/performance, because he – like Chrisean

— Harder Than The Truth (@than_truth) September 3, 2023
@chriseanrockcrazyinlove

Rock and blue 💙 chriseanrootingforblueface chrisean blueface fyp viral fypシ chriseanandbluefacecrazyinlove2 bluefacefyp chriseanfyp chriseanandblueface trending chriseanrockbabyy chrisseanrock trendingblueface chrisean chriseanandblueface chriseanrocktrending bluefacetrending bluefaceloveschrisean chriseanlovestory bluefacelovestory chriseanforblueface chriseantiktok viraltiktok viralcouple famouscouple worldsmostwatchedcouple worldsmostlikedcouple lovestory truelovestory truestory