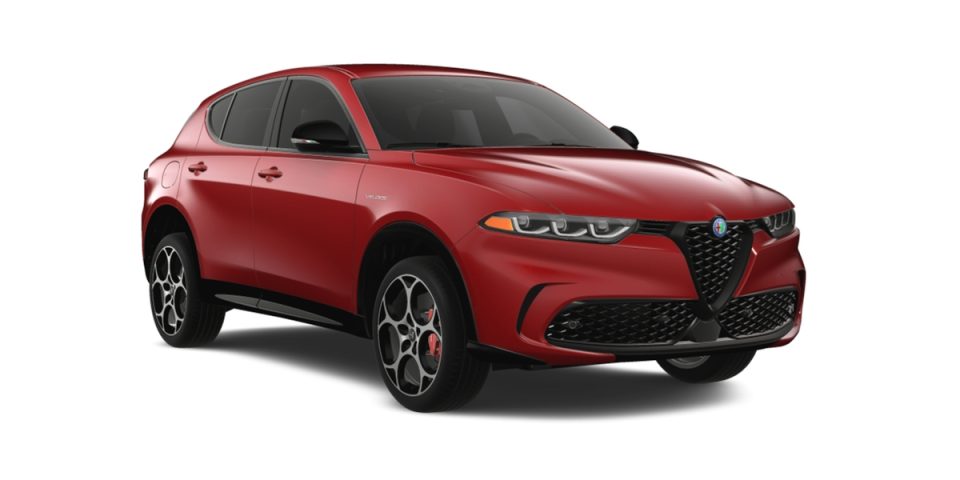 The 2024 Alfa Romeo Tonale Veloce EAWD, representing the pinnacle of Italian style and engineering, is an impressive crossover that combines elegance, performance, and advanced technology. With its striking design, powerful engine, and cutting-edge features, the Tonale Veloce EAWD sets a new standard in the compact luxury crossover segment.
Alfa Romeo's iconic design language is beautifully showcased in the Tonale Veloce EAWD. Its sculpted body, aerodynamic lines, and aggressive front grille reflect a perfect blend of elegance and sportiness. The distinctive LED headlights and taillights enhance the vehicle's visual appeal, while the 19-inch alloy wheels, unique to the Veloce trim, add a touch of sophistication.
Open the doors of the Tonale Veloce EAWD, and you'll find yourself enveloped in a refined and luxurious cabin. The combination of premium materials, such as leather and aluminum accents, exudes a feeling of craftsmanship. The driver-friendly cockpit, featuring a leather-wrapped steering wheel and sporty seats, creates a connection between the driver and the road. Despite being a compact crossover, the Tonale provides ample headroom and legroom for both front and rear passengers, ensuring comfort on long journeys.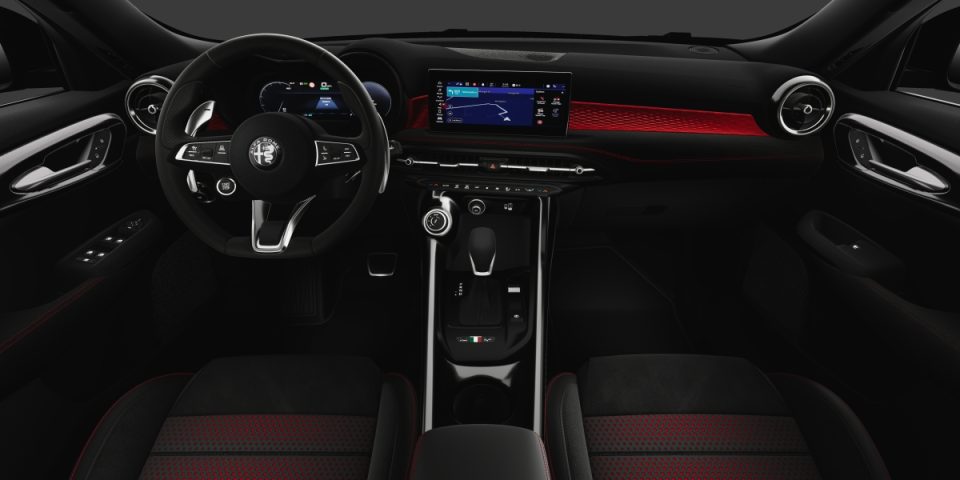 Alfa Romeo has equipped the Tonale Veloce EAWD with a wide array of advanced technology and features. The 10.25-inch touchscreen display, seamlessly integrated into the dashboard, provides intuitive access to the infotainment system, as well as Apple CarPlay and Android Auto functionality. The premium sound system, developed in collaboration with a renowned audio brand, guarantees an immersive audio experience. Additionally, the Tonale Veloce EAWD boasts a suite of driver-assistance systems, including adaptive cruise control, blind-spot monitoring, and lane-keeping assist, ensuring a safe and convenient driving experience.
True to Alfa Romeo's sporting DNA, the Tonale Veloce EAWD delivers impressive performance. It is powered by a turbocharged 1.3-liter four-cylinder engine, generating 227 horsepower, which is mated to an efficient six-speed Aisin F21 PHEV automatic transmission. The intelligent Q4 EAWD system provides all-wheel drive capability, enhancing traction and stability on various road conditions. Thanks to its nimble handling and responsive steering, the Tonale Veloce EAWD provides a thrilling driving experience, whether on winding roads or in urban environments.
Despite its sporty performance, the Tonale Veloce EAWD remains fuel-efficient. Alfa Romeo has incorporated advanced fuel-saving technologies, helping to optimize efficiency without compromising performance. This fully plug-in vehicle allows you to drive freely with an estimated 32 miles on a single electric charge. The Tonale Veloce EAWD's fuel economy ratings make it an attractive choice for both spirited driving enthusiasts and those seeking efficiency for daily commuting.
Alfa Romeo places a high priority on safety, and the Tonale Veloce EAWD reflects this commitment. It comes equipped with a comprehensive suite of safety features, including forward collision warning, automatic emergency braking, and rear parking sensors. Advanced stability and traction control systems ensure confident handling and help prevent accidents, granting peace of mind to both drivers and passengers.
The 2024 Alfa Romeo Tonale Veloce EAWD is a compelling choice in the compact luxury crossover segment, seamlessly blending Italian craftsmanship, exhilarating performance, and advanced technology. With its eye-catching design, luxurious interior, and impressive array of features, the Tonale Veloce EAWD offers a combination of style, comfort, and driving pleasure that captures the essence of Alfa Romeo's heritage. Base Price: $47,495. Test model with options $51,590.