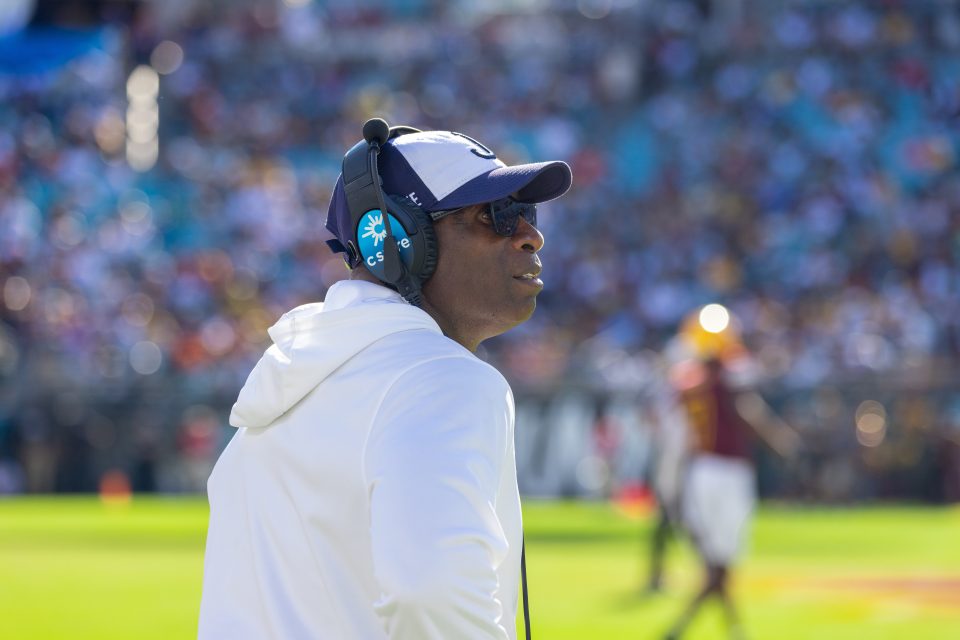 Love him or hate him, Deion Sanders is a good salesman.
Follow along.
Leading up to the Sept. 15 matchup against No. 18 Colorado, Colorado State coach Jay Norvell told local media members he takes his sunglasses and hat off when he talks to grown-ups because that's what his mother taught him to do.
I went back through Jay Norvell's Coaches Show to see if there's any added context to his comments about Deion.

There….isn't. Pure rivalry fodder😂 Take a listen: pic.twitter.com/nlxqPzen0U

— Richie Cozzolino (@RichieCozz) September 14, 2023
"I said it on ESPN today, and I don't care if they hear it in Boulder," Norvell said on his coach's show. "… They're not going to like us no matter what we say or do, it doesn't matter. OK? So let's go up there and play."
The "let's go up there and play" line is a common statement from large underdogs like the 0-1 Rams, who lost their season opener 50-24 against No. 23 Washington State.
Sanders, who prefers to be referred to as "Coach Prime," used the moment against his trademark celebrity look to get petty. He gave his team a speech during practice during which he led the group to say in unison the opponent now made the matchup "personal."
"It was just gonna be a good game, but they done messed around and made it PERSONAL" 😳

"Why would you talk about us, when we don't talk about nobody"

Deion Sanders responds to comments made from Coach Norvell and things are getting heated 👀 pic.twitter.com/U9Em4bPiJ5

— College Transfer Portal (@CollegeFBPortal) September 14, 2023
The next day, Sanders topped off the viral speech with the gesture of getting every single player on the team a pair of sunglasses.
Coach Prime gave everyone on the team a pair of shades 😂

(Via: @DeionSanders | IG) pic.twitter.com/5z2SubAud2

— Barstool Colorado (@CUBarstool) September 15, 2023
As "First Take" visited campus to do the Sept. 15 show, the hosts also received pairs of sunglasses.
😎😎😎😎 pic.twitter.com/d1n1UKIuJV

— Stephen A Smith (@stephenasmith) September 15, 2023
The antics have brought more attention to the already buzzing Colorado program that raked in $18 million for the city of Boulder, Colorado, in last week's win over Nebraska.
Deion Sanders says Colorado's first home football game made the city of Boulder $18 million 👀pic.twitter.com/ZtKqPU1AWd

— Joe Pompliano (@JoePompliano) September 14, 2023
Profit and maximizing business is the primary goal for "Prime Time," a character Sanders said he created in high school, based on a nickname he received playing high school basketball, in order to market himself as a cornerback. As a player, he wore scarfs, chains, did a high-stepping dance that made him one of America's most beloved athletes ever. At Jackson State, Alabama State coach Eddie Robinison Jr. said he didn't like the comments Sanders and his team made before the game. But Sanders simply responded that he was promoting the game, which led to a sell-out crowd and weeklong discussion after the game where Robinson Jr. shoved off Sanders' postgame handshake attempt, a claim Sanders wasn't SWAC and a social media remix that led to Sanders dancing to the audio claim he wasn't SWAC.
I wake up motivated pic.twitter.com/QwU8r6oUPa

— Deion Sanders Jr (@DeionSandersJr) October 11, 2022
A few seasons before that, Alabama State beat Jackson State and put a picture of Sanders on his NFL Draft night on the jumbotron. When JSU beat Alabama State the following season, a video of Sanders appeared on the jumbotron and said he was going to take the high road.
Final: Alabama State beats Jackson State, 35-28, giving Deion Sanders his first loss in the SWAC.

Here's what ASU flashed on the scoreboard postgame. @MGMAdvertiser pic.twitter.com/oUJ83ELXec

— Nick Alvarez (@nick_a_alvarez) March 21, 2021
At the end of the day, Sanders continues to not let a moment to flip criticism into more attention pass because more attention means more endorsements and more money.
Deion Sanders and his family recently starred in a new KFC commercial👀

Shedeur & Shilo Sanders are able to make money off the AD thanks to NIL🔥https://t.co/LNypjmOFog pic.twitter.com/UZewQErPsc

— On3 (@On3sports) September 13, 2023