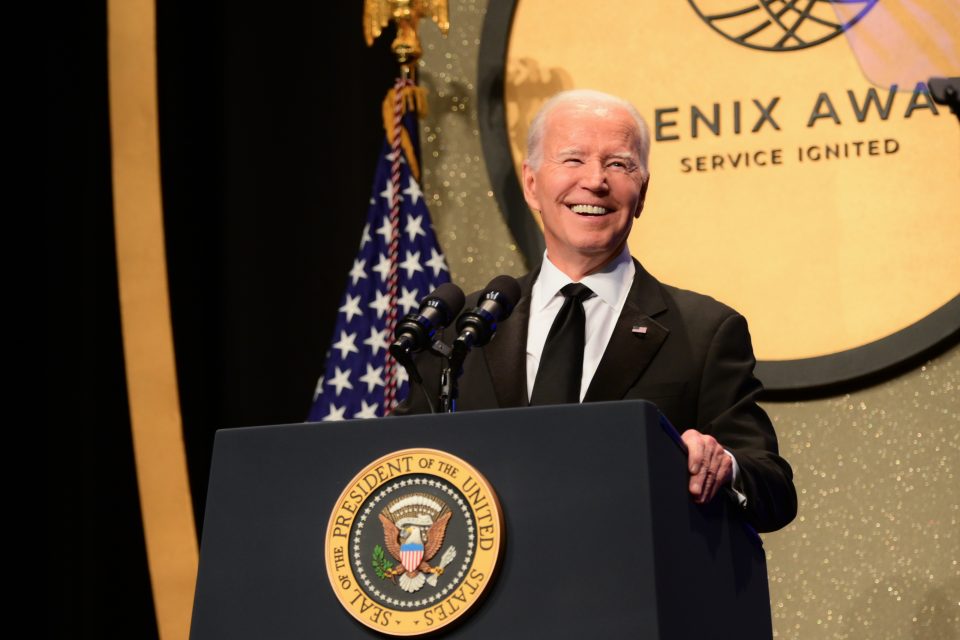 Washington, D.C. – President Joe Biden and Vice President Kamala Harris honored the work of the Congressional Black Caucus (CBC) and the Congressional Black Caucus Foundation (CBCF) to uphold democratic norms and institutions and chart a pathway for progress for Black Americans — while warning this work is more important than ever before in a pivotal upcoming election year. 
Speaking at the Phoenix Awards, the flagship signature event of the CBCF's Annual Legislative Conference, President Biden said, "I chose to run because silence is complicit, and I would not be silent." Adding that, "Democracy was at stake in 2020, and thank God, because of you, we won." 
He added, "I wish I can say the threat to our democracy ended with our victory in 2020, but it didn't. Our democracy is still at stake, don't kid yourself," before declaring, "political violence in America is never, never, never acceptable in our democracy." 
Vice President Harris said, "As a proud former CBC member, I thank you for your partnership and your leadership. The CBC has always been the conscience of our country, a truth teller; truths about where we have been and where we must go. Tonight, let us continue to speak truth. Across America, there is a full-on attack on many of the hard-fought, hard-won freedoms that the CBC has achieved." 
President Biden's remarks came as the winners of the Phoenix Awards were announced, giving recognition to six people who are serving as leaders and trailblazers for the Black community, creating more opportunities for the next generation in the process.  
The winners of the 2023 Phoenix Awards are: 
·       White House Press Secretary Karine Jean-Pierre, Congressional Black Caucus Foundation Annual Legislative Conference Honorary Co-Chairs' Award 
·       Mayor of Los Angeles Karen Bass, Congressional Black Caucus Foundation Chair's Award 
·       House Minority Leader Rep. Hakeem Jeffries (D-NY-8), Congressional Black Caucus's Body Award 
·       Tennessee State Rep. Justin Jones (D-TN-52), Congressional Black Caucus Chair's Award 
·       MC Lyte and LL Cool J, 2023 Congressional Black Caucus Foundation's Culture Icon Award 
Speaking at the event, Congressional Black Caucus Chair Rep. Steven Horsford (D-NV) noted that this year's caucus is the largest ever, with 58 members, representing 82 million Americans and making up almost one-quarter of the House Democratic Caucus. 
He said, "The power of the Black community in America today is evident.  And I don't just mean our political power, but power in every aspect of American life – in our neighborhoods, in business, in media, in the arts and entertainment, in health and science and so many other areas.  We've staked our claim to being a powerful force – potentially the most powerful – in our Nation, and we mean to use that power for the good of our people." 
CBCF President and CEO Nicole Austin-Hillery added that the CBCF has been using investment, education, and new initiatives to improve the lives of Black Americans – in keeping with this year's ALC theme, "Securing Our Democracy. Protecting Our Freedoms. Uplifting Our Culture." 
She said, "In a wide variety of social justice and public policy issues – health care, the economy, the disproportionate effects of climate change, and many more – we've used education, investment, and new initiatives to make a real difference in the lives of Black Americans. Nothing is more important in that effort than continuing our scholarship and internship programs.  They've given hundreds of young people the opportunity to work in public service and public policy, and we've given financial assistance to gifted and motivated young leaders in CBC districts." 
CBCF Board Chair, Rep. Terri A. Sewell (D-AL) added that this year's #ALC52 conference comes at a pivotal moment, where backsliding in democratic norms is gathering momentum ahead of a Presidential election year. 
She said, "This ALC 52 is much more than a hashtag we want trending, it's a moment of resistance to the times we are living in. At a time of increased attacks against Black history and Black people, there's never been a more important time to uplift and empower the mission of the Congressional Black Caucus Foundation—to create 'a world in which all communities have an equal voice'." 
Awardee Quotes 
Karine Jean-Pierre: "I would not be here today if it were not for the generation of barrier-breaking people before me. This is really a truly humbling experience, and I stand on their shoulders. I have learned from their excellence and benefited from their sacrifices, and I am forever grateful to them." 
Mayor Karen Bass: "It wasn't an easy decision to leave Congress, but I had to because Black folk in Los Angeles are 8% of our city and 30% of the people on our streets. In Los Angeles, that's 46,000 people who sleep on the streets every night, and every night five of them don't wake up. But CBC will always be in my heart, and even though I might not be a member of Congress I still consider myself part of the CBC family." 
Rep. Hakeem Jeffries: "Thank you for this incredible honor. Since 1971, the CBC has fought for racial justice, social justice, economic justice and to bring the American dream to life in every single zip code. We will continue to speak up, we will continue to show up, we will continue to stand up until we reach the promised land of liberty and justice for all."  
State Rep. Justin Jones: "I'm so honored to be standing in this tradition of good trouble, this legacy of liberation, and this reminder that we are a people of progress. On April 6, I was the youngest Black lawmaker, and my colleague and I were expelled fighting for a nation to protect kids and not guns. I'm so humbled to receive this award; not for myself but for the movement of which we are a part." 
LL Cool J: "In hip hop culture, we're not always politically correct but we are always artistically correct, and so this love of this culture and this love of this art wouldn't be anything without all of your support. I want to commend you on everything that you're doing to make dreams come true around the country for Black men and Black women like myself, and I'd just encourage you to go after your dreams." 
MC Lyte: "Thank you to the entire CBC for your dedication to change. Because you do what you do, and you take care of the heavy lifting in our communities, we in hip hop get to do what we do and that's to entertain."