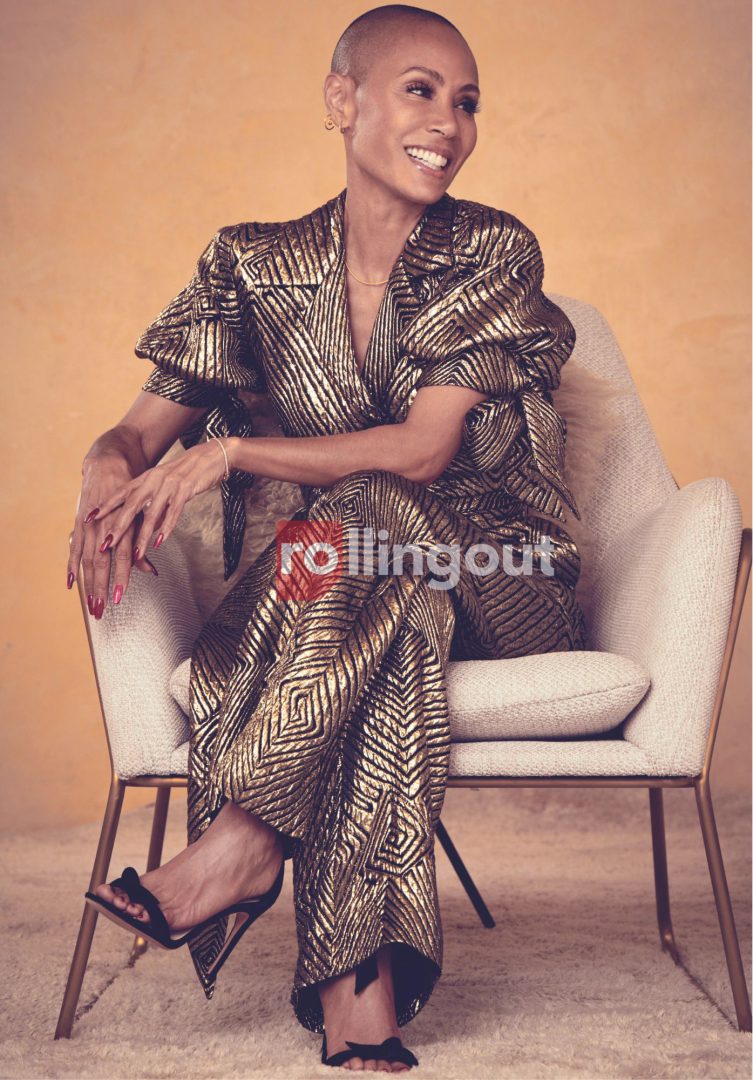 "A queen is her own savior. Her magic is quiet, potent, and mysterious."
This compelling declaration, penned in bold white script against a vivid red backdrop, graces the rear cover of Jada Pinkett Smith's new memoir. More than just a statement, it encapsulates the book's essence and serves as a powerful testament to the resilience, wisdom, and grace of Pinkett Smith. As readers delve into her pages, they're invited on an intimate journey that unravels her struggles, victories, and indomitable spirit. The caption reflects Pinkett Smith's personal mantra and is a universal call to all women, urging them to recognize and embrace their inner strength.
"Every woman I see, that's what I see in her. That's been the heroine's journey for me: finding that crown to put on the queen of my heart. That was my intention in sharing this book. That's why I wanted that quote on the back," Pinkett Smith shares.
Pinkett Smith is undeniably among Hollywood's elite. National audiences first encountered her dynamic presence when she portrayed Lena James on NBC's iconic series, "A Different World." While her role was supporting, her fierce authenticity and celebration of her heritage ensured she left an indelible mark on every scene. Iconic performances in films like Menace to Society, Set it Off, and Jason's Lyric  cemented her as a defining actress of the '90s.
"I decided to write this book in December of 2021. A friend of mine convinced me to write the book. I realized my journey from lack of self-worth to feeling worthy [was] a worthy story to tell. There was a lot of work I'd been doing that I couldn't talk about at the red table because you need so much context and so much history, and there wasn't time for all of that. A woman's story, specifically a woman of color's story, is still very taboo. So I figured at this point in my life, I've gone through the gauntlet, and my skin is Teflon, so I can actually take the risk to really dive deep into my story and journey so that other women can feel seen and possibly leave some bread crumbs along the way that could give a woman some oxygen on her journey," Pinkett Smith says.
Pinkett Smith's journey has been filled with extreme highs and lows as she poignantly narrates in the biography that begins with her contemplating suicide and ends with her addressing the infamous Oscars slap and finding peace. The book candidly addresses the relationship breakdown with comedian Chris Rock and leaves room for future reconciliation. She also discusses her relationship with the legendary rapper Tupac, parenting her two biological children and bonus son Trey, and her often tumultuous marriage to actor Will Smith.
"I believe there are soulmates of all types. Friends, children, and yes, romantic partners. Pac and I were absolutely soulmates, but it was a friendship love chemistry. I wish I could get people to understand the repelling nature," she laughingly says. "It's almost like God made it that way. He put us together as a dynamic duo but you aren't going to be able to get together. The romantic chemistry just wasn't there, and it wasn't just me, it was him too. … But if there is such a thing as past lives, I definitely think Pac and I have traveled a few together."
References to her friend Tupac are very different from references to her estranged husband Will Smith. Pinkett Smith drops a bomb in the book, revealing the power couple have been living separate lives since 2016. While the couple refuses to go through the legal proceedings of a divorce, they have accepted that their lives no longer align.
"For so long, I sat pointing the finger and blaming others, but it wasn't moving me through my pain; it was actually compacting it. What I realized was that in me having acceptance for my [humanness], my frailties, gave me the room and understanding of how to have acceptance for the [humanness] and frailties of others. I had to realize that this life is a university, it's a curriculum, and how unkind it is for us to believe that anyone comes to us ready-made and perfect; and how much of a disservice to ourselves it is to believe that perfection is the only thing that makes others lovable and worthy. That was a huge aha moment for me in my process," she says.
Before submitting the book, Pinkett Smith says it was important for the people close to her to read it and be at peace with it.
"I told my kids about the stories I was sharing about them and got their blessing. Gammy [her mother, Adrienne Banfield-Norris] all of her parts, and Will has read the entire book and has been so supportive of me throughout this entire journey. It's important to be in harmony and have the people that you care about most in your life to be in step," she affirms.
Images by Matthew Brookes