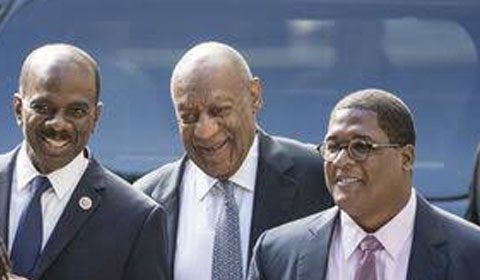 Defense rests in Bill Cosby sex assault trial
What was being portrayed as the trial and media event of the year has ended suddenly for embattled comedian Bill Cosby. Before Cosby's legal team began to give their opening defense the comedian was heard for the first time in open court.
Cosby declared that he would not testify in his own defense and was questioned repeatedly by Judge Steve O'Neill as to whether he understood the possible implications and consequences of declining to testify. The jury then entered the courtroom and was seated as the defense team called just one witness, Detective Richard Schaefer, who had testified last week describing the lurid details of the 2005 deposition that Cosby gave. Schaefer had interviewed both Cosby and the alleged victim Andrea Constand during his investigation.
Cosby's attorney Brian McMonagle asked Detective Schaefer, "Do you know if Cosby has any trouble with his vision and do you know how bad that was on the night of the attack?"
Schaefer replied that he was aware of Cosby's vision problems but did not know "to what degree" his vision was impaired. In an exchange that was called prickly by courtroom observers, McMonagle asked a few more questions before returning to the defense table and resting the case. The entire exchange lasted for less than 20 minutes. Barring any last-minute legal motions, the judge is expected to give instructions to the jury and deliberations will soon start. If convicted of the sexual assault charges, Cosby faces up to 10 years in prison.