Alvin Irby is a leader as an educator, comedian and author. He has made a national name for himself with Barbershop Books – his community-based literacy program that creates child-friendly reading spaces in barbershops for boys 4-8 years of age. Irby is on a mission to improve the literacy rates amongst young African American boys, and Gross Greg is just his latest effort to get our children reading.
Meet the man overflowing with solutions, conversations, and tremendous insight on how to improve the lives of African American children.
Why did you write this book?
I wrote Gross Greg because there few laugh-out-loud children's books that feature Black boys. Many of the children's with Black protagonists deal with serious topics like slavery and segregation.
What's the story behind the title?
Gross Greg is a fun alliteration that I think makes for a great book series. The name does not come from any specific person, but as a kindergarten and first-grade teacher, I definitely taught students who loved to eat their boogers like Gross Greg.
What do you hope readers will glean from reading your book?
I desire for readers of Gross Greg to learn that reading can be fun and funny. I wanted readers to understand that it's OK to laugh, be silly, and have fun when reading.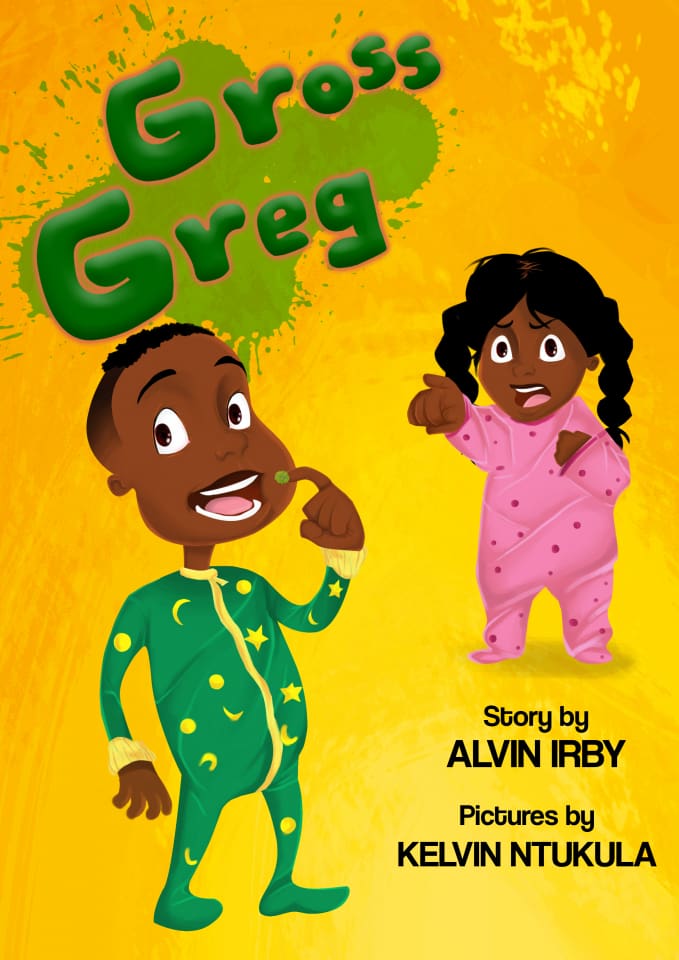 How long did it take you to write this book?
I wrote the initial manuscript for Gross Greg in a single night but it took over 16 months of work to move from draft to published book.
What was your regimen to complete this book?
Much of my time during the 16 months it took to publish Gross Greg was spent learning about the publishing process for children's books and working with the illustrator for the book.
How did you arrive at this career choice? Was it a deliberate decision or a gradual and natural evolution?
Writing a children's book has been an interest of mine for a long time. Gross Greg combines many of things about which I am most passionate: humor, early literacy, and writing.
What separates you from others in your field? What is unique to the experience that you create?
My diverse personal, professional, and educational experiences definitely set me apart from the average children's book author. I founded and currently run an awarding-winning literacy program. I have performed stand-up comedy for the past seven years. In 2015, I was one of nine StandUp NBC national finalists selected by NBC out of more than 600 comedians to perform at the legendary Hollywood Improv in Los Angeles. In addition to these accolades, I have also completed two master's degrees and taught kindergarten and first grade.
How do you map out your goals? How do you measure your success?
Success for me ultimately resides in the children's reactions to Gross Greg. When I hear from teachers that children fell on the floor laughing when they read Gross Greg or I watch my nephew play the Gross Greg Math Games I am assured of the book's success.
Name two of your top role models: one from your industry and one from outside of it.
I am so inspired by the work of author and illustrator David Shannon. As an early childhood educator, I have seen the tremendous impact of his children's books, especially No David. Paul Robeson's fearlessness and pursuit of excellence is a daily inspiration to me. I don't put myself in boxes and don't allow others to put me in them either.
Name three books, works, performances or exhibits that changed how you view life and/or yourself.
Gifted Hands by Ben Carson, Kindred by Octavia Butler, and the music of Louis Armstrong have all positively impacted my life over the years.
Why do you consider continued learning important?
Learning is freedom and freedom is the only way I realize my potential.
What affirmations do you repeat to yourself that contribute to your success?
I can do anything I put my mind to. I'm just getting my Paul Robeson on.
What role does technology play in your day-to-day life? How do you utilize it?
Social media and my website have allowed me to advertise and reach a lot of people at a low cost. Websites like Upwork and Fiverr have allowed me to secure illustrators and designers for many projects at a low cost. These technologies definitely have helped me pursue my dreams.
If you could change one thing about the world, what would it be?
I would make schools and learning fun.
If you could change one thing about yourself, what would it be?
I would eat less candy.
Gross Greg is available for purchase on Amazon Link: https://www.amazon.com/Gross-Greg-Alvin-Irby/dp/0997781807
To learn more about me: visit my website http://www.alvinirby.com/
To play Gross Greg Math visit: http://www.grossgreg.com/math-games