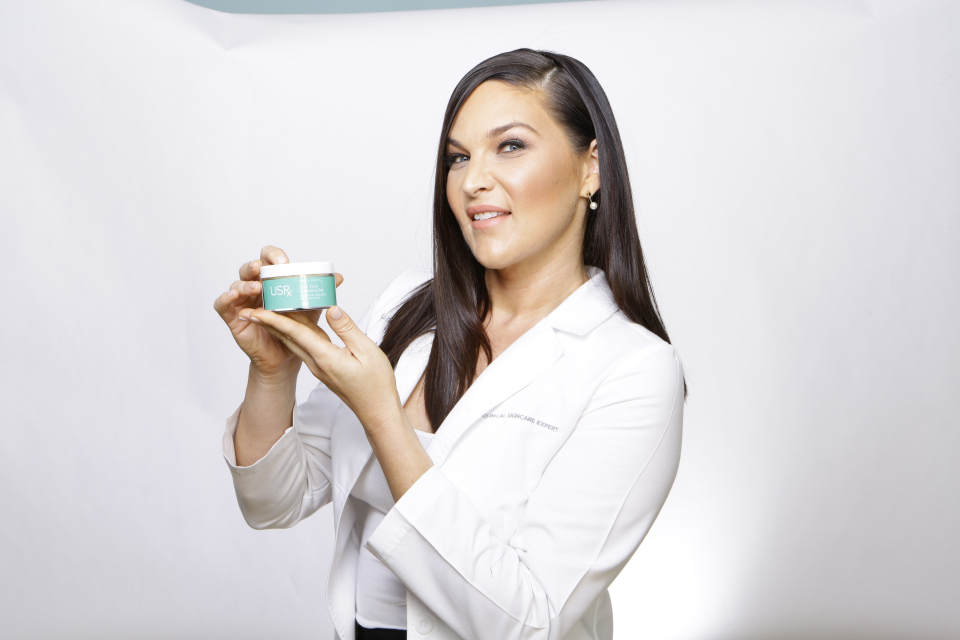 Medical aesthetician Rachel Roff is taking skin care to new levels. She is the founder of Urban Skin Solutions Medspa and Urban Skin Rx, a high-performance clinical line of products created for diverse skin tones. Her growing customer base and celebrity clients like Fantasia, Eva Marcille, and Larsa Pippen have all raved about their love for the Urban Skin Rx products. After being severely bullied as a young child, Roff turned her painful experience into an empire. She is a community leader and advocate for single mothers, pioneering various projects promoting self-esteem and confidence in young girls.
What motivated you to start your first business, Urban Skin Solutions Medspa?
I grew up with a lot of skin issues as well as self-image concerns. At a young age, I started going to dermatologists as well as aestheticians and plastic surgeons to help with my treatment of acne. Also, at a very young age, I developed a nevus mole on the side of my mouth. I was bullied a lot growing up. Due to being bullied, I started getting into beauty tips and tricks. I fell in love with the industry. I really was blessed to have a clear vision of what I want to do. I was blessed with the laser focus at a young age.
What inspired you to specialize in diverse skin tones?
I grew up in a diverse upbringing. My family is very interracial. I have friends of all different races. Especially growing up in California, race didn't stand out to me that much. When I thought about skin, I just thought about taking care of it, not necessarily thinking of the color of someone's skin. Then I moved to the South and I got into the industry; even in aesthetics school, there was a lack of education in how to treat darker skin tones. There is a specialty. I was the girl in class that would always ask how the products could be changed to help someone with darker skin tones. I wanted to make sure I could treat all of my friends and family. After entering the industry and working as an aesthetician for nine months, I realized there weren't a lot of places that were treating people with darker skin tones. I started the med spa from there.
Tell us about your skin care line, Urban Skin Rx.
My Med Spa started doing well pretty quickly. It was always a business that flourished. Urban Skin Rx came from a business decision that came to me because I wanted to create my own skin care line for my Med Spa clients. I started custom formulating my own line. Starting with my cleansing bars. All of my products are custom formulated, catering to darker skin tones ranging from various items: cleansers, scrubs and more. We have about 30 products. Our most popular items are for hyperpigmentation and acne issues.
How has social media impacted your businesses?
If you combine all of our social media accounts we're at approx.100K. A lot of energy goes into the social media pages. Especially for the Urban Skin Rx Instagram Page because it played a huge role in the launch of the products.
About four years ago; I was not into social media personally at all. My skin care line products were not online yet. I met Fantasia through a makeup artist. She started coming to us to get treatment. She fell in love with Urban Skin Rx products. All of a sudden she started putting the products on her Instagram page. We started getting all of these calls from people who wanted to order them. After I created the website, makeup artists and other celebrities as well as my customers were pouring in orders. Now my focus is mainly my skin care line.
Describe yourself in three words.
Outspoken, strong-willed, loyal
Tell us about your community involvement.
I'm involved in this amazing foundation called Girl Talk. It's local to the Charlotte community. It's a program for girls ages 11-16 who are going through bullying or self-esteem issues. We help the girls and refer them to a counselor. We also enroll them into an 8-week confidence program. After the course is completed, the girls become Girl Talk members. I have a campaign named No Shade But My Shade Is. We tied it into Girl Talk as a way to empower and unify young girls. No Shade but My Shade Is is a way to encourage people to feel proud of the things they love about themselves.
Name some things you enjoy doing when you are not working.
I love spending time with my daughter Rosie. I love to work out and hike. I also love shopping.
What's your advice to single moms who are aspiring entrepreneurs?
Be prepared for the struggles and all the sacrifices that come with it. As well as make sure you keep a good balance between motherhood and being a businesswoman.
What does the term "girl boss" mean to you?
It means to inspire young girls. Teach them to take their sore spots and hardships and turn them into good things. Pain can do a couple things to you. It can make you or break you. I had a really painful childhood. I was bullied and teased a lot. To take something that was so negative and turn it into something so positive; was a good example. A lot of young girls are going through the same things I went through. I want them to be inspired.