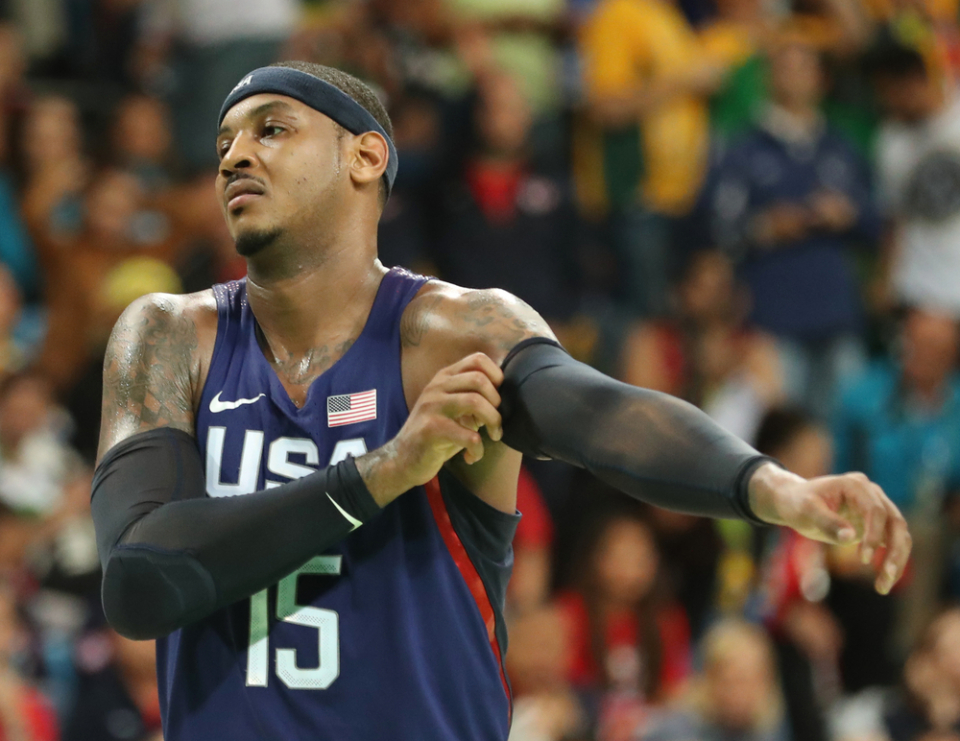 Thursday, Feb. 23, 2017. At 11:59 pm EST that night, the National Basketball Association's trade deadline comes to an end. That means by 12 am on February 24 teams can no longer exchange players for the remainder of the season. Any roster changes from that point forward will have to come through free agency or the NBA's Developmental League. But most teams do find some use for trade season.
Whether it's adding depth, finding a contributor to come off the bench, adding a role player, making up for an injured player, needing a change of pace, or rebuilding, teams make their biggest adjustments at the trade deadline. But the 2017 deadline will be much different than in years past. Some of the leagues biggest names have been the topic of many trade rumors since January and for reasons that make perfect sense. With that being said, here are five players in particular who could find a new home on the 23rd:
Cleveland Cavaliers forward Kevin Love-
Remember when the Cavs joined forces with the Minnesota Timberwolves and Philadelphia 76ers in 2014 to pair Love with a returning Lebron James? That is now a distant memory. The biggest rumor continues to be sending the 6-foot, 10-inch sharpshooter to the New York Knicks. But the Cavs may also look to move him elsewhere if they can find the right offer.
Why he may get traded:
Aside from the New York rumors, LeBron James recently voiced his displeasure with the lack of "playmakers" on the current Cavs roster. Cleveland posted just a 7-8 record during the month of January. They've improved as we've entered February (3-0 entering Thursday night's game against Oklahoma City), but defensively they've surrendered an average of 105 per game in both months. They have many contributors on offense, but perhaps they could use somebody who could help out more on the defensive side.
What makes him difficult to trade:
For starters, Love has a ton of money left on his contract. He's making $21.1 million this season alone. For the next three seasons, Love is owed a total of over $71 million (well over $20 million per season). Chances are the Cavs may have to pay some of that money over in any deal. And while Love is averaging 20.4 points per game, he can be a defensive liability. Don't let the stat of 11.1 rebounds per game fool you, most of those usually come on the offensive glass.
What the Cavs would seek in return:
Aside from finding a taker for that huge contract, Cleveland would need somebody to compliment the skill sets of both LeBron James and Kyrie Irving. Somebody who may be able to help reduce the workloads of both players, and somebody who has some defense in their game.
Indiana Pacers forward Paul George-
The 26-year-old has been the subject of trade rumors before, but this year the rumor mill in his case has been especially noisy. The Boston Celtics have expressed a great deal of interest, and it seems that the Pacers may be interested in making Myles Turner the face of the franchise despite the fact that the Pacers are still in playoff contention.
Why he may get traded:
While the Pacers aren't necessarily desperate to make a move, the Celtics -and maybe other teams- are looking for that "one significant player" to make that big playoff push and perhaps catch the Cleveland Cavaliers in the Eastern Conference standings. George averages 22 points and three assists per game. He's also solid from three-point range and has the "it factor" to take over games and push his team to victory.
What makes him difficult to trade:
The only thing that would prevent a trade is if the Pacers decide to keep George after all. With a 29-23 record, the Pacers are currently sixth in the Eastern Conference standings, and second in the Central Division behind Cleveland. Plus George has a somewhat friendly contract (less than $20 million per year over the next two seasons), so a move isn't necessary for Indiana as much as it could be for Boston.
What the Pacers would seek in return:
Without George, the Pacers still have a boatload of talent with the aforementioned Turner, point guard Jeff Teague, shooting guard Monta Ellis, and a host of role players. So perhaps Indiana could just ask for a draft pick. Or maybe we could see a swap of small forwards with the Pacers getting either Jae Crowder or Jaylen Brown in return. Stay tuned….
Chicago Bulls swingman Jimmy Butler-
It is painfully obvious that Fred Hoiberg got in way over his head when he took over Bulls head coaching job in the Summer of 2015. Since then the Bulls have gone from being a playoff contender to laughing stock. Dwyane Wade is getting older, Rajon Rondo finds himself coming off the bench, there's infighting within the locker room, assistant coaches are being accused of spying for the front office, which is forcing those coaches to defend themselves in the media. General manager Gar Forman and vice president John Paxson have quite the mess on their hands.
One way to remedy that mess could be to make a trade or two. One name that keeps showing up in the rumor mill is their best player in Jimmy Butler. Even though I think the Bulls should continue to build around Butler, perhaps a total rebuild could be what both the franchise and coach Hoiberg need to right this sinking ship.
Why he may get traded:
When Butler was drafted out of Marquette University in 2011 he was just a defensive player. But since then he has evolved into one of the best two-way players in the game today. He's a three-time All-Star, the 2015 Most Improved Player award winner, and a three-time All-Defensive team honoree. He's currently averaging 24 points, four assists, and six rebounds per game. He's become a clutch shooter and a very reliable player when healthy. Any team looking for that extra piece for a postseason run -which at this point includes a few franchises- could make use of Butler's services. And if the Bulls do indeed decide to hit the reset button, moving Butler would be an indication of that.
What makes him difficult to trade:
Butler is still owed $36.1 million on a $90 million contract he signed back in 2015. That's not even counting the $19 million player option he holds for the 2019-2020 season. Butler is making $16.4 million for this season. So unless a trading partner has deep pockets, that contract could cause a problem. Beyond that, Butler is a rare player and could help a few teams down the stretch.
What the Bulls would seek in return:
Considering Butler's immense talent, the Bulls could command a good crop of young players and/or some high draft picks in exchange.
Sacramento Kings center DeMarcus Cousins-
Cousins might just be one of the most underrated players in the NBA. He may also be one of the unhappiest. It's been said that that the 6-11 big man's talents are being wasted and there's a valid argument for that. This year he has reached career high averages in points (27.9), minutes per game (34.6), assists per game (4.7) and blocks per game (1.4). He's become a hot commodity and there are teams looking for an upgrade at the center position which has put his name at the top of the rumor mill.
Why he may get traded:
Ever since arriving in Northern California via the 2010 NBA Draft, Cousins has never played for a winning team. From the 2010-2011 season up until last season, the Kings have a combined win-loss record of 164-312. Their current record stands at 21-32 and they would miss the playoffs if the season ended today. Cousins hasn't always had top talent around him, and at times he's carried this franchise. That's a heavy burden for any player to carry. There are a few teams in the league that could make use of Cousins' abilities, especially heading into the playoffs.
What makes him difficult to trade:
Well for starters, there's the denial from Kings general manager Vlade Divac that Cousins is even on the trading block. Then there's the ESPN report that says the Kings plan to give the former Kentucky standout a $200 million contract extension. He's also been known to throw temper tantrums, he's been ejected from games on quite a few occasions, he's been fined and suspended for various infractions, and he's even lashed out at the media. That has to be concerning for any team that's interested in him.
What the Kings would seek in return:
If this move were to take place, the Kings would seek substantial compensation in the form of either talent or draft picks.
1 New York Knicks forward Carmelo Anthony-
This has been the most dramatic front office saga of the 2016-2017 NBA season. While Anthony has been the face of the franchise since being traded from Denver back in February of 2011, the Knicks have only been to playoffs on three occasions with him on the roster, with the last playoff appearance coming in 2013. And even when they did get to the postseason, they could do no better than the second round (2013). "Melo" has gone through numerous teammates, five head coaches, and multiple changes in the front office during his tenure in Manhattan. Stability has been lacking.
With the recent short comings of the franchise (22-32, 12th in the Eastern Conference), many teams have expressed interest in the man who averages 23 points a game, and is one of the best pure shooters. And while current team president Phil Jackson hasn't explicitly stated it, it's no secret that he wants Carmelo gone.
Why he may get traded:
All signs point to a rebuild in NYC with Kristaps Porzingis being the new face of the team. Even though Carmelo wants to stay in New York and keep his family there, Phil Jackson wants to move in a different direction. While I can understand Anthony's desire for stability, perhaps moving him to a contending team would work out for both sides. The Knicks are a long shot to make the playoffs and because of that, Anthony has sparked leaguewide interest.
What makes him difficult to trade:
First, there's the no-trade clause that he must waive in order to be traded but has refused to do. Second, there was a proposed trade between the Knicks and Cleveland Cavaliers that became a joke before it ever became serious. Then there's the issue of his stacked contract. Anthony is earning close to $25 million for this season, he's owed over $26 million for next season, followed by $27.9 million for 2018-2019. It's going to take some hard negotiating to make any trade possible.
What the Knicks would seek in return:
The Knicks will most likely be looking for a player with a skill set similar to Anthony's that is younger and much cheaper.
These next couple of weeks will be very interesting.
–gabe salgado