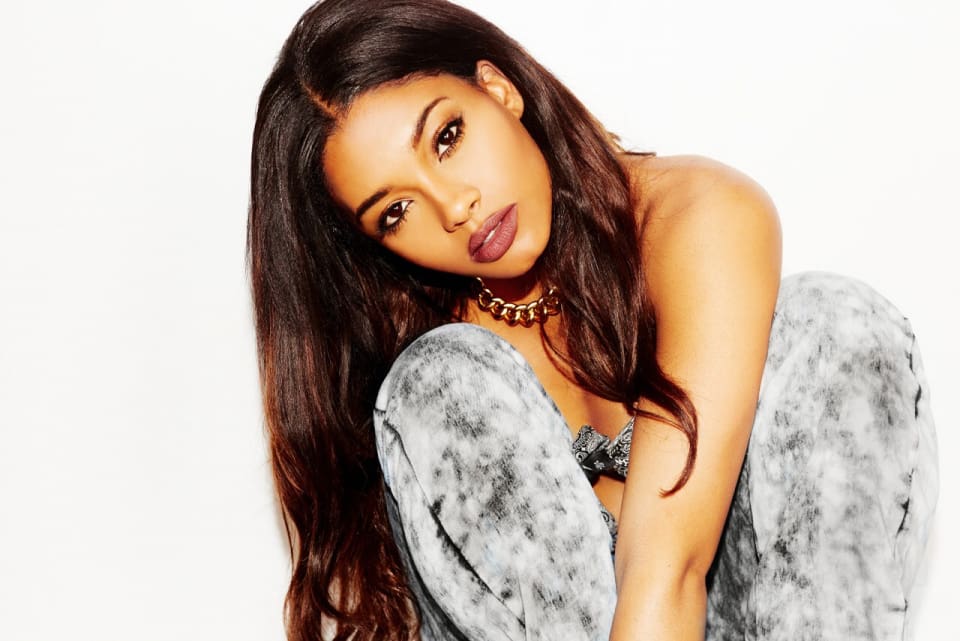 Detroit artist LaBritney didn't come to play games. The budding singer-dancer has been on stages, in rehearsals, and in front of microphones since she was a child, being groomed for who she is today. She's built a cult following based on her song covers, music videos, and raw sex appeal. But there's more to this talented perfectionist than meets the eye.
When you were growing up, was singing your first path in life or did you have other aspirations?
As a little girl, performing, singing and dancing have always been things that I just naturally loved to do. I would try to force my sister into doing dance routines and be in girl groups but she wanted to play basketball instead, so I would put on concerts for my teddy bears, or my grandma and all her friends in the backyard. It's just something that I've always been passionate about as a little kid.
I started pursuing music professionally at 15 years old. I signed to an indie label in Detroit as part of a girl group. That's when it went from being just a hobby for me to me doing this when I woke up and right before I went to sleep. I would have 14-hour rehearsals, media training, and vocal training. It was a job, and my passion grew even deeper as all of this was going on. At that point, I knew that this was what I'm supposed to do. I never get tired of this.
Who did you study in order to formulate and hone your gift as an entertainer?
I studied Beyonce a lot. She's definitely one of my favorite entertainers. Whitney Houston. Her stage presence was amazing. Diana Ross, because she's fabulous and classy as a woman. I also studied people like Ciara, because of her dancing, and Aaliyah, especially with her being from Detroit. I remember just staring at her videos and learning every single dance move of hers. I studied Michael Jackson and Janet Jackson as well.
When did that aha moment occur for you that made you say, "Hey, I'm going to go full throttle with my singing and dancing career?"
I'll never forget performing at Chene Park at Summer Jamz for the first time when I was in the girl group. The feeling that I got on stage was indescribable. Just being on that stage singing and dancing, and the crowd interacting with us made me say to myself that this is who I am.
Your usage of simple everyday items in order to create your videos has allowed you to gain a huge following on social media. What are some of the things that you appreciate about social media in terms of your career? Any dislikes?
I started doing these videos called, "LaMix Videos" where I would cover other popular mainstream artists songs. I recreate the production using household items such as Hennessy bottles, Hot sauce, Doritos, and then I would create my own vocal arrangements on top of the production. I also created my own choreography, and wardrobe. It's literally a one-woman band. So as I'm doing these videos, they ended up going viral. A lot of artists and huge blogs have reposted my videos which have helped me grow a following. This is why social media is amazing. You literally have the world at your fingertips. Now, the downside of social media is the fact that I started to become this "social media girl" after people started seeing my videos. I wasn't being recognized for the artist that I am. So last year, I released a music video, and single titled "How We Do," which served as a reintroduction to who I am as an artist, aside from the LaMix videos. I wanted to show that I'm LaBritney, not the LaMix girl.
What made you want to use a boxing gym as the set location for your "Forget About Me" video?
Me and Diego the director came up with the concept and treatment for the music video. We decided to use the gym as our location because a lot of times when you walk into a gym, you walk in feeling weak, and saying to yourself that you can't lift this, or lift that. But as you continue to do it, you see yourself getting stronger and stronger and you start to increase the amount of weights that your lifting. "Forget About Me" talks about being in a situation where your worth wasn't being recognized and you didn't let them forget about you because you're consistent in who you are as a person. I think shooting it in the gym was dope because it symbolizes getting stronger, and becoming a better person.
You have your very own headlining show coming up in Detroit. Talk about your feelings regarding having your name on the marquee after working hard for so many years.
It's crazy because I woke up one day and I said, I'm doing my own show. After that, I went and found a venue, I put a flyer together and put it out there and once I did that, I was like, oh s—, what did I just do? [Laughs.] I've been performing my whole life, doing hundreds of shows, but with this one show, I had to ask myself, what do I do now as if I've never done this before. But it's such a blessing because everything started coming together, and I'm working with people who understand and see my vision. I'm working with people who are just as committed to my project as I am, and I'm very passionate about everything that I do. I don't like any mediocrity. This will be an experience of who I am as an artist, and what I have to offer collectively as a person in this moment in my career. I'm here to be myself and show my supporters and believers who they already know me to be, and that's LaBritney.