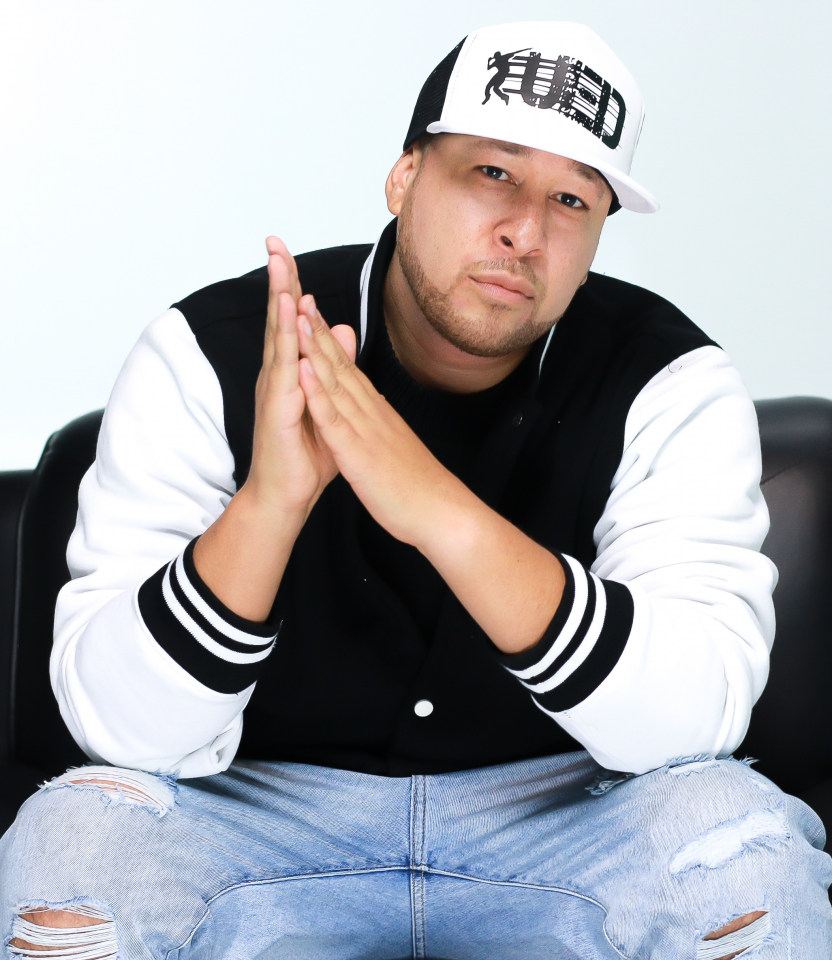 Give your child a chance to be discovered by some of the top industry professionals in acting, modeling, and dancing. On Saturday, April 1, 2017, UED Studios and Adorable Talent are presenting the Children's Casting Call and Workshop Event.
Here, Davis talks about his life in the entertainment business.
What is your day-to-day like at work?
My daily routine is exactly the opposite of being a daily routine. While I am the owner of the studio, I am also still a working choreographer and creative director, therefore my day to day varies. I do however normally set most of my business meetings for the studio along with upcoming projects early in the morning, so when I come into the studio I normally take meetings. After several meetings, I go into our rehearsal room and put my creative direction to work with whatever indie or celebrity artist my head choreographer Rha Rha is working with. While recording sessions are normally started by now, I also check in with my head engineer Piece to see if he needs anything and to make sure everything is running smooth for our clients. I embark upon this process around the whole facility, in our different departments including the Apparel and printing, the film room for photography and videography, and our Graphics department. My day normally ends late with working in the recording studio.
What inspires you to show up at work every day?
The answer to this question is very, very, simple, and that is. It's not work. I say that because when you love what you do then there is no way to call it work. I go very hard and I have many late nights and early mornings, which means I am tired at times, but I really love what I do, therefore it's a joy and a blessing to be able to show up every day to a place that I created and do what I love, which is anything involving music and the arts.
How did you determine your career path?
I was put into dance classes at the young age of 6 by my mom because she said I didn't have any rhythm at the time and my whole family was musically inclined, but I ended up loving dance so much that I stuck with it. I trained in Flint, Michigan, at Creative Expressions Dance studio under the influence of Sheila Miller Graham my whole childhood. We would have a recital every year and also travel to different states for competitions, and during that time, it was the stage I fell in love with and from that moment on, I knew I wanted to be a performer. I moved to North Carolina where I met a group of dancers in which we formed a hip hop dance crew and got signed by a manager by the name of Glenda Scott. She was connected to a few people in the music industry and began booking us on talent shows in Atlanta. We were performing at a show and the choreographer for Usher and 112 happen to be in the audience and he took interest in a segment that I actually choreographed. That was the defining moment when I knew the music industry is where I wanted to be.
What industries connect to your career choice?
Other industries that connect to my career choice are the TV and Film industries.
Describe the skills that will be essential to future business leaders and innovators?
Perfect your craft, study the greats who have done it and be willing to take chances, put yourself out there, and let God lead you the rest of the way.
Define innovative methods you apply to your business and life.
I look at the industry as a whole and see where there are gaps and how I can fill them to continue to help the industry thrive. I try to find ways that will keep people excited who are looking to get in the industry and let them know how to put the proper product out. My main thing is artist development and I know the industry has shied away from that. I want to bring that back so it could be done the correct way. The method to my madness is taking what has already been done and what people feel is the norm and taking that to another level. Development is not only in the studio or on the stage, it's needed across the board from the beginning to the end, and supplying the public with industry standard services is what I'm about.
Describe how you set goals and evaluate your success.
One of the main goal setting methods I use, comes from the scripture Habakkuk 2:2, and that is "Write your vision down and make it plain" – so every year I create what I call a "Vision board" and write down the goals I would like to accomplish for that year and also my five year plan and ten year plan. It's amazing to see how I accomplish the items I write down every year by simply going after the things I write down.
Who do you consider your peers in your field? How have they supported you? What best practices have they shared?
I have to say, Teddy Riley because he has given me so much knowledge and expertise. He's like a big brother and mentor. Believe it or not, he is actually the one that told me I needed to open my own facility and now I have done just that!
Name your favorite role models for success in two different industries.
One of my major role models is Russell Simmons. The reason being is that he is someone that not only helped pioneer and create "Hip Hop Music" to be a culture, but he is highly sought after as a very knowledgeable and intellectual business man that even today many successful moguls use his blueprint within the industry.
As cliché as it may sound, my mom is my next role model, in which she is in the industry of sales and politics. But she has shown me so much with just her drive, work ethic, and passion to be the best at whatever you do.
Name three books that changed how you saw life that you would recommend to others.
Other than the Bible the only books I ever read was music and business related and my three are Rich Dad Poor Dad, Life and Def by Russell Simmons, and This Business of Music.
Describe the voice of success that you hear in your head.
I'm intrigued by others success and the quality of life is very important to me so the voice of success is constantly in my head. I'm a Taurus so I believe that the level of success will never be reached because I will always want more.
Community success based on what you do in the community means what to you?
Some people does community service for the accolades but I honestly do it because I care about people and giving back from remembering when I had nothing.
What role does technology play in your daily life?
Technology is something that I not only had to grow into and grow with it but it is something that I feel is very useful, however, because I came from a time where technology was not as prevalent, I have to force myself at times to get with it. For instance, social networking is something I continue to work on every day because I never needed that to get gigs or jobs. But now the whole music industry is run by technology.
What software and technology tools have made the biggest difference in your life?
Social network has made the biggest difference in my life because it keeps me tied in with those I have worked with in the past and it also brings in new business at the blink of an eye.
How does music impact and influence you?
Music impacts and influences me in ways that nothing else can except God. I love music and music loves me back. Music is me and I am music.
Describe your favorite vacation spot.
I am one that works hard and plays hard. So one of my favorite vacation spots would be a resort called Lifestyle in the Dominican Republic. I consider myself a King, therefore I like being treated as such and this resort understands the way to bring that to life. It's also very calm with great multitudes of serenity and doing what I do and how fast this industry moves, it's nice to go somewhere that is calm but I can have fun at the same time.
If you could change one thing about the world,what would it be?
If I could change anything about the world, then it would be making sure that no one starves and completely delete the existence of poverty. I feel there is enough money and resources to make this happen, but due to government, politics, and selfishness; it's very hard. But that's what I would change.
If you could change one thing about yourself, what would it be?
I would not change anything about myself because God created me the way I am and I absolutely love myself.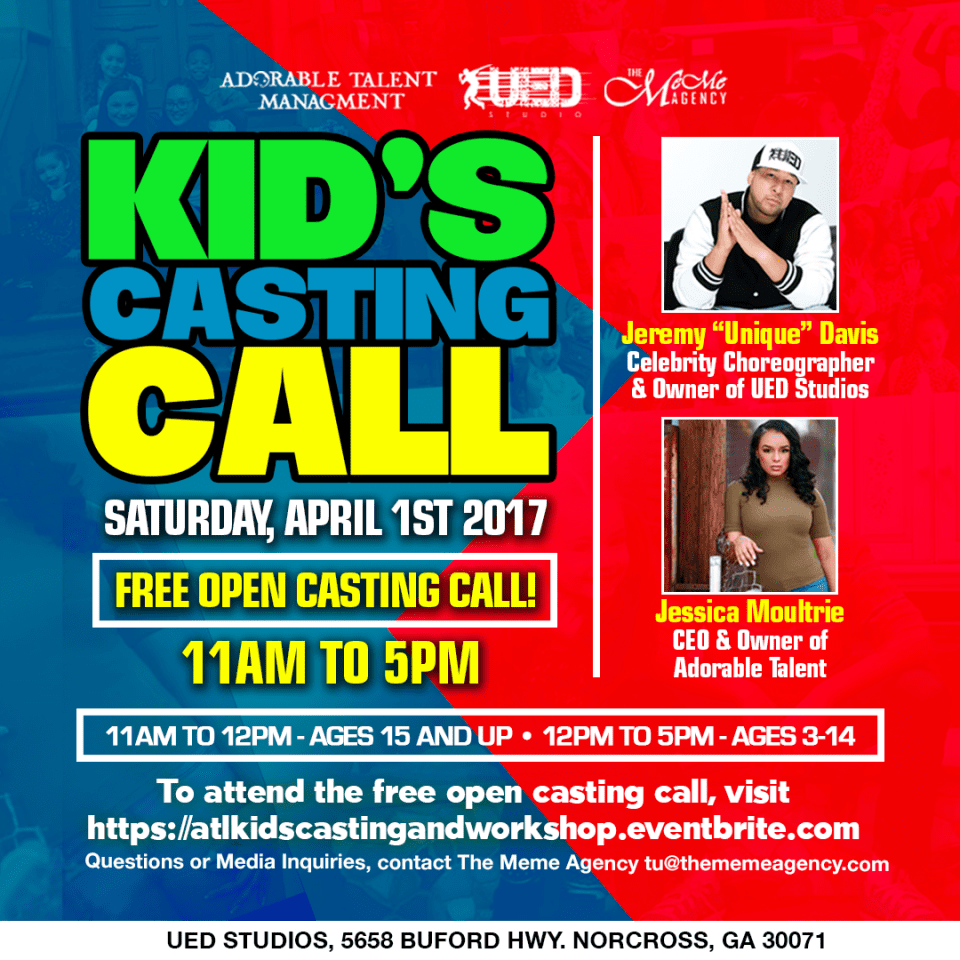 A portion of the proceeds from the event will be donated to the Giving Boutique.
They are addressing casting needs for kids of all races and ethnicities from ages 3 to 14.This event will take place at UED Studios, 5658 Buford Hwy. Norcross, Georgia, 30071 from 11 a.m.-6 p.m. with Jessica Moultrie, CEO and Owner of Adorable Talent; and Jeremy "Unique" Davis, celebrity choreographer and owner of UED Studios.
Event times and details are as follows:
Now casting kids of all races and ethnicities from ages 3-14, Event times and details are as follows:
11:00am-12:00pm: Casting for Dancers ages 15 & up
12:00pm-5:00pm: Casting for Dancers, actors/actresses, and models ages 3-14
Kids will enjoy complimentary bounce houses, popcorn, food trucks, snow cones, and more while they wait.
To attend the free open casting call or to purchase tickets for the workshop, visit https://atlkidscastingandworkshop.eventbrite.com
Visit UED Studios at www.uedstudios.com and follow them on Instagram @uedstudios
Visit Adorable Talent at www.adorabletalent.com