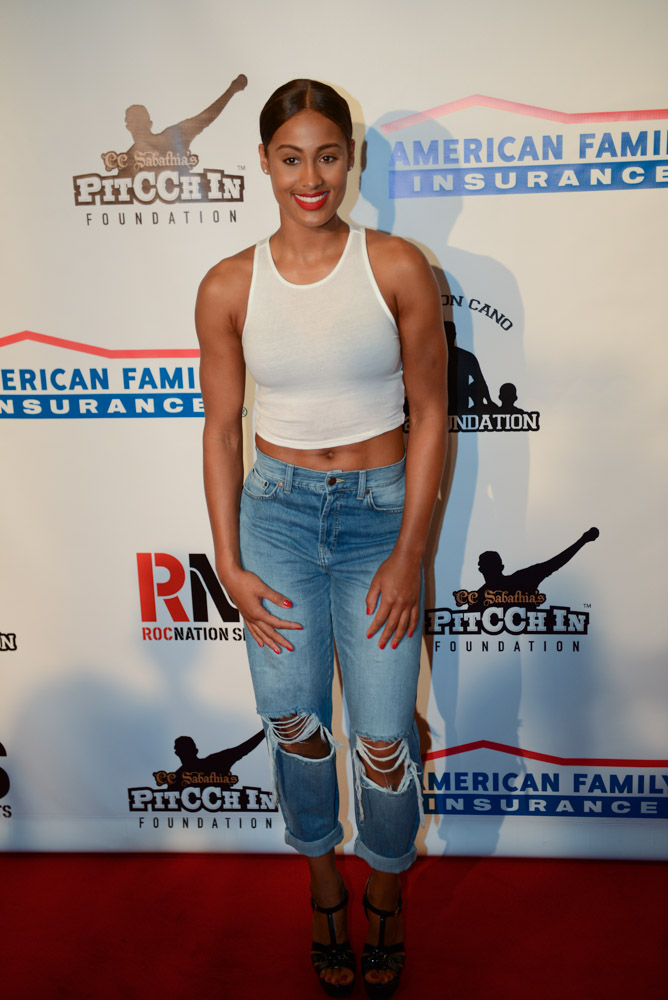 Everyone knows Skylar Diggins as a four-time All-American and three-time Final Four participant at Notre Dame and a WNBA All-Star with the Dallas Wings. But she is also someone who was raised to give back to the community. We spoke to the athlete about giving back, the Final Four, and more as she prepares to head to the Final Four for a community service event for the 2017 Allstate Women's Basketball Coaches Association (WBCA) Good Works Team®.
Diggins discussed what the Allstate WBCA Good Works Team® does. "They recognize (10) women for their initiative in the community and giving back as well as being a student-athlete. I'm so excited," she said about the thrill of being involved. "We'll be visiting [Cook Children's Medical Center] and joining some of the kids there, doing some arts and crafts and some basketball drills. So it should be a fun weekend."
Giving back is nothing new for Diggins.  The origin of her community service began and continues with her stepdad, Maurice Scott. "He is the director of a recreation center in South Bend, the Martin Luther King Jr. Recreation Center, so ever since I've known him he's always been giving back. He would deal with hundreds of kids on a daily basis and everyone calls him Uncle Mo. So for me, at a young age seeing him involved in the community and how he made that important to him, and important to us as well is something that I have learned from a very young age and can definitely say I have a passion for it now," she said.

Diggins, who won the 2014 WNBA Most Improved Player of the Year after a tough rookie season and who became a 2016 WNBA All-tar after tearing her anterior cruciate ligament(ACL) in her right knee the previous season, knows about adversity and the perseverance it takes to overcome it. She shared some wisdom from her children's book, Middle School Rules of Skylar Diggins that she often shares with kids. "Moments of adversity are just hurdles. I ask 'you know why they call them hurdles? Because you can get over them.' And that's something that my mom has always taught me about adversity," she said.

Queried about who has the best chance of knocking off the undefeated Huskies in the Final Four to win the 2017 NCAA Division I Women's basketball championship, she said, "If I had to pick one team from the remaining three, I'd have to pick South Carolina. I think they are the team with the most experience." 
If Dawn Staley and the Gamecocks are going to make history, they will depend on their senior leadership. Somehow, I know they wish they had an experienced, bad and boujee baller on the court named Skylar Diggins.