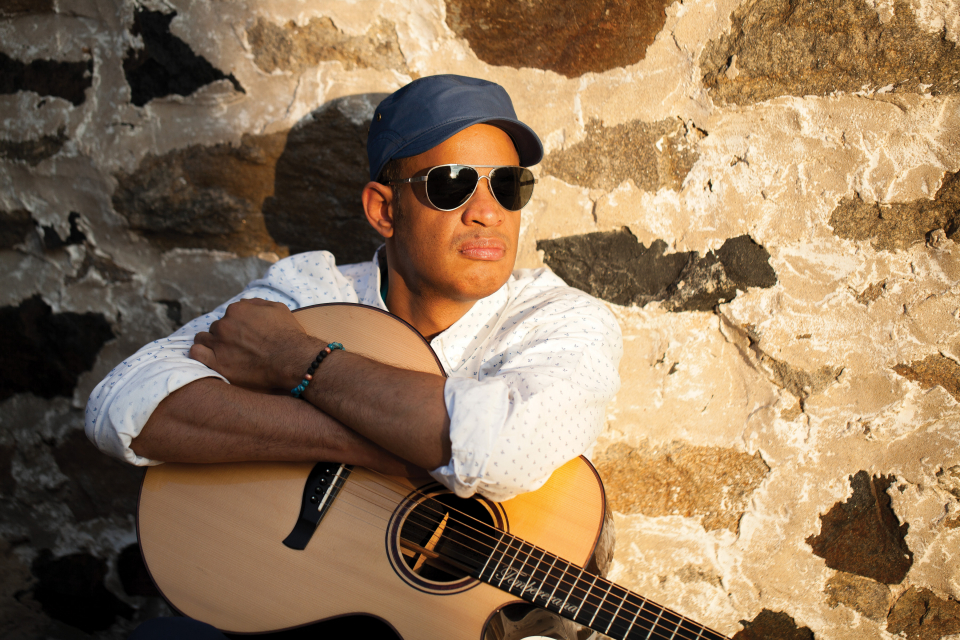 Raul Midon is a badass and blind musician. The title of his ninth album — Bad Ass and Blind — even says so. And if you haven't seen him in concert yet, then you're in for a fascinating experience if you ever get a chance to attend and witness his original guitar playing style along with his signature "mouth-horn" technique that creates a trumpet-like sound only using his mouth.
Midon is currently on a world tour and has already made stops in exotic lands such as Singapore, Asia and Tokyo, Japan. He's back in the States for most of the month of April — hitting up Cleveland; Minneapolis; Denver; LA; Evanston, Illinois; and Oakland and Richmond, California, and also making a stop in Detroit at the Jazz Café at Music Hall on Friday, April 14. He's then taking his tour over to France, England and the Netherlands, where the tour concludes.
Rolling out talked to Midon about his newest album and also discussed his unique "mouth horn" technique. Check out the interview below to get the details. And also, check out the video to witness this multitalented musical phenom in action.
How is Bad Ass and Blind different from your other projects?  
I don't know that it is different. I am fortunate enough to make my albums personal. I did a project in 2015 for Monterey Jazz Festival and I toured with some great jazz musicians and I utilized that moment to write for them and asked them to play on my album.  I wrote a song about a voice-over actor I admired greatly — because he had passed. Each album I've made tends to be inspired by my personal experiences.
You've worked with some of the greats in the business, such as Louie Vega, Shakira, Enrique Iglesias, Christina Aguilera Johnny Mathis and world-renowned opera singer Pavarotti. Who else do you have a desire to work with that you haven't worked with before? Why?
Other than Louie Vega, who I wrote and recorded with, the others you name were background vocal gigs. The gigs I've been most excited about as a solo artist were opening for Paul Simon. Last year I did a tribute to Manu Katche and got to work with Sting.  Of course, my gigs with Richard Bona were largely spread across YouTube. I hope to do more work with Richard — he's one of the best artists in the world today. He's just so d–n busy!
How would you describe your overall sound?
Retro-latin-soul-pop-acoustic-rhythmic.
Your mouth horn technique has been described as "giving a trumpet solo entirely with your lips" and has been compared to sounding like a Miles Davis record. How did you develop the overall technique?
When I was at the University of Miami I heard a trumpet player Pete Minger and I loved his sound. I was buddies with John Bailey who went straight from college to a professional career — but meanwhile, he and I would practice together. So, I worked with him regularly wherever we were, practice rooms, buses to gigs, etc.
You've been described as a one-man band who turns a guitar into an orchestra and your voice into a chorus. Describe how you "turn your voice into a chorus" using  your mouth horn technique?
I think I earned that description because I use the guitar, as a lead instrument, also as a bass, also as a drum. My voice I sing and play and I do the horn.  Lots of instruments — and I often do them all at once. I can sing and play in different keys because I have a lot of free time and I practiced that way to attain freedom.
You're also a badass on the guitar. You've developed a "slapping sound" when playing.  How would you best describe your guitar playing style?
I first studied classical guitar so I learned technique that way and then I studied with Flamenco musicians and after that I worked to get into the jazz guitar program at University. All those things are combined in my playing and I love percussion so there's a lot of that in there too.
You're performing in Detroit on Friday, April 14 at the Jazz Café at the Music Hall. What can we expect to see during the concert?
I'll present new music from my latest album but I'll also play pieces from earlier albums.
Where can our readers find you on social media?
I'm in all the usual places — Twitter, Facebook, Instagram at Raul Midon.
Check out Midon's amazing and unique style in the video below of "Giant Steps – In All 12 Keys."